If you have to borrow more than 80% of a home's sale price to complete the purchase, you'll find yourself in a high-ratio mortgage.
High-ratio mortgages are fairly common in Canada. According to the Canada Mortgage and Housing Corporation, Canadian homeowners were paying off two million high-ratio mortgages as of the third quarter of 2022[1].
High-ratio mortgages result in higher loan amounts and additional costs, so it's generally a good idea to learn about them if your down payment is going to be less than 20%.
High ratio mortgages vs. conventional mortgages
The term "high ratio" refers to the difference between the mortgage amount (the loan) and the purchase price (the value). This spread is more commonly known as the loan-to-value ratio, or LTV.
If the LTV is 80% or greater, meaning the down payment is 20% or less, the mortgage is high-ratio.
Conversely, you'll have a low-ratio or conventional mortgage if you use a down payment of 20% or more of the purchase price and the LTV falls below 80%.
» FIND OUT: How much mortgage can you afford?
Best Mortgage Rates in Canada
Compare Canada's top mortgage lenders and brokers side-by-side and find out the best mortgage rates that will meet your need
Qualifying for a high-ratio mortgage
To qualify for a high-ratio mortgage, you'll go through the same application process you would for a conventional mortgage. Your employment, income, debt and assets will all be evaluated to determine your creditworthiness.
But because high-ratio mortgages mean you're financing a greater portion of a home's price, they pose an inherently higher risk to lenders.
If you're applying for a high-ratio mortgage, ensure your finances are as fit as can be. Paying down debt to shrink your total debt service ratio and lower your credit utilization ratio are two ways of convincing lenders to offer you a more competitive interest rate.
High-ratio mortgages come with a maximum amortization period of 25 years. Attempting to decrease your monthly mortgage payment by choosing a longer loan, like a 30-year mortgage, won't be possible.
Mortgage default insurance
Qualifying for a high-ratio mortgage can also be challenging because of the added cost of mortgage default insurance, which is required when a buyer's down payment is less than 20%. The cost of mortgage default insurance is based on a percentage of your loan amount, and varies depending on the mortgage's LTV.
Here are some examples of the mortgage default premiums charged by CMHC:
For LTVs of up to 80%, the mortgage default insurance premium is 2.4% of the loan amount.
For LTVs of up to 85%, the premium is 2.8%.
For LTVs of up to 90%, the premium is 3.1%.
For LTVs of up to 95%, the premium is 4%.
If you're buying a $400,000 home with a 5% down payment of $20,000, for example, the mortgage default insurance premium on your high-ratio loan would be $15,200. Upping your down payment to 10%, or $40,000, would reduce your premium to $11,160.
Mortgage default insurance is an important factor when lenders determine mortgage affordability. Because your mortgage default premium is added to your loan amount before interest is calculated, it doesn't just add thousands of dollars to the principal, it also results in higher interest charges. Lenders consider the effect of these costs when underwriting your loan, and it can lead to you being approved for a lower loan amount.
Another factor in the high-ratio mortgage/mortgage default insurance equation is that you can only get mortgage insurance if you need to save for the down payment on your own or receive it as a gift from your family. You can't borrow money for the down payment. This can be an important consideration, because if your down payment source disqualifies you from getting mortgage default insurance, you can't get a high-ratio mortgage.
High-ratio mortgage interest rates
Because high-ratio mortgages are insured against default, they pose less risk to lenders. That allows them to offer lower mortgage interest rates compared to conventional loans.
But as we've discussed, those lower rates are only available because you're paying the added cost of mortgage insurance. You're also borrowing a larger sum of money, so you'll be paying more in interest than you would if you were putting down 20% or more upfront.
» MORE: How does mortgage interest work?
Pros and cons of a high-ratio mortgage
There are several types of mortgages beyond the high-ratio mortgage, but you may not have a choice. That's why it's important to understand how one might affect you.
Pros
You can enter the market with a modest down payment. Before mortgage loan insurance was introduced, buyers needed a larger down payment just to qualify for a mortgage. With mortgage loan insurance, you can buy a home with only a 5% down payment.
Lower interest rates. Lenders may offer better interest rates to homeowners with high-ratio mortgages. That's because lenders are protected if you default, so they can give you lower rates to entice you to borrow from them.
Cons
Mortgage loan insurance is required. With high-ratio mortgages, you could pay up to 4% of your mortgage amount in mortgage loan insurance.
It'll cost you more in the long run. Since you're borrowing more money than you would with a conventional mortgage, you'll pay more interest over the life of the loan.
Amortization period cap. High-ratio mortgages have a maximum amortization period of 25 years, whereas conventional mortgages can be amortized over 35 years.
Avoiding a high-ratio mortgage
If you'd like to find a way around the added costs associated with a high-ratio mortgage, you have a few options, like:
Saving a bigger down payment. A down payment of at least 20% means you'll qualify for a conventional mortgage and escape paying for mortgage default insurance If delaying your home purchase by a few months or adding a side hustle could help you save the extra cash, it might be worthwhile.
Buying a cheaper home. If your home's purchase price is lower, the down payment you've saved will cover a greater percentage of the price. A less expensive home could help get your down payment over 20%.
Using the Home Buyers' Plan. If you're a first-time homebuyer, you can use up to $35,000 of your Registered Retirement Savings Plan (RRSP) to beef up your down payment as part of the Home Buyer's Plan.
Frequently asked questions about high-ratio mortgages
What's the difference between high-ratio and conventional mortgages?
A high-ratio mortgage involves a down payment of less than 20% of a home's purchase price. A conventional mortgage uses a down payment of 20% or more. High-ratio mortgages require the purchase of mortgage default insurance; conventional mortgages do not.
Are mortgage rates higher for high-ratio mortgages? 
Interest rates are actually lower for high-ratio mortgages than they are for conventional mortgages. High-ratio mortgages are insured, so lenders are protected against defaults. That lowers the risk associated with these large loans and allows lenders to offer lower mortgage rates.
DIVE EVEN DEEPER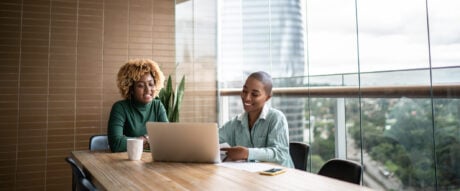 Before buying a home, shop around to compare rates from potential mortgage lenders, such as banks, credit unions and mortgage investment corporations.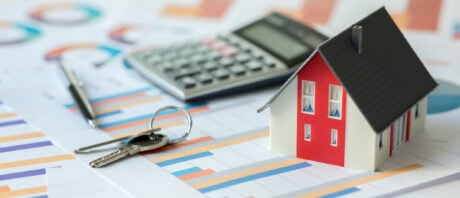 Compare customized 5-year fixed mortgage rates from Canada's best lenders and brokers for free. Find the lowest mortgage rate and apply for the home loan that best fits your needs.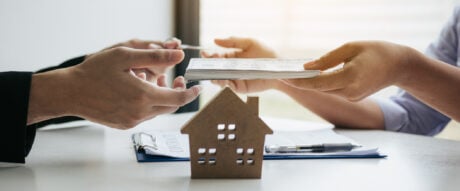 Mortgage brokers are licensed professionals who assess your finances and then help you find the appropriate mortgage product.