In an ideal real estate market — one with no mortgage stress test or exorbitant prices, for example — there'd be little need for private lenders.
But with Canada's market falling well shy of perfect, borrowers can find themselves cut off from traditional mortgage lenders for a variety of reasons, such as bruised credit, high debt loads and increasingly tight lending standards. In these cases, private lenders may be the only option.
Private lenders provide a valuable service, but a private mortgage is a different animal compared to what you'd get at an A or B lender. Before looking into a private lender as a financing solution, you have to understand how one works.
Private lending in Canada
Private lenders range from individuals looking for a quick, profitable return on their money to large, fully-fledged businesses like like mortgage investment corporations (also known as "mortgage investment entities").
What most private lenders have in common is that they are not regulated as closely as Canada's Big 6 Banks, although larger companies adhere to many of the same rules. Private lenders can determine their own lending standards, interest rates, conditions and fees. 
According to the Canada Mortgage and Housing Corporation, mortgage investment entities accounted for around 10% of the mortgages originated in the third quarter of 2022. There are concerns that homeowners unable to qualify for mortgages or renewals at today's elevated interest rates could turn to the private space more frequently — without being prepared for what they'll find.
Antoinette Leung, head of financial institutions and mortgage brokerage conduct at the Financial Services Regulatory Authority of Ontario, is particularly worried about borrowers being placed in private mortgages when traditional financing may still be possible. 
In FSRA's examinations of recent private mortgage deals, Leung says brokers are maintaining "very little information" to explain why borrowers were put into private mortgages.
"That really is concerning for us because we're not sure what due diligence they've done to make that particular recommendation to a consumer," Leung says.
It's unfortunate, but in an under-regulated industry like private lending, some of the due diligence burden inevitably falls on the borrower. Here's what you need to look for and understand before moving ahead with a private mortgage.
Look for: Transparency
It's important to work with a lender who makes transparency a priority.
"Private lenders who are not upfront with fees and cost of funds, who do not ask for any supporting documentation — these are lenders who may not have the best interests of the borrower at heart," says Elizabeth Wood, executive vice president of Canadian Mortgages Inc., a national private lender.
In addition to getting all the information they need about a lender's financing standards, renewal processes and any possible costs, borrowers should also find out whether their mortgage broker has any personal ties to the lender being recommended, Leung says.
If a private lender is unwilling to answer any of your questions, move on.
Understand: The costs and conditions
There are several areas where a lack of understanding around private mortgage costs and conditions can come back to bite a borrower in the assets.
The most important things to watch out for are the rates and fees. Wood says borrowers can generally expect to pay between 6.99% and 13.99% interest, with more challenging loans or properties in less active markets landing on the higher end of the spectrum.
Borrowers might also have to pay lender and broker fees they wouldn't encounter at a chartered bank, as well as potentially high renewal fees if they aren't able to move their mortgage to a more traditional lender at the end of their term.
Conditions to watch out for include the length of your mortgage term, whether your mortgage can be renewed and how it will be paid back.
Leung says borrowers often don't realize that many private mortgages are interest-only loans. After making large monthly payments for the duration of their term they can be shocked to discover that they've paid down none of their principal.
Look for: An experienced mortgage broker
Experience is key when choosing a broker for a private mortgage. The right mortgage broker will have worked successfully with multiple private lenders, and have the knowledge and integrity needed to get you into the right loan.
"It's imperative [buyers] work with a mortgage broker who can truly conduct a suitability assessment and ensure that that product and that mortgage is the right one for them," Wood says.
Both FSRA and Mortgage Professionals Canada provide courses that prepare brokers for the unique challenges of private mortgages. Ask your broker if they've completed this training.
Understand: Your exit strategy
Private mortgages are intended to be short-term solutions that typically last for less than two years. During the loan term, borrowers are meant to get their finances in order so they can access financing at an A or B lender.
If your goal is to improve your credit score or pay off several thousand dollars in debt, you need to have a firm plan in place — an exit strategy — to ensure you can accomplish it before the end of your term.
Having a feasible exit strategy is a must if you're getting a private mortgage. Otherwise, you could wind up having to renew and pay a fee, or be denied another shot of financing.
Look for: Capacity
While not essential, Wood says it could be in your best interest to work with a larger private lender, which might have its own underwriting, servicing and credit management teams in place.
"When you work with a larger firm, they have a lot of strategies that can support borrowers who do run into trouble," she says. "Bigger is better for a lot of reasons," she says.
Leung says size isn't everything.
"I would really look at the years of underwriting experience that they have. I think that is a better indicator," she says.
Understand: If a private mortgage is the right move
Private mortgages are generally better suited for homeowners or investors with immediate renewal or refinancing needs, not first-time home buyers who can't qualify with a traditional lender.
"Take the time to understand why you don't qualify for an A or B mortgage," Leung says. "Is it because you don't have a big enough down payment? Is it because you have too much debt? Once you understand the reasons why you couldn't qualify, then you can make a plan to address them."
DIVE EVEN DEEPER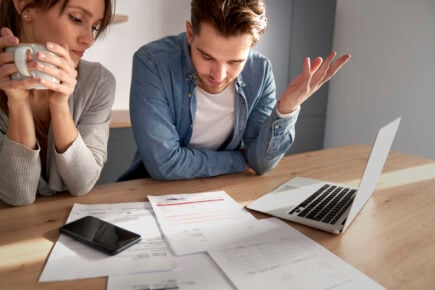 Posted three- and five-year fixed mortgage rates are higher than they've been since 2010, while variable rates have ballooned by 4.25% in under a year. If you're nearing your mortgage renewal date, you could be facing a nightmare scenario. In a vacuum, elevated rates would be enough to stretch homeowners' finances. But with decades-high inflation […]