How to Read a Financial Aid Award Letter
Financial aid award letters could have different language for grants, scholarships, work-study and loans.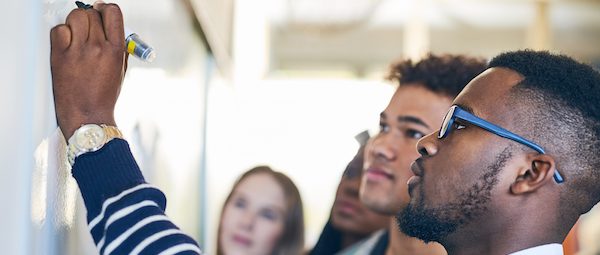 Many or all of the products featured here are from our partners who compensate us. This influences which products we write about and where and how the product appears on a page. However, this does not influence our evaluations. Our opinions are our own. Here is a list of our partners and here's how we make money.
More on navigating student aid:
Financial aid award letters will arrive soon after you receive your college acceptances. You need to decide which school gives you the best award package, but comparing offers can be a challenge. Every letter includes different language, formatting and content.
Get pre-qualified in just 3 minutes with Credible
Check multiple student loan lenders to get accurate, pre-qualified rates with no impact to your credit score.
A 2018 analysis of over 500 financial aid award letters by New America, a nonpartisan think tank, found numerous inconsistencies in jargon among the letters. And, more than one-third didn't include any cost information alongside financial aid amounts.
To understand what each financial aid award letter says, you'll need to cut through the clutter so you can make the best financial decision.
What your award letter should include
No two financial aid award letters will look alike, but they should have:
A list of the financial aid types and amounts awarded
Your awarded aid could include federal, state and institutional grants, as well as federal work-study and scholarships. The list will also include the amount of subsidized and unsubsidized federal loans you can borrow and, often, a PLUS loan your parent or guardian can borrow for your education.
The cost of attendance includes tuition, fees, and room and board for your first year. But it's not complete. It doesn't factor in everything you'll pay for, or how many years you'll attend.
Now that you know what to look for, here's how you can use this information.
Determine the true cost of college
Only 40% of the sample letters analyzed by New America included a calculation of what students would need to pay. To figure out the cost of college yourself, here's what to do:
The net price is calculated as the cost of attendance, including additional expenses, minus grants and scholarships. You can use a net price calculator, available on every college's website. The net price includes estimated additional costs like books and supplies, personal expenses and transportation.
Net price factors in the cost of only one year in school. It also doesn't take into consideration tuition increases, which are likely, based on data from the National Center for Education Statistics. Multiply the net price by four to get the total minimum cost you can expect. As tuition increases each year, your costs will go up, but your financial aid might not.
In a financial aid award letter, the way aid award money is labeled doesn't clarify much. For example, work-study and loans may be referred to as "self-help aid," while scholarships and grants may be listed as "gift aid." In the New America study, among 455 colleges that offer unsubsidized loans, there were 136 unique terms for that loan, and 24 of those terms didn't even include the word "loan."
Here's how to tell the difference among aid types in your award letter:
Grants and scholarships: Awards that do not have to be repaid. These can come from the federal government, your school or your state's grant agency. They may be need- or merit-based.

Work-study: Money you can earn, typically at an hourly rate, that's funded by the government. It isn't guaranteed: You have to find a qualifying work-study job that fits with your academic schedule, and the amount on your award letter is the maximum you can earn.

Loans: Borrowed money you must pay back with interest. You borrow federal direct loans from the government. These loans often have lower interest rates and more borrower protections than private student loans. And, no credit check or co-signer is required.
How to compare financial aid award letters
Once you grasp the cost and your financial aid options, you can more easily compare offers side by side to see which school will be the most affordable. This table shows you how you can compare costs and financial aid awards from two schools.
Financial aid comparison worksheet

Step 1: Calculate total cost of attendance (COA) Add tuition and fees + room and board + estimated books and supplies + estimated transportation costs + estimated personal expenses

Step 2: Subtract total money that's free from COA. Add federal Pell Grant + state and institutional grants + scholarships + and military education benefits

Step 3: Subtract total money you work for from COA. Federal work-study + state work-study + institutional work-study

Step 4: Subtract total money you plan to borrow from COA. Federal direct subsidized student loan + federal direct unsubsidized student loan + federal PLUS loan (for parents and graduate students)

The amount left over is your total gap to fill. You can use savings, additional scholarships, or borrow private loans to fill the gap
If you didn't get as much aid as you hoped from a school, you can write a financial aid appeal letter or consider a less expensive school.
Remember, you don't have to take all offered financial aid, but make sure to accept all free aid before borrowing money.
Get pre-qualified in just 3 minutes with Credible
Check multiple student loan lenders to get accurate, pre-qualified rates with no impact to your credit score.
Spot your saving opportunities
See your spending breakdown to show your top spending trends and where you can cut back.