How to Write a Financial Aid Appeal Letter
In your financial aid appeal letter, include a clear 'ask' and a specific 'why.'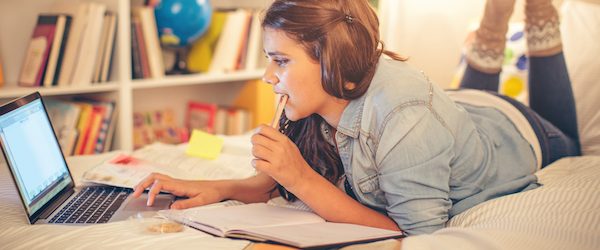 Many or all of the products featured here are from our partners who compensate us. This influences which products we write about and where and how the product appears on a page. However, this does not influence our evaluations. Our opinions are our own. Here is a list of our partners and here's how we make money.
If you get a financial aid award that's less than you hoped — or if your circumstances changed since you first applied — it's not your last shot to get money for college. But you have to ask for it.
Your best option in certain cases is to submit a financial aid appeal letter.
Get pre-qualified in just 3 minutes with Credible
Check multiple student loan lenders to get accurate, pre-qualified rates with no impact to your credit score.
When to write a financial aid appeal letter
Try to appeal your award as soon as possible before the school runs out of aid.
First, email or call the school's financial aid office to learn more about its aid award appeals process. Ask who you should get in touch with and any special requirements the school has.
Here are a few circumstances that could warrant writing a letter:
Your or your family's finances have changed since you submitted the Free Application for Federal Student Aid, or FAFSA. This might include events like the death of a caregiver, a medical emergency, job loss or homelessness.

You made an error on the FAFSA you think may have affected your aid award.

You got a better aid offer from another school and you're asking the school to match.
The amount of aid you request depends on the gap you need to fill. If you only need a few thousand dollars more to pay for college, an appeal could be enough. If you have a larger gap — $10,000 or more — you may need to consider additional avenues, like student loans.
If you need money more immediately due to a financial emergency, your school may have emergency grants. Contact your school's financial aid office to see what's available.
What to include in your financial aid appeal letter
You can mail a letter, deliver in person or send an email, depending on the school's process. SwiftStudent, a free tool developed by multiple colleges and educational advocacy organizations, has financial aid appeal letter templates available.
Your financial aid award appeal letter should include the following:
An address to a specific person. Find a specific contact at the financial aid office to direct your letter to, rather than a generic "Dear Sir or Madam"

A clear "ask" and a specific "why." Ask the office to reconsider, then offer a clear-cut reason why you need more aid money.

Details of any special circumstances. Explain your situation in an open and honest way. If there's been a financial change since you submitted the FAFSA, ask the office to adjust your cost of attendance based on your new circumstances.

Appropriate documentation. Include any relevant documents that support your explanation and refer to them in the letter. If the aid office requires specific forms, include those as well.

An exact amount. Provide a real financial aid amount that would enable you to attend the school. If you need aid for specific things, like travel costs or supplies, be sure to name them.

A competing offer, if you have one. If another school offered you more financial aid, include the offer and ask the school to match it.

Next steps. Ask what the next stages are in the appeal process.

More than one "thank you." Open and close with gratitude. Thank the office for the financial aid you already got and for considering your appeal.
As you compose the letter, make sure to:
Write it yourself. It may be tempting to have a parent appeal on your behalf, but your case will be stronger if you ask for more money for yourself, in your own words.

Be careful of word choice and tone. The tone of the letter should toe the line between humble and assertive. Since you're the one making a request, swap a term like "negotiate" for "reconsider."

Be clear and succinct. Write no more than one page.

Pay attention to grammar. Have someone you trust read your letter before sending it to check for any errors.
What to do if your appeal is unsuccessful
If your appeal isn't successful or still leaves you short of what you need, here are some other options:
Consider other financial sources. Look for scholarships that may still be available beyond the college. If you're already taking out federal loans, consider private student loans to close the gap. Compare offers from multiple lenders before choosing a loan.
Rethink your college choice. If it's unlikely you'll get enough financial aid for every year of college, consider going to a less expensive school. Doing so could save you from a high debt burden you'll be paying back for many years to come.
7 steps to appeal your financial aid
Step 1. Contact the school's financial aid office to find out the appeals process.
Step 2. Find the best person to write the appeal letter to.
Step 3. Determine how much aid to ask for.
Step 4. Gather documents to support your request.
Step 5. Write a financial aid appeal letter that is no more than one page and includes details of why you need more money.
Step 6. Submit your letter, documentation and any forms the school requires.
Step 7. If you get a positive response, congratulations! If you still need additional aid or your request is denied, consider scholarships and loans. Alternatively, consider another school that has a lower price tag or offers more aid.
Get pre-qualified in just 3 minutes with Credible
Check multiple student loan lenders to get accurate, pre-qualified rates with no impact to your credit score.
Spot your saving opportunities
See your spending breakdown to show your top spending trends and where you can cut back.