How to Find a Good Buyer's Real Estate Agent
Look for a buyer's agent who will work solely in your best interest when negotiating a home purchase. Stay away from those who also accept seller listings.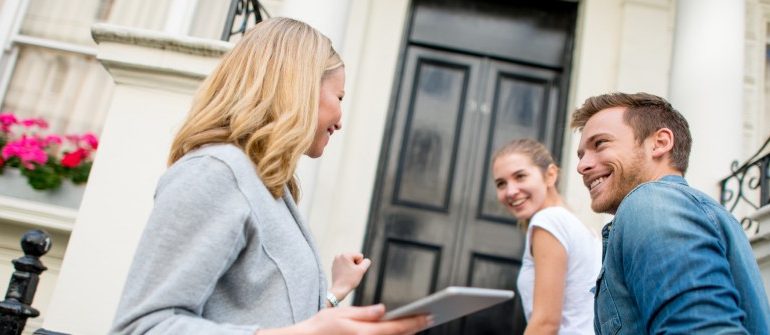 Many or all of the products featured here are from our partners who compensate us. This may influence which products we write about and where and how the product appears on a page. However, this does not influence our evaluations. Our opinions are our own. Here is a list of our partners and here's how we make money.
It could be your biggest edge in finding the right home at the right price: a good buyer's real estate agent at your side. But what's the big deal? You could just snag a convenient real estate agent or call the name on the sign of a house you're interested in.
The typical real estate agent, however, is not necessarily bound to work in your best interest. As with most commissioned salespeople, the dollars flow from a deal. Any deal. But there's another way: Finding an exclusive buyer's agent.
This isn't to say that working with a regular real estate agent is a bad thing. In fact, that's how most people find a house. And real estate agents are subject to state laws regarding ethical practices. But there is a difference between a real estate agent and an exclusive buyer's agent.
A real estate agent often works for a company that can represent both sides of a deal. In fact, agents are eager to show listings held by their firm first, before all others. The fact is, they represent the seller, not you.

An exclusive buyer's agent frequently works for a company that doesn't even accept sellers' listings. They have no incentive to show you particular properties, other than those that best suit your needs. That means the agent will also help you find homes that are for sale by owner. A typical real estate agent won't do that.
What should you look for in a buyer's agent?
The obvious qualities you'll want in your rep are just what you'd want in any good business partnership: rapport, respect and competence. You can often get a sense for that during the first meeting or two. Specific conditions of the relationship will be listed in the buyer's agent contract.

FIND AN AGENT AT HOMELIGHT
Visit HomeLight to find the right real estate agent for you. Get started now to see your personalized matches.
Here are some terms to watch for:
If a contract notes that you are entering into a dual agency agreement, that means the real estate agent and/or the firm the agent works for can represent both the buyer and the seller. Though illegal in some states, this is still quite common and can lead to conflicts of interest. This is a stipulation in a buyer's agent contract that you want to avoid.

If the contract doesn't specify that it is strictly a buyer's agent agreement, you should assume that the agent will be a seller's representative — not yours.

You are looking to sign an exclusive buyer agency agreement. It will detail all of the terms of your representative's engagement: compensation, services and the length of the agreement.

You may encounter a designated agent agreement. This is used when a real estate brokerage firm has one agent working in the buyer's best interest, while another agent of the same firm may be working in the seller's best interest. By signing a designated agency agreement, the buyer (or seller) allows another agent with the firm the ability to represent another party in the transaction. Individuals who are designated agents owe fiduciary duties to their respective clients (the buyer or the seller, but not both). This can work, but it can be a tricky situation.

Remember, a buyer's agent has a fiduciary duty to work only in your best interests. There should be language to that effect in any written agreement.
"

Upon signing an agreement with a buyer's agent, it's the agent's responsibility to disclose whether a conflict of interest exists.

"
Advantages of working with an exclusive buyer's agent
Having an exclusive buyer's agent on your side means more than just helping you find a great home. Your agent will also:
Use knowledge and experience to help you navigate local market conditions

Act as an advocate for the buyer during the entire homebuying process

Actively negotiate price and terms strictly on behalf of the buyer

Prepare necessary forms and written offers

Assist in procuring property inspections, as well as provide advice regarding necessary improvements and repairs

Consult with the buyer about financing options

Attend the loan closing to help address any last-minute details and questions
How do I find a buyer's agent?
Look for an agent who is an Accredited Buyer Representative. ABR agents have met certain qualifications and have passed an exam administered by the Real Estate Buyer's Agent Council; you can search them here. You can also search online for a buyer's agent who is listed with the National Association of Exclusive Buyer Agents.
Some questions to ask a potential agent:
Do you accept sales listings? An agent who answers yes is not an exclusive buyer's agent; conflicts of interest could arise.

How familiar are you with the area/type of home I'm most interested in? Having an agent with experience in first-time homebuyer programs, or the neighborhoods you're most interested in, can save a lot of time and effort.

Is this your full-time job? If agents are working in real estate on the side, it may limit their availability — and they may have limited experience in the field.

How will you be paid? Are there additional fees?
And ask for contact information from three of an agent's most recent clients. Seeing how satisfied these former buyers are with the communication and effectiveness of the agent can be especially helpful.

FIND AN AGENT AT HOMELIGHT
Visit HomeLight to find the right real estate agent for you. Get started now to see your personalized matches.
How does a buyer's agent get paid?
Buyer's agents split the commission of the sale with the seller's representative. There is usually no additional cost to the buyer; the seller pays the commission. If you don't have an agent on your side, the listing agent can score a full commission; that's a big incentive to make a quick sale in lieu of putting your needs first.
What if things don't work out?
The terms of separation are disclosed in the buyer's agent agreement. Read the contract carefully and understand the binding nature of what you're signing. Make sure you have an escape hatch if you and your agent just don't seem to click, even if it means changing the termination language of the contract. Of course, this needs to occur before anything is signed.
With such an important decision on the line, you don't want to be stuck with someone you aren't comfortable with. One option: Ask for a short-term initial agreement — perhaps 30 days or so — renewable for another 60 days upon mutual consent.
Don't call the name on the sign
While house hunting, if you find a home you love and call the name on the sign, you're dealing with the seller's agent, someone thrilled to make a full commission on a sale. The listing agent is legally bound — and enthusiastically motivated by a big payday — to make as much money as possible for the seller. You've got no one on your side.
The better option is to note the address and find yourself a buyer's agent to help take it from there.