Navigating a Hot Real Estate Market
Buying a home in a hot real estate market takes patience and perseverance. Having a savvy buyer's agent doesn't hurt, either.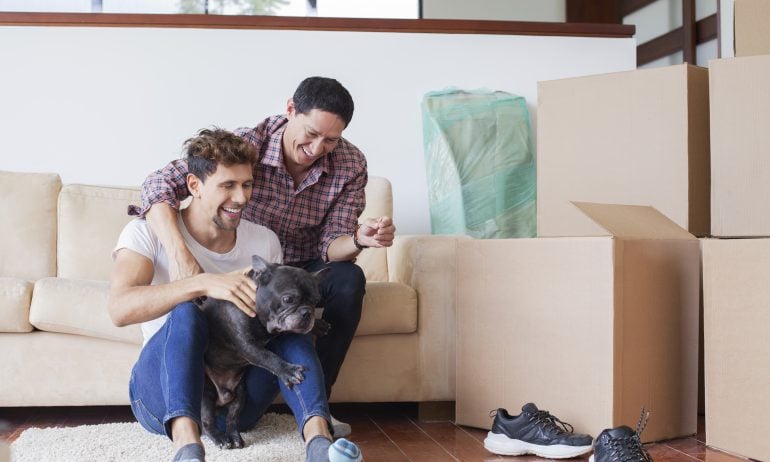 Some or all of the mortgage lenders featured on our site are advertising partners of NerdWallet, but this does not influence our evaluations, lender star ratings or the order in which lenders are listed on the page. Our opinions are our own. Here is a list of our partners.
In a hot real estate market, home inventory is low, competition is high and as a buyer, you may feel like you're on an emotional rollercoaster. Although buying a home in a strong seller's market presents added challenges, it's still possible to get an offer accepted on a place you'll love.
What is a hot market in real estate?
To figure out whether a housing market is hot, experts look at how many months of unsold inventory are currently on the market. This measure tells you how long it would take to sell all of the properties for sale if no other homes were built or put up for sale — not a scenario that would really happen, but a helpful gauge of the availability of homes to buy.
Generally speaking, an inventory level of six months is considered balanced between buyers and sellers. Less is a seller's market; more favors buyers.
How hot is the real estate market now?
A shortage of homes for sale and inadequate levels of new construction has kept much of America in a seller's market for the past few years. The COVID-19 pandemic has exacerbated these trends, with myriad buyers entering the market as fewer sellers are putting homes up for sale and new construction continues to fail to meet demand.
According to the National Association of Realtors, in March 2022 the country had just a two month supply of existing housing (down year-over-year from a 2.1 month supply in March 2021, and month-over-month from a 1.7 month supply in February 2022).
Tips for navigating a hot real estate market
1. Start with a stroll — or a scroll
Spend some time looking at what's available before you get serious. Walk around potential new neighborhoods on the weekend, and scan your favorite real estate website for new listings. Take note of how long homes are listed before a contract is pending. (In an especially hot market, it won't be long.) You might also want to look at recently sold listings online to get a sense of how much homes are really going for compared to their listing prices.
The idea is to get a sense of how hot the local market is without the pressure of feeling like you need to make an offer. You'll also learn more about the kinds of homes and neighborhoods you like (or don't), and which features matter to you.
But don't fall in love with a house at first sight — doing so may lead you to overlook problems and, if you make an offer that's declined, suffer heartache. In a hot market, "it's more like dating than getting engaged," says agent Brent Landels of Re/Max Key Properties in Bend, Oregon. "Don't get emotionally involved in anything you're looking at until you're further down the road."
2. Find a good real estate agent
Having a good buyer's agent is particularly important in a hot market. You want someone who'll alert you to listings as soon as they hit the market, if not before. Also, a good agent will know how to make your offer stand out.
"I was a brand new agent at one time in my career, too," Landels says, "but in a market like this, there is no margin for error." If you're thinking about hiring a newer agent, he recommends choosing someone who works closely with a more established broker.
Interview more than one agent, and don't hesitate to ask for (and actually check out) references from recent clients.
Holding out for 'the one' may not be an option in a hot market. It may be smarter to approach home shopping by thinking about ways you could make a 'good enough' home work.
Flexible expectations can give you more options in a hot real estate market. "People say 'Oh, I want to be in this neighborhood,' and we have to say that's great, but we have two weeks' worth of supply," Landels explains. If there aren't many properties available that fit your criteria, you may need to find aspects where you can compromise.
Think about what's most important to you now, and if you see this as your potential forever home, your plans for the future. Maybe a third bedroom can be a home office for now, and a nursery later when you've got a little one (and can work in an office again!).
4. Have your financing lined up
Compare mortgage interest rates from several lenders, and get a mortgage preapproval from two or three lenders. Official Loan Estimates will help you compare interest rates and costs to find the best deal for you.
In any hot market, a preapproval shows sellers that you're serious. But during the pandemic, your agent may have to confirm that you're preapproved in order for you to view a property in person, either because sellers are anticipating many offers or they simply want fewer strangers in their homes.
Mortgage loans from our partners