Real Estate Agent Commission: How Your Agent Gets Paid
Sellers traditionally pay the real estate agent commission, which is 5% to 6% of the home sale price.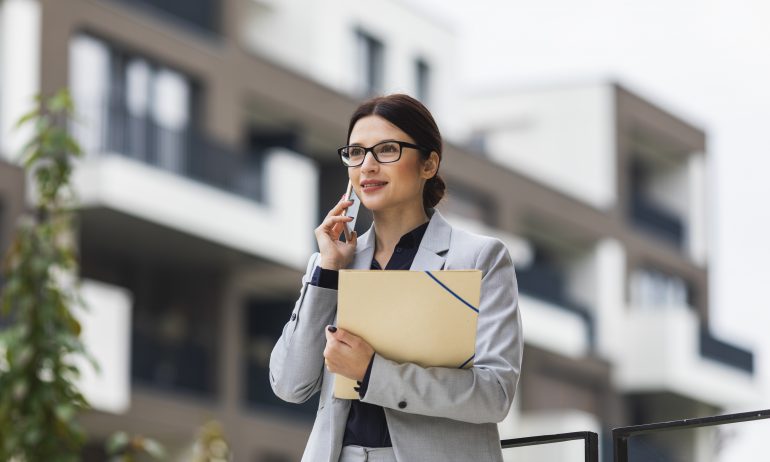 Some or all of the mortgage lenders featured on our site are advertising partners of NerdWallet, but this does not influence our evaluations, lender star ratings or the order in which lenders are listed on the page. Our opinions are our own. Here is a list of our partners.
Real estate agents make money from commissions on home sales. Understanding how your agent is paid is an important part of the home buying and selling process.
Average real estate agent commission
The typical real estate agent commission is 5% to 6% of the home sale price. That's $17,500 to $21,000 on a $350,000 home.
How do real estate agents get paid?
The percentages may vary, but here's how a 6% commission could be divided:
1.5% for the listing agent.

1.5% for the listing broker.

1.5% for the buyer's real estate agent.

1.5% for the buyer's real estate broker.
Real estate brokers are agents who have taken additional coursework, passed an exam and gotten licensed as brokers. They can head up their own brokerages, operate independently, oversee agents or work under managing brokers.
Who pays the real estate commission?
Usually, the seller pays the agent commission as part of their closing costs when the sale is final.
Although the buyer doesn't directly pay for their agent's services, commissions impact how much homes cost. Sellers may build in the cost of agent commissions when pricing their homes.
Negotiating a lower real estate commission
As the seller, you can try to negotiate a lower commission rate with your agent. But you may not get very far. Most listing agents — 73% — declined to negotiate their portion of the commission, according to a 2019 Consumer Federation of America report based on conversations with 200 agents in 20 cities.
The CFA notes that your chance of success when negotiating a lower commission will be greater if:
The property's sale price is high.

You're working with the agent to buy and sell different properties.

Your agent recruited and is working with the buyer.
As the buyer, you may ask your agent to rebate a portion of their commission to you, but such rebates aren't allowed in every state.
According to the CFA, the states that ban commission rebates to home buyers are:
Even in states where rebates are allowed, few home buyers request or are granted them. In a March 2022 survey commissioned by the CFA, 17% of consumers who bought a home through a real estate agent said they requested a rebate and 7% said they had received one.
Legal challenges to 'coupled' agent commissions
Lawsuits have challenged the "coupling" of agent commissions, in which the seller pays the fee for both the listing and buyer's agents. Untying the commissions, so that sellers and buyers would each pay and negotiate their own agent fees, would encourage price competition, decoupling proponents say.
But the National Association of Realtors maintains that the traditional commission structure makes it possible for more people, particularly first-time home buyers, to afford a home along with representation by an agent.
Alternatives to paying traditional real estate commissions
If you don't want to pay traditional real estate agent commissions, consider these options.
Use a discount real estate broker
Discount real estate brokers help home sellers save money with lower commission rates or flat fees. Some discount brokers, such as Clever Real Estate and Ideal Agent, help you find agents and negotiate lower rates for you. Other companies, such as Houwzer and Redfin, have their own in-house agents. The pricing structures and service levels vary by company, so you'll want to shop around to find the best fit.
Selling without a listing agent can cut the agent commission in half, but the "for sale by owner" option isn't for everyone. Handling the marketing, negotiating and navigating the legalities of selling a home requires skill and a lot of time. Make sure you have the time and energy to devote to the task before doing it on your own.
Companies known as iBuyers use algorithms and technology to buy and sell homes quickly. The biggest players include Opendoor and Offerpad. When selling a home to an iBuyer, you may get a cash offer in as little as a day. You'll avoid traditional real estate agent commissions, but pay other service fees, which vary by company.
Mortgage loans from our partners