The 6 Best Retail Business Loans, According to Your Needs
Retail business loans solve specific issues like securing real estate for expansion or easing cash flow.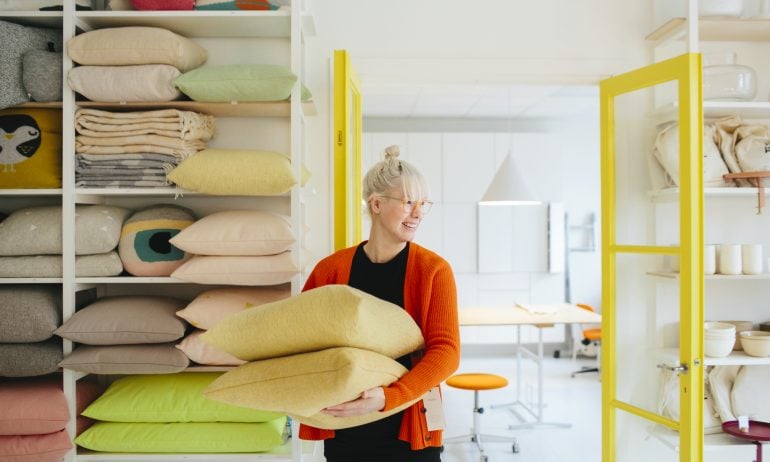 Many or all of the products featured here are from our partners who compensate us. This influences which products we write about and where and how the product appears on a page. However, this does not influence our evaluations. Our opinions are our own. Here is a list of our partners and here's how we make money.
Picking the best retail business loan for your specific needs means knowing where to look. We suggest you start with the top six business loans for retail:
SBA 7(a) loans. Best for general expenses.

SBA 504/CDC loans. Best for commercial real estate.

Business lines of credit. Best for sustained cash flow gaps.

Short-term loans. Best for time-sensitive expenses.

Equipment financing. Best for specific fixed assets.

Inventory financing. Best for stocking shelves.
Let's take a closer look at the top retail business loans by category. Whether you own a flower shop or a bespoke mustache wax boutique, there's bound to be a loan for your company that will help hedge against downturns, cash flow-stifling bills and changes in your customer trends.
with Fundera by NerdWallet
Retail business loans: Everything you need to know
Now that you've made it through a quick overview of the six best retail commercial loans for small businesses, let's dive right into the details.
Here's an in-depth description of the top six retail business loans and who should apply for each of them.
There's a reason everyone—us, your neighboring small business owner, the US government—raves about SBA loans quite a bit. And that's because these government-backed business loans really are the crème de la crème.
SBA loans offer generous repayment terms and super-competitive interest rates. With SBA 7(a) loans specifically, the most popular among them, there are few limitations on what you can do with the money if you're approved.
Why are they so good? SBA loans are guaranteed up to 85% by the US Small Business Administration (hence "SBA loan"). That means banks, which do the actual issuing of the loan, end up more willing to take on your loan since they'll get repaid by Uncle Sam in case your business takes a turn for the worse. Their risk is lower in case you can't pay back your loan.
Who should apply for an SBA 7(a) loan?
Anyone who fulfills the minimum requirements should seriously consider applying for this type of business loan for their retail business.
That said, because of their desirability and favorable terms, SBA loans are among the most difficult small business loans to secure. If you're a US-based, for-profit business with a proven track record of investment into your business (both money and sweat equity), you have the mandatory requirements checked off. Next, you'll need a strong credit and revenue background.
If that's you, start exploring what's involved in putting together an SBA loan application.
Your retail business is taking off, your customers love you and your store's mobbed on weekends. We can't help you with the tough decision about whether or not your company's ready to expand its footprint or open another store. But from a lending standpoint, at least, you have options.
The best retail business loan for real estate is also an SBA loan—but it's the second most popular program, the SBA 504/CDC loan. This is a loan meant specifically for investing in fixed assets, real estate included. Just like SBA 7(a) loans, these loans are backed by the government, so their rates are low—as low as 4%—and you can borrow up to $5 million. The SBA recently added a 25-year term to some SBA 504/CDC loans making them even more coveted.
Who should apply for an SBA 504/CDC loan?
Of course, as we mentioned above, if you can qualify for any SBA loan (7(a) loans can be used for real estate too), you should definitely try to snag one. But, again, these are the most competitive loans out there, both in terms of desirability and rates, so there's no such thing as a shoo-in. Take a look at SBA loan requirements here.
If a 504/CDC loan is off the table for you, you can also look to term loans for real estate purchases. Bank loans are difficult to get—especially if you're a new business, don't have a long-standing relationship with a bank, or don't have perfect credit—so you should see which term loans you qualify for if that seems like the right approach for you.
3. Business lines of credit
Part of the unpredictability of retail cash flow means that, even if you get approved for a retail business loan, you might not need to end up using the full amount of your loan. Why pay interest on the money you don't need to use?
If you need to patch intermittent cash flow issues, a business line of credit is the best retail business loan for you. This type of loan is something of a hybrid between a conventional loan and a business credit card; you apply through a lender for a certain amount, but then draw only what you need, only when you need it. And when you take out money through your line of credit, you'll only pay interest on the amount you're borrowing.
Who should apply for a business line of credit?
A line of credit is a great option for retail businesses that need to borrow money for occasional purchases or payments. Consider the line of credit as being similar to borrowing a bit of cash to hold you over, rather than an option for making big-time investments in your company for the future.
This is one of the simpler business loans to get approved for and, if you work through an online lender, you can often get a decision very quickly too. You generally won't need to show outstanding revenue, time-in-business numbers, or a stellar credit score—just proof that you'll be able to repay a lender.
It's tough to make payroll when you get flooded with invoices—or, worse yet, when you have to cover an emergency repair, like a literal flood. You have to make sure your staff gets their checks, but need to keep your doors open for business, too.
This is where short-term loans could really help you out. Granted, this type of retail business loan isn't the cheapest out there, but it can help out small business owners in a crunch.
Online lenders can approve eligible short-term loan borrowers fast and get them the financing they need. The repayment periods on these loans are often less than a year, which is one of the reasons they're ideal for quick-fix situations—like making sure your valuable staff gets paid.
Who should apply for a short-term retail business loan?
Borrowers who need to get their hands on flexible business financing quickly and aren't looking for a long-term solution. Payments on these types of term loans are daily or weekly, which is tough for businesses with spotty cash flow. Plus, they're more expensive than other loans.
The upside? Bad credit is generally accepted—many borrowers get approved around a 600 credit score—which is a plus for accessibility.
You might have a computer from 1989 that manages your inventory and an ageless dot-matrix printer that still (theoretically) prints orders well past its due retirement. You've meant to modernize, but kept deferring investment to more immediate needs.
A form of funding called equipment financing allows you to get what you need and keep your business humming. These retail business loans allow small businesses to purchase any kind of machinery they need for their company—whether that's a new computer system, an industrial bread slicer, or a new delivery van. And these loans are self-secured, because the equipment you purchase with the loan itself serves as collateral.
Bear in mind that equipment loans come with their own pitfalls. For example, your loan is still in effect if your equipment breaks, which means that you'll be paying for a broken laptop well after its shelf life. You'll also have to make sure you're depreciating the value of your equipment every year as well, as the actual cost will drop as your item ages.
Who should apply for an equipment retail business loan?
If you need to make a big purchase for a specific fixed asset, this can be a great solution. And all you generally need to start the process is an equipment quote. Even newer businesses and owners with weaker credit scores can be considered for these loans because of the nature of self-collateralization.
Many lenders can approve qualified borrowers quickly. Interest rates fluctuate between 8-30% (dependent on the purchase and the borrower's credit) and the terms of the loan last about as long as the equipment does. There's little paperwork involved in equipment financing loans, too.
Maybe you're a clothing boutique trying to stock a trend forecasted to spread like wildfire next season, or a coffee shop that needs to tap your usual source for green beans. Regardless, there are going to be times where you need to make big inventory purchases to keep your business churning and you might not have the cash to support it.
Yet another form of self-secured business funding called inventory financing allows you to replenish stock without having to put up additional collateral. Like equipment financing, the inventory itself is what the bank uses to secure your loan (and will sell it if you don't repay). This means that you don't have to tie up your business's other property or cash in order to get an inventory loan in the works, which can be helpful if you're operating on a shoestring budget.
Small businesses are generally best served to look outside the network of big banks for inventory loans—you'll likely have a hard time getting the money you need. Most of the big-time lenders work with wholesalers and larger retailers only, so your best bet is to pursue an inventory loan with an alternative financing company or online lender.
Who should apply for an inventory retail business loan?
Inventory loans usually take one of three forms—a business line of credit, a short-term loan, or a term loan—that a lender issues to a borrower for the specific purpose of buying inventory.
Inventory financing can be a good solution for product-based businesses who need to stock up before busy seasons, or if a huge rush hits and they'll have a guaranteed sell-through. That "guaranteed" part is pretty important, because inventory financing is both expensive and also generally requires a pretty high minimum principal as compared to other loans. A lender might need you to borrow more cash than you need in order to qualify—which wouldn't make financial sense for your business unless you know you'll be able to sell through the investment.
You also may have to go through a due diligence period where lenders will review your financials—so if you need to seize a quick opportunity, inventory financing might not be the right option for you.
Finding the best retail business loan, no matter what you need
There are plenty of options to choose from if you're looking to borrow money for your retail business.
Every option—whether you're looking at a business line of credit, SBA loan, equipment financing, or anything else—comes with its own perks, conditions and potential setbacks. Before you come to the table, make sure you know precisely what you're looking to borrow money for—and especially for retail business loans are concerned.
Knowing your needs, plus the differences between the various loan options available to you can end up saving you a fortune in the long run.
This article originally appeared on Fundera, a subsidiary of NerdWallet.