The 'Our Family Vacation' series shows how several American families travel on a budget.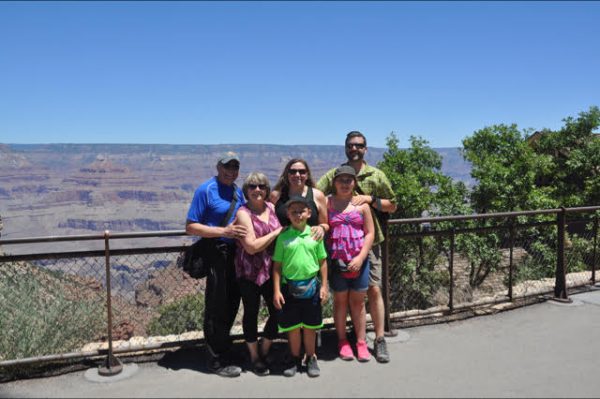 Family members:
Bryant Strot: Sales operation manager for Comcast
Jeannette Strot: Math teacher, coffee shop manager
Faith Strot, 11
Bryant Strot II, 8
Hometown: Troutdale, Oregon
Annual household income: $90,000
Destination(s): A 4,600-mile road trip, spanning 10 western states and including the Grand Canyon, Mt. Rushmore, Yellowstone and the Hoover Dam.
Vacation dates: June 22 – July 4, 2017
Cost: $3,000
Earlier this summer, the Strot family — along with Jeannette's parents, the Silvas — took an epic road trip across the western United States. The six packed in loads of experiences — including national parks, low-cost attractions and visits to relatives — during the 12-day trip, all from the Silvas' RV. This interview has been edited for length and clarity.
Track your spending the easy way
Tracking your spending by hand is tedious. Throw away your paper budget and sign up for NerdWallet to make managing your money easy.
Vacationing in the Strot household
Bryant: "Traveling like this is definitely only a once-in-a-while thing for us. Until recently, we couldn't really afford to take a trip like this. I am also gone an awful lot working. This is definitely the longest trip we've ever taken as a family, really the longest trip we've taken since my wife and I got married."
Jeannette: "We typically do smaller trips, like a lot of camping in the summers. Living near Portland, we're close to the mountains and the beach, so it makes it easier to see sights on a budget.
"My husband has also officiated at several family members' weddings, so we've been to California; Hawaii; Durango, Colorado; and now Lake Tahoe for those events. This trip initially kicked off because my cousin wanted Bryant to do a vow renewal ceremony at Lake Tahoe for him and his wife."
Fitting travel into the budget
Make it an extended family affair.
Bryant: "To make travel more affordable, we usually try to have family involved."
Jeannette: "For this trip, we stayed four out of 12 of the nights with family; we used my parents' RV and shared the trip costs with them. In the past, my in-laws lived in northwest Washington state, so we would take trips up there and stay for free at their house, then use their home as a sort of launching pad to visit nearby attractions."
Bring groceries when possible.
Jeannette: "I think our biggest savings come from buying groceries ahead of time and preparing food ourselves."
Bryant: "We're pretty frugal with food, and obviously with a refrigerator in the RV, we don't need to eat out a lot or stop at gas stations to get snacks. We were able to stop at Costco once before we left and once in the middle of the trip."
Skip costly souvenirs.
Jeannette: "Instead of getting souvenirs at all of our stops, I let my kids pick a postcard from each place, and we plan on putting those in a memory book. Those averaged around 50 cents each."
» MORE: 4 family vacations that cost less than $5,000
Parting travel tip: Plan, plan, plan
Jeannette: "One thing I'd do differently is nail down the exact days we'd be at each location. My mother and I are both planners, but we kind of kept our itinerary loose. We knew where we would stop ahead of time, but didn't nail down which nights. So we'd spend part of each day calling ahead to reserve spots at local KOAs or parks when we knew where we'd be that night.
"But at the Grand Canyon, we had a hard time finding somewhere near the park — everything was booked up. My mother found one spot, but the guy on the other end of the phone acted shady. He said they had space, but his manager was mean and wouldn't allow him to rent the remaining spots. If we were able to meet him at a local grocery store and give him a tip, he'd give us a space. We didn't have many options, so we did it!
"We tipped him about $40, because that's how much the campsite would have cost anyway. The whole thing was sketchy, but funny. We joked that this was his side gig. He even gave his personal address in case we needed anything."
A Nerdy perspective
Splitting vacation costs with relatives is a great way to travel on a budget, but unless you have an RV in the family, a 12-night road tripping adventure might be difficult to accomplish on $3,000. Loading up your car or SUV with a tent and camping gear is one alternative, or you could do shorter weekend trips closer to home and rent an RV. RV rentals can be costly — roughly $1,000 per week for a small RV, not including mileage — so think ahead and don't let additional charges catch you unprepared.
Need help starting your budget?
NerdWallet breaks down your spending and shows you ways to save.
More money and travel tips from NerdWallet