---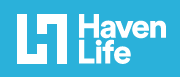 at a glance
Quick application and approval process.
No medical exam required for some customers.
Competitive term life rates (but doesn't offer permanent life).
Overview
Haven Life offers term life insurance online to people up to age 65, with a streamlined application process that takes about 25 minutes. Customers under age 45 who qualify can buy up to $1 million in coverage that starts right away. (With many other insurers, you have to speak to an agent, complete a paper application, and often wait weeks for a decision.) Haven Life policies are issued by its parent company, MassMutual, one of the largest U.S. life insurers.
A.M. Best financial strength rating: A++ (Superior)
Financial strength for Haven Life parent company MassMutual is "superior," according to ratings agency A.M. Best.
Financial strength is important because it indicates how well an insurer can pay claims. It's especially important when choosing a life insurance company because claims might not be made until decades after a policy is purchased.
Consumer complaints: Better than the median
The Massachusetts Mutual Life Insurance Co., which issues Haven Life policies, drew significantly fewer than the median number of complaints to state regulators in 2017 for a company of its size, according to the latest data from the National Association of Insurance Commissioners.
The association assigns a complaint ratio score to insurance companies, based on the number of complaints to state insurance commissioners, adjusted for market share. The median score is 1. A score less than 1 means fewer complaints. The Massachusetts Mutual Life Insurance Co.'s score for individual life insurance in 2017 was 0.03.

Who Haven Life is best for
Those who need a term life insurance policy and want to ditch the old-school application process.

Those who want coverage fast.
Haven Life's application process
Haven Life says it's able to offer such a quick turnaround by accessing data and using an algorithm and artificial intelligence to instantly evaluate applicants.
Coverage begins right away if approved. Some customers up to age 45 will not have to take a life insurance medical exam at all. Others will need one within 90 days and will get temporary coverage with a preliminary price in the meantime. When the exam results are in, the price is finalized if the customer is approved. In rare cases in which a customer is declined for coverage after the exam or doesn't want the policy, the company gives a refund.
Some customers who are required to take a medical exam won't be approved for temporary coverage before the exam results are in. Those customers will have to take a medical exam within 30 days of applying. Their coverage will go into effect after the exam results are considered and the application receives final approval.
more about haven life
Haven Life offers additional services through Haven Life Plus, a free feature you can add to a policy. Launched in August 2018, the new feature is not yet available in Florida, New York, North Dakota, South Dakota and Washington. Haven Life Plus includes access to:
A digital service offered by Trust & Will to create an online will, with unlimited updates at no cost for a year (not available for residents of Missouri and North Carolina).
LifeSite, an online safe deposit box, at no charge for you and five family members. The service is normally $80 per year.
A 15% discount on any single CVS MinuteClinic service.