If you're having a hard time affording your student loan payments on the 10-year standard repayment plan, falling behind — and eventually going into default — isn't your only option. Federal loans give you the ability to lower the amount you owe each month by choosing a different student loan repayment plan, a benefit private loans don't offer.
In most cases, a lower monthly payment also means a longer repayment term, which increases the amount of total interest you'll owe. But switching to a more affordable repayment plan could help you avoid the damaging consequences of default: a ruined credit score, garnished wages and the inability to qualify for federal aid in the future.
Here's how you can lower your payments and what it'll cost in additional interest over time.
What are your options beyond the standard plan?
Graduated repayment is a 10-year plan that lets you pay a lower amount per month to start, then increases your payments every two years. The amount you pay by the end of your loan term will generally be higher than what you would have paid on the standard plan.
Extended repayment stretches your repayment period up to 25 years, and your payments can be either fixed or graduated. It's only available to borrowers with more than $30,000 in outstanding Direct Loans.
The government offers four income-driven repayment plans: income-based, income-contingent, Pay as You Earn and Revised Pay As You Earn. The most generous plan you're eligible for depends on the year you first took out your loans. These plans cap your monthly payments at 10% to 20% of your discretionary income and forgive your remaining loan balance after 20 to 25 years of on-time payments.
How will switching plans affect how much you pay overall?
It's a big decision to make a change to your student loans. So we wanted to find out how much borrowers who switch from the standard plan will actually pay over time, since interest adds up the longer you take to repay your loans. Would a switch be worth it? Here's what we found out: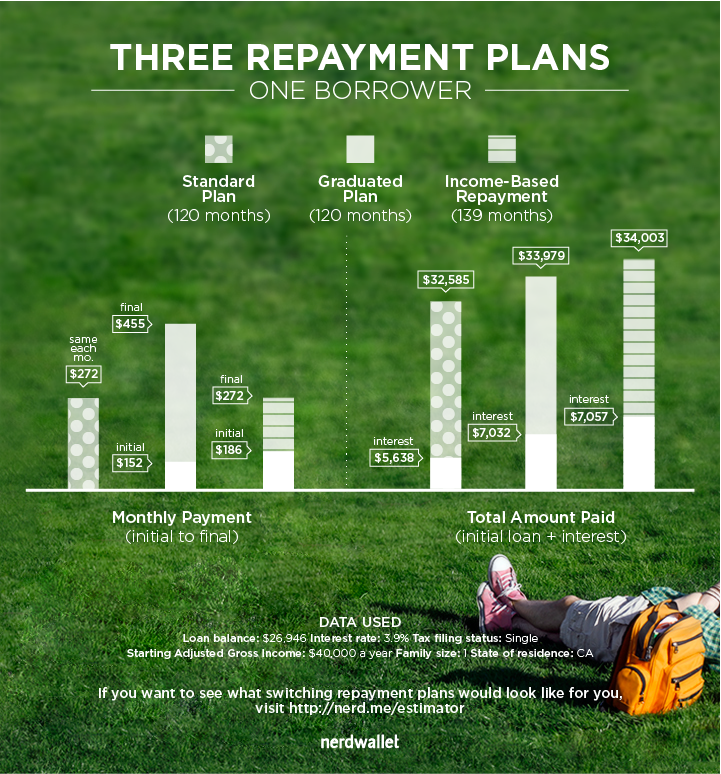 For the borrower in this example, choosing graduated or income-based repayment would mean paying an extra nearly $1,500 in interest on top of the original loan amount. It's important to be aware of the additional interest you'd be responsible for. But that extra cost could be worthwhile if the new repayment plan you choose saves you money in the short term so you can get your financial footing.
How do you switch repayment plans?
Plug your loan information, tax filing status and income into the Federal Student Aid Repayment Estimator to see your projected payments on different plans. (Take a look at our methodology section below for more on how we got to our projections.)
Once you have an idea of which plans might be a good fit for you, call or email your loan servicer, the company that manages your federal loans on behalf of the government. Common loan servicers include Great Lakes Educational Loan Services, FedLoan Servicing, Nelnet and Navient, among others. That company will confirm which plan will give you the lowest possible monthly payment, and they'll tell you the next steps to take. Changing your plan directly with your loan servicer is always free to do; you don't have to pay a third-party debt relief company to apply for a new plan or for loan forgiveness through the income-driven repayment options.
If you're eligible for an income-driven plan, you'll be required to fill out an application and to recertify your income every year. When you make the switch, make sure you're clear on when your next payment is due and how you'll pay it so you don't miss it.
The takeaway
The key to repaying your loans is to find the plan that meets your immediate needs while keeping in mind its long-term effects on your finances. If a graduated, extended or income-driven plan is the only way you can afford otherwise substantial monthly payments, go with the option that will ensure you make all your payments on time. You'll avoid default, maintain good credit and stay on track to leave your loans behind someday, even if that feels like a long time from now.
To learn more about how to pick the repayment plan that's best for you, visit NerdWallet Student Loan Central.
Our methodology
We used Federal Student Aid's Repayment Estimator tool to figure out how much you'll really pay, once you factor in interest charges, on three repayment plans: standard, graduated and income-based.
We used a loan balance of $26,946, which is the average amount of federal loans that students at four-year public colleges owe when they graduate, according to Federal Student Aid, and an average interest rate of 3.9%. We also assumed this borrower has a starting adjusted gross income of $40,000 a year, is single and lives in California. Then we mapped out how much he or she would pay per month, in interest and in total on the three repayment plans.
Sign up for NerdWallet Grad's weekly newsletter to get career and money advice delivered right to your inbox.
Brianna McGurran is a staff writer at NerdWallet, a personal finance website. Email: bmcgurran@nerdwallet.com. Twitter: @briannamcscribe.
---
Image via iStock. Graphic via Jazeena Pineda/NerdWallet.