How to Submit an Income-Driven Repayment Application
The easiest way to submit an income-driven repayment application is on studentaid.gov.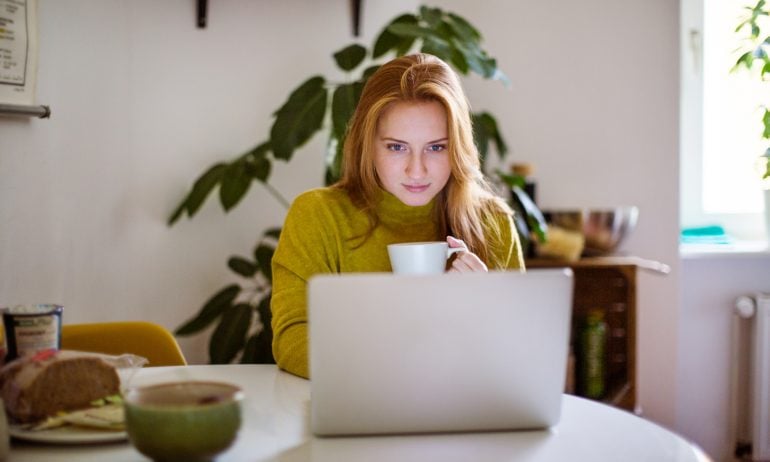 Many or all of the products featured here are from our partners who compensate us. This influences which products we write about and where and how the product appears on a page. However, this does not influence our evaluations. Our opinions are our own. Here is a list of our partners and here's how we make money.
You'll need to submit an income-driven repayment application at studentaid.gov or download a paper request form and submit it to your servicer (the company that sends you a bill every month).
Applying for income-driven repayment online is typically faster and easier than submitting a paper form; the Federal Student Aid office estimates the process takes 10 minutes or less.
The application is available on the Federal Student Aid website. You'll be able to access your tax records and receive a confirmation email after submitting.
You can temporarily self-report income
You can self-report your income until six months after forbearance ends — until roughly March 2024 — according to the latest Education Department guidance.
That means you don't have to submit tax documentation when you report your income. This can be completed online when you submit the IDR application, as normal; in Step 2 of the application, select "I'll report my own income information."
What you'll need to apply for income-driven repayment
To apply online, you'll need to log into your account using your FSA ID. All applicants (online or paper) will need to provide personal information, such as:
The application also requires you to provide financial information, such as:
Most recent federal income tax return or transcript. (The IDR Data Retrieval tool will link your tax information directly to your application.)

Information about your spouse's income if you filed taxes jointly.
If you didn't file taxes or your income has changed since your most recent tax return, you'll typically need to submit proof of income earned within the last 90 days, such as:
Letter from your employer stating your gross pay.

Signed statement explaining your income, if formal documentation is unavailable.
If you're unemployed and receiving unemployment benefits, you'll still need to submit proof of unemployment income. If you don't have any income, you can self-certify as such on the application.
Once you fill in the application, you'll see which repayment plans you qualify for. You'll select one, then confirm all the information you supplied is accurate and sign the application.
What happens after you apply for income-driven repayment?
Once you submit your application, your servicer will confirm receipt via email or letter. It'll also put your loans into a payment pause, called a forbearance, while your application processes. You don't need to make any payments during this time, but interest will accrue and be added to the amount you owe when you start repayment.
It takes around four weeks for servicers to process IDR applications after they're received, Secretary of Education Miguel Cardona said in an August press briefing.
When your application process is complete, you'll receive a new bill with the amount you now owe and payment will restart.
Submit recertification information every year
Applying for income-driven repayment is not a one-and-done application process. You'll typically need to recertify every year. Otherwise, your payments will revert back to the standard repayment plan, and that could mean a bigger monthly bill.
You'll have to recertify similarly to when you first applied using the same form on studentaid.gov or by submitting a paper form to your servicer. You'll need to provide the same information you submitted when you first applied. Due to the payment pause, the earliest you'd have to recertify is March 1, 2024.
If you're on the new IDR plan called SAVE, recertification will happen automatically starting in July 2024. As long as you agree to disclose of your tax information, your servicer and the Department of Education will automatically reenroll you each year. You'll get a notification when this happens, including potential payment amount changes, and you can still manually recertify if you prefer.
If you need help applying, contact your servicer
Your servicer can help you through the process of applying for or recertifying income-driven repayment.
Third-party sources that ask for money to get you enrolled are often a student loan scam. There is never a fee to process an income-driven repayment application, and you never need to pay anyone to apply on your behalf.
Get accurate refinance options in just 2 minutes with Credible
Compare pre-qualified rates from multiple lenders with no impact to your credit score.
Spot your saving opportunities
See your spending breakdown to show your top spending trends and where you can cut back.