Credit unions and banks are both secure places to save money and tend to your everyday financial needs. But why should someone choose one of these common financial institutions over another?
To decide between a bank and a credit union, think about what banking products and services are most important to you, and how you want your financial institution to use the profits it makes by serving customers.
Differences between banks and credit unions
Credit unions and banks differ in three major ways: how they operate, the services and products they offer and how their deposits are insured.
Banks vs. credit unions: How they operate
A credit union is a not-for-profit financial institution owned cooperatively by its members. A bank, on the other hand, is a for-profit company that is either privately owned or publicly traded.
The goal of a credit union is to provide affordable financial services to its community. A bank's main objective is to provide financial returns to its shareholders.
Banks vs. credit unions: Products and services
You'll be able to find most of the same products on offer at both credit unions and banks: savings and chequing accounts, registered accounts like RRSPs and TFSAs, credit cards, loans and mortgages.
Banks, particularly if they're national entities, may offer a larger variety of these products, as well as more locations and ATMs. But because of their lower operating costs, credit unions generally pay their members higher interest rates on savings and certain investments.
When it comes to services, credit unions can be a less expensive option than banks. Credit unions sometimes offer lower interest rates on personal loans and mortgages, pay their members higher interest rates on certain savings and investment products, and they may charge fewer, or lower, fees for certain transactions.
Banks vs. credit unions: How deposits are insured
Whether you're a credit union member or a bank customer, your deposits are protected against the unlikely event that your financial institution suddenly becomes insolvent.
Banks protect their customers' deposits through their membership in the Canada Deposit Insurance Corporation, which insures deposits up to $100,000 per eligible account.
Deposits at credit unions are also protected, but by provincial insurance providers. For example, the Northern Credit Union member deposits are insured by the Financial Services Regulatory Authority of Ontario's Deposit Insurance Reserve Fund and Access Credit Union deposits are 100% guaranteed by the Deposit Guarantee Corporation of Manitoba (DGCM).
The maximum insurable amount varies by province. In Nova Scotia, for example, most accounts are insured for up to $250,000; in Saskatchewan, all deposits are guaranteed, no matter how much an account holds.
CDIC provides a list of provincial credit union insurers if you're curious about how much coverage credit unions in your province receive.
Read NerdWallet's banking reviews
See what Canada's biggest banks and popular credit unions have to offer.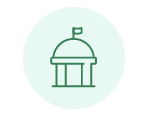 Credit unions and banks: Comparing the advantages
Millions of Canadians use both credit unions and banks, so there must be plenty to like about each one. Let's compare their key advantages.
Credit unions
Community-oriented. When you apply to become a member of a credit union, you become part of a cooperative whose goal is to support the local community, including businesses and homeowners. Credit unions also help local farmers by providing special financing, such as agricultural borrowing options by the Affinity Credit Union and Conexus Credit Union. You'll also get to vote on matters affecting the credit union.
Lower costs. One of the biggest advantages of being a credit union member is getting access to lower fees and more favourable interest rates. (You will have to pay a membership fee, but these are typically low.) Some credit union members can access ATMs across the country through the Exchange and Acculink networks without paying extra fees.
Banks
More products. Banks may be better equipped to offer a wider variety of accounts, loans and investment options.
Easier access. Banks tend to offer more branches and ATMs than credit unions, which can make accessing their services — and your money — easier.
No geographic limits. Large banks offer products and services both across the country and online. Credit unions tend to focus on serving local members, and may not have the resources to provide an equal level of online service.
Choosing between a credit union and a bank
Settling the 'bank vs credit union' question is really just a matter of determining what you want from a financial institution. If being a part of a credit union's pro-community, non-profit approach speaks to you, and a credit union near you provides an acceptable level of service, that might be the way to go.
But if you'd be more comfortable dealing with a recognizable brand that offers around the clock service — and you're equally comfortable paying more fees and higher interest rates — a bank may be more up your alley.
And really, you don't need to choose. There's nothing stopping you from having multiple bank accounts and spreading them across different institutions.
To find a credit union near you, visit the Canadian Credit Union Association website.
Frequently asked questions about credit unions vs. banks
Which is better, a credit union or a bank?
Credit unions generally charge lower fees and interest rates than Big Banks, but banks tend to offer more locations, services and products. The "better" option is the one that best fits your banking needs.
Which are safer, credit unions or banks?
In Canada, both credit unions and banks are protected by deposit insurance. Banks are covered by the Canada Deposit Insurance Corporation, or CDIC, while credit unions are covered by provincial deposit insurance providers.