Travelling is meant to be exciting, but many people start their journey on a bit of a sour note. You typically need to arrive at the airport hours before your flight. There can be long lines to check-in and, once you clear security, there can often be a lack of comfortable seating.
Fortunately, having lounge access can make your airport experience a little bit better. Lounges give you a private space where you can relax, enjoy a meal and even rest up before you take off. Best of all, many credit cards with airport lounge access can get you in for free.
What is airport lounge access?
An airport lounge is a space located within many major airports that offer more comfort and amenities than public areas. They're incredibly popular because they offer a great place to rest before your flight.
Every lounge is different, but some benefits include:
Hot and cold meals
Alcoholic and non-alcoholic drinks
Snacks
Showers
High speed Wi-Fi
Computers and printers
Newspapers and magazines
Television
Air conditioning
Beds
Flight information
Generally speaking, pay-per-use lounges have fewer amenities compared to airline lounges that require membership access. As you can imagine, every lounge has different operating hours. In many cases, lounges are open from 5 a.m. to 9 p.m. There are also a few lounges that are open 24 hours.
To enter a lounge, you would typically have to show your membership card (or credit card), a valid ID and a boarding pass with a departure date that's the same as the day you're entering the lounge.
» CHECK OUT: Popular loyalty programs for Canadians who love to travel
Best Travel Credit Cards in Canada
Compare all different travel credit cards side-by-side and find out the best card that will meet your need with special perks and benefits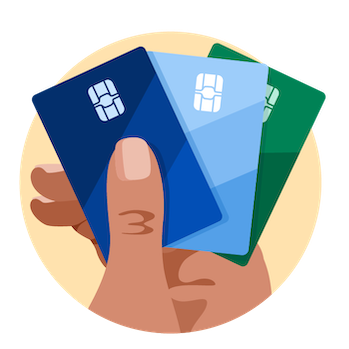 Types of airport lounge networks
Understanding lounge access can be a bit confusing at times since there are different networks. What lounge you have access to depends on what credit card you have and what type of ticket you've purchased.
Airport lounge access credit cards in Canada will typically give you access to the following airport lounges.
Priority Pass
Priority Pass has over 1300 lounges and is easily the most prominent airport lounge network in the world. You can buy a membership to Priority Pass that gives you access to the lounges, but many Canadian credit cards provide it for free. Priority Pass even has partnerships at restaurants in select airports where you can get discounts on your bill.
There's just one problem with Priority Pass. Plaza Premium lounges, which are located in many Canadian airports, recently left the network. That means some airport lounge access credit cards will no longer get you into those lounges.
Mastercard Airport Experience by LoungeKey
Mastercard Airport Experience by LoungeKey is almost identical to Priority Pass, but they have a slightly smaller network. Many World Elite Mastercards include Mastercard Airport Experience by LoungeKey and a set number of free annual passes. Unfortunately, Plaza Premium lounges are not part of the Mastercard Airport Experience by LoungeKey network.
Airline lounges
The most popular airline lounge in Canada is the Maple Leaf Lounge. It's operated by Air Canada and is typically only available to Aeroplan members with status and those flying in business class. That said, Aeroplan recently added lounge access to premium Aeroplan credit card holders. They've also temporarily allowed anyone to purchase one-time passes.
There are a few other airline lounges in Canada that you could access. For example, there's a SkyTeam (Air France, KLM, etc.) in Terminal 3 at Toronto's Pearson International Airport. You can get into that lounge if you have a Priority Pass membership.
American Express Centurion Lounges
Although there are no American Express Centurion Lounges in Canada, American Express Platinum cardholders do have access to them. These lounges are generally more upscale and typically have more space, additional amenities and better food. You'll find The Centurion Lounge in Dallas, Las Vegas, Los Angeles, New York, Hong Kong, Melbourne and other destinations.
» MORE: How credit card travel insurance works
Credit cards with airport lounge access
There are quite a few credit cards with airport lounge access in Canada. However, the lounge network you get access to and the number of free passes included differ, so you'll want to consider that before you apply.
Here are some popular Canadian credit cards with lounge access:
You'll want to pay special attention to the terms and conditions of the passes. For example, the cards with unlimited access typically allow you to bring in one guest for free. However, if you're given a set number of passes each year, you need to use a pass for each guest.
Additionally, any supplementary cardholders might not be able to access lounges unless they're travelling with the primary cardholder.
» MORE: How do travel credit cards work?
Is airport lounge access worth it?
Looking at it strictly from a dollar value, airport lounge access credit cards can be a great deal. For example, a standard Priority Pass membership costs US$99 and each visit is US$32. Suppose you had the Scotiabank Passport Visa Infinite Card, which comes with six free annual visits. In that case, you're getting US$291 (CA$370) in value. That's worth significantly more than the $139 annual fee.
» MORE: When is an annual fee worth the cost?
Now let's say you don't have a credit card with complimentary lounge access. The pay-per-use lounges typically charge about CA$50 for walk-ins, but prices vary. If you're there for a few hours and want access to the facilities, it can be a good value. That said, many people will balk at the idea of paying to use a lounge.
The value comes down to the needs of the traveller. Airport lounges provide a great environment where you can get settled and enjoy refreshments before your flight. Paying for that environment is just another trip expense. If you prefer to spend your money when you're at your destination, then there's nothing wrong with sticking to the public waiting areas before your flight takes off.