Choosing the best credit card can feel like an impossible mission. There are numerous cards out there, each with its own pros and cons. But using your budget, spending habits and financial goals as a guide can help you narrow down your choices.
Before you start
Check your credit score
Checking your credit score helps you decide which cards to apply for. A credit score between 660 and 900 is considered good to excellent, according to Equifax, and will increase your chances of approval for most cards. If it's lower, you still have options, but there may be fewer cards to choose from.
You can check your credit score through the two credit bureaus, Equifax and TransUnion. Equifax offers free credit checks, while TransUnion typically charges a monthly fee for the service (TransUnion credit checks are free for residents of Quebec). Some financial institutions allow you to check your credit score for free.
Consider your income
In many cases, credit cards require a minimum personal or household income for you to be eligible. If your income doesn't meet a card's requirements, it's best not to apply. Too many hard credit checks in a short period of time can have a negative effect on your credit because lenders may think you're living beyond your means. So if you know you won't qualify for a card, move on to the next.
How to pick the right type of credit card
Generally speaking, there are three types of credit cards:
Rewards cards.
Low-interest cards.
Cards for no credit or bad credit.
If you want to earn rewards
A rewards credit card may be the right choice if you have a good credit score and don't typically carry a credit card balance from month to month. You can earn points on everyday purchases, which you can then be redeemed for cash, free flights or other benefits. Compare the best rewards card in Canada to help you decide.
If you want to reduce your debt
Tend to carry a balance from month to month? You may want to consider a low-interest credit card, especially one with a balance transfer option. By moving your balance to a card with a lower interest rate, you could save money in the long run.
If you want to build your credit
Student credit cards or other entry-level credit cards like secured cards may be the right choice for people who are starting to build their credit. Instead of relying on your credit score for approval, secured credit cards require a deposit as collateral — typically equal to the card's credit limit. For example, if you provide a $1,000 security deposit, you'll have access to $1,000 in credit.
Compare credit card features
Once you've decided on the type of card that will meet your needs, consider the individual features of each product, such as fees, interest rates, reward rates and perks.
Here are some key questions you can ask yourself as you compare credit cards:
What's the annual fee? Depending on the type of card and the features it offers, the annual fee can range from zero to several hundred dollars.
Is there a promotional balance transfer rate? Some cards offer a lower interest rate when you transfer a balance from another card, which can help you pay off the balance faster.
What is the standard interest rate? Credit card interest rates typically hover at around 20% in Canada, but can be considerably higher or lower depending on your credit and the type of card you get.
Will this card help me build my credit? Make sure any card you get will help you maintain or grow your credit score based on your own financial situation. For example, if you always carry a balance, choose a card with a low interest rate and avoid charge cards, which must be paid off in full each month or are subject to very high interest rates. If you have no or bad credit, consider a secured credit card, which relies on a security deposit instead of your credit score to determine eligibility.
Where do I spend my money? Many rewards cards offer an increased earnings rate on select categories like gas, groceries or pharmacies. Most credit card purchases have set merchant category codes (MCCs) that can impact the points or cash back you earn. Find a card that matches your spending habits so you can get the most out of the reward program. 
Do I want cash-back or travel rewards? Travel rewards can be very lucrative, but if you don't travel often, cash-back rewards may be more appropriate.
What type of travel rewards do I want? If you only fly with a certain airline or stay at a specific hotel chain, choose a card that specializes in those rewards. If you want flexible travel rewards, pick a card with a more generalized redemption program.
Does the card offer extra perks? Many cards come with added features, such as travel insurance, airport lounge access, purchase protection, extended warranties and more. If a particular perk is important to you, focus on cards that offer that feature.
Is there a sign-up bonus? Look for a card that offers a welcome bonus, like extra rewards or a higher cash-back rate for a limited time. Ensure that you're likely to meet the spending requirements of any bonus that catches your eye.
Best Credit Cards in Canada
Compare all different credit cards side-by-side and find out the best card that will meet your need with special perks and benefits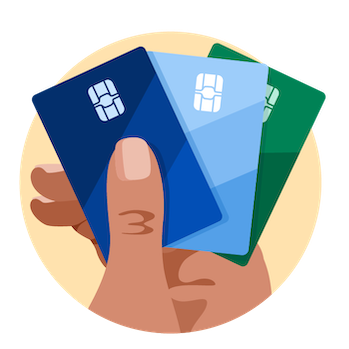 Find the best credit card
Choosing the right credit card can help you achieve your financial goals by earning rewards, reducing debt and growing your credit score. Take the time to apply for one that's right for you. When you start using your new credit card, keep an eye on the common credit card mistakes beginners make so that you can continue to reap the benefits.
Compare credit cards within the same category to find the best option for you.
DIVE EVEN DEEPER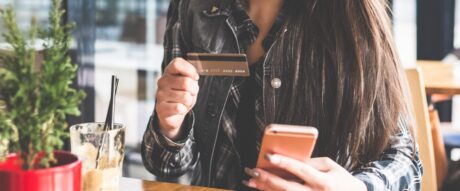 There are many types of credit cards on the market. Choose the right card for your finances by understanding how features and fees may vary.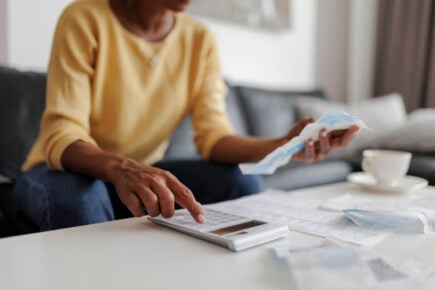 Interest charges don't need to be a mystery. Use our credit card interest calculator to see how much interest you'd owe if you carry a credit card balance.