Choosing one of the best credit cards in Canada can feel like an impossible mission. There are dozens of cards to choose from, and each one has its pros and cons. But when you dig a little deeper, there's often a card or two that's ideal for you. To narrow down your choices, you need to consider your situation, what rewards you like and your spending habits.
Check your credit score and income
Before you apply for a credit card, you need to know your credit score. Checking this number helps you decide which credit cards to apply for. If your credit score is between 660 and 900, it's considered good to excellent, and you will likely be eligible for more credit cards. If it's lower, you still have options for cards that will help you build your credit.
You can check your credit score through the credit bureaus, Equifax or TransUnion. It might be free, or you might need to pay a fee. Some financial institutions also allow you to check your credit score for free.
Some credit cards require a minimum personal or household income for you to be eligible. Any income requirements will be clearly outlined during the application process. If your income doesn't meet a card's requirements, it's better to apply for a different card instead.
» MORE: How old do you need to be to get a credit card?
Figure out your goals
Generally speaking, there are three types of credit cards:
Rewards cards
Low-interest cards
Cards for no/bad credit
All credit cards are designed with a specific purpose, so you should choose one that matches your needs.
If you want to earn rewards
A rewards credit card is the best choice for someone who has a good credit score and doesn't typically carry a balance. You can earn points on every purchase you make, which can be redeemed for cash, free flights or other benefits.
» MORE: The best rewards credit cards in Canada
If you want to reduce your debt
Anyone currently carrying a balance on another credit card should consider a new low-interest credit card, especially one with a balance transfer option. By moving your balance to a card with a lower interest rate, you could save money in the long run.
If you want to build your credit
Student or entry-level credit cards offer an excellent way for people to start building their credit scores. If you've run into credit issues in the past, a secured credit card can help you rebuild your credit score.
» MORE: What credit score is needed for a credit card?
Best Credit Cards in Canada
Compare all different credit cards side-by-side and find out the best card that will meet your need with special perks and benefits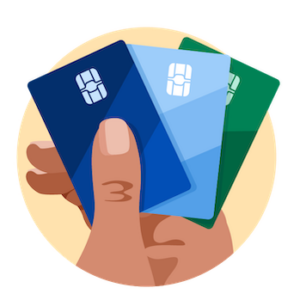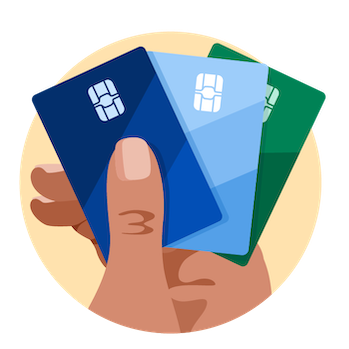 Ask the right questions
Once you've figured out your goals, you need to ask yourself a few more questions to help narrow down your choices.
For rewards cards
Do I want cash back or travel rewards? Travel rewards can be more lucrative, but cash back is more versatile because you can spend it on anything.
What type of travel rewards do I want? Choose from hotel, airline and general travel rewards.
Where do I do most of my spending? Many rewards cards offer an increased earnings rate on select categories like gas, groceries, or pharmacies.
What are the fees? If there's an annual fee, make sure you'll earn enough rewards to offset it.
» MORE: Best rewards credit cards
For low-interest cards
Is there a promotional rate for balance transfers? Some cards offer a lower interest rate when you transfer a balance from another credit card, which can help you pay off your balance faster.
What are the fees? The credit card may charge you an annual fee, as well as a fee for the balance transfer.
What is the standard interest rate? You'll want to know the regular interest rate you'll pay when the promotional period ends.
For cards for no/bad credit
Will this card help me build my credit? Make sure any card you get will help you improve your credit score by reporting your payments to the credit bureaus.
Does it require a security deposit or fees? Most secured credit cards will require a deposit, and some may have annual fees.
» MORE: The best credit cards for bad credit
Decide on the extras
Even after considering these questions, you'll likely still have quite a few choices. At this point, look at the fine details to help you settle on the right card. Consider factors like:
Sign-up bonus: Look for a card that offers a welcome bonus, like extra rewards or a higher cash-back rate for a limited time.
Interest rate: Do you plan to pay off your balance each month, or is it more likely that you will carry some debt? Consider how your balance will add up when studying interest rates.
Additional benefits: Many premium credit cards come with extra perks, such as travel insurance, lounge access, price protection, extended warranties and more.
Finding a perfect match is rare, but you'll likely be able to find a card that ticks many of your boxes.
Choosing the right credit card can help you achieve your financial goals by earning rewards, reducing debt and increasing your credit score. Take the time to apply for one that's right for you, and reap the benefits.