Have you ever looked at your credit card bills after returning home from a trip and been shocked at how much each purchase actually cost you? Or ordered something online from an American retailer that turned out to be more expensive than you expected? It's not that the exchange rate is worse than you thought — your credit card issuer likely added a foreign transaction fee to every purchase.
What is a foreign transaction fee?
The majority of credit cards charge a foreign transaction fee of 2.5% whenever you charge a purchase that's not in Canadian dollars. You may not have noticed it before since the exchange rate that shows up on your statement already includes the fee, but it means that every purchase costs a little bit extra.
It doesn't matter if you're making an online purchase in U.S. dollars from your Canadian living room or paying for dinner out in Istanbul in Turkish lira. If you're not paying in CAD, you'll have to pay the exchange fee. Fortunately, there are a few credit cards that don't charge foreign transaction fees.
» MORE: Are you familiar with these common credit card fees?
Canadian credit cards without foreign transaction fees
Credit cards without foreign transaction fees have become more common in recent years. As long as you use these types of cards, you'll only pay the regular exchange rate when making purchases in currencies other than Canadian dollars.
Here are some of the options:
Scotiabank Passport Visa Infinite Card
Besides freedom from foreign transaction fees, the Scotiabank Passport Visa Infinite Card also offers free annual lounge passes, excellent travel insurance, and a flexible rewards program. However, the $139 annual fee and minimum annual income of $60,000 mean that it may not be a good fit for everyone.
Home Trust Preferred Visa
The Home Trust Preferred Visa is a popular non-foreign-transaction-fee credit card since it has no annual fee. Instead of earning travel rewards, you'll get 1% cash back on all your purchases.
STACK
STACK is a prepaid Mastercard, so you can only spend up to the amount you load onto it. One significant advantage of STACK is that you can withdraw money from ATMs without paying foreign transaction or cash advance fees.
Best Credit Cards in Canada
Compare all different credit cards side-by-side and find out the best card that will meet your need with special perks and benefits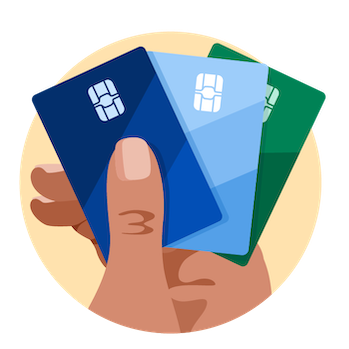 How to calculate foreign transaction fees
While most credit cards charge a foreign transaction fee of 2.5%, some may go as high as 3.5%. You'll have to check your credit card terms and conditions for the specific fee you'll be charged. To calculate how much you're paying, you could use online currency calculator tools available from Visa and Mastercard.
It's worth noting that some merchants will allow you to choose to pay in either the local currency or your home currency, which is known as dynamic currency conversion. It's always better to select the local currency, as you'll pay the exchange rate set by the credit card network rather than a higher rate that often includes extra fees. Plus, even if you choose to pay in Canadian dollars, you'll still have to pay the foreign transaction fee since the purchase is occurring outside of Canada.
Should I use a U.S. dollar credit card instead?
American dollar credit cards can be handy if the majority of your purchases are in U.S. dollars. However, if you're paying in any other currency, the same foreign transaction fee would apply. A U.S. dollar credit card could be an excellent addition to your wallet if you also have a Canadian card, but it's likely not a good choice if you only want to have one card.
You also need to consider how you'll pay your monthly credit card bills. A U.S. dollar credit card requires you to pay your bill in USD. If you don't have a steady stream of U.S. income, you'll need to convert your Canadian dollars to USD before you can pay your bills — which also comes with a fee.
Although paying a 2.5% or 3% conversion fee may not seem like a lot, it can add up over time. If you plan to make more than sporadic purchases in foreign currencies, such as if you're planning an upcoming trip or shopping online, consider getting a no-foreign-transaction-fee credit card to help you keep costs down.
» MORE: The best ways to use your credit card overseas