University was a time of many firsts in my life: my first time living away from home, my first job and— my first credit card.
That's right, Frosh Week featured all the usual get-to-know-you hijinks of any first-year collegiate experience, but it also featured a congenial twenty-something from a bank, standing in the middle of the quad signing up people like me for student credit cards. I did it for the free T-shirt and because I vaguely remembered a conversation where my mom said it was important to build my credit for the future.
Other than that, I knew little about the power and peril of ongoing access to revolving credit, much less the differences between student cards and other credit cards on the market.
Luckily, I've learned a thing or two since then. Here's what you need to know about student credit cards.
How student credit cards work
Student credit cards are functionally indistinguishable from regular credit cards. You still have to pay back the purchases you charge to the card before the payment deadline each month, or you will pay interest on the full balance. The difference between a student credit card and a standard credit card comes largely in the qualification requirements.
Credit issuers acknowledge that students do not have the credit history or annual income necessary to apply for more traditional credit cards, so those eligibility requirements are relaxed with student cards. The income and credit requirements for these cards are either much lower than traditional cards or not applicable. The best among them also comes with no annual fee, and are available at a much lower minimum credit limit than traditional credit cards.
While some student cards are available only to those enrolled in a college or university, most are technically available to anyone. They're only called student credit cards because they fit into the specific criteria outlined above: no annual fee, low or no income requirement, low or no credit history requirement and lower-than-average minimum credit limit.
In fact, student credit cards can be ideal for new residents or international students living in Canada, many of whom also don't have the credit history or annual income necessary to qualify for traditional credit cards. If you make your payments on time and your account is in good standing, your issuer may offer a conventional credit card (and will likely give you one if you ask), assuming they are satisfied with the length of your credit history.
How to choose a student credit card
Though income and credit score requirements are lowered with a student credit card, you still need to be the age of majority in your province, you still need to prove some kind of income (even if it's part-time or from a scholarship) and you can't already have a negative credit history.
When choosing a student credit card, pay attention to the Annual Percentage Interest Rate (APR) on purchases, balance transfers and cash advances, as well as the fees on things like late payments, over-limit fees and foreign transaction fees. Then, figure out if you can afford this card in your budget and if you'll be able to make not just the minimum payments each month, but also pay for all the purchases you are likely to charge to the card. If not, you can quickly land yourself in a growing hole of debt that can be difficult to climb out of.
If you want a card with rewards, select one that rewards you for the purchases you make anyway and most frequently. Cards that align with your existing spending habits will absolutely fit best. Also, pick a card with a credit limit you can easily pay back if you end up maxing it out.
» MORE: How to calculate credit card interest
Best Student Credit Cards in Canada
Compare all different student credit cards side-by-side and find out the best card that will meet your need with special perks and benefits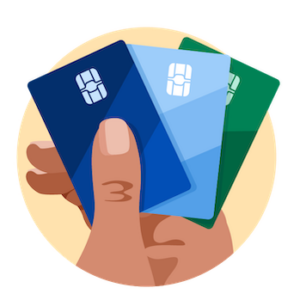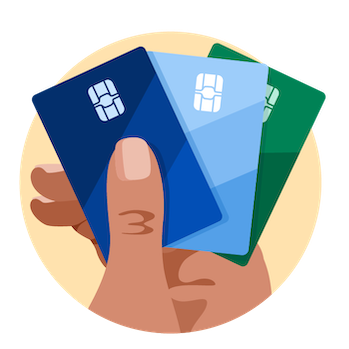 Student credit card alternatives
You won't qualify for a student credit card if you already have a negative credit history or no proof of at least some source of income. You also may not feel ready, comfortable or able to manage the responsibility of a credit card yet. But that doesn't mean you have to be shut out of access to credit entirely. There are a few alternatives out there, including the following options.
Become a supplementary cardholder
Ask a parent or caregiver if they will add you as a supplementary cardholder on their credit card account, which means that you get a copy of their credit card and use it to pay for purchases as if it were your own. However, keep in mind that this isn't your credit card, and it will not help build your credit history. Furthermore, running up the credit limit can negatively impact the primary cardholder's credit score.
Get a co-signer
Ask a parent or caregiver to co-sign your credit card application to act as a guarantor. The credit issuer will be more likely to approve your application with a co-signer who has a longer and more stable credit history in good standing. There are risks here, too, as the co-signer will ultimately be responsible financially if you fail to pay your credit card bill, and their credit can be ruined as a result. However, if you use the card responsibly, you will build your credit history and eventually apply for a credit card on your own.
Obtain a secured card
A secured card requires a minimum upfront cash deposit that will become the card's credit limit, which you then can charge and pay back like an ordinary credit card. If you don't make your payments on time, the card issuer can take the money from your initial deposit. Even though secured cards have high interest and fees, they can help you build a credit history and transition to an unsecured card as soon as possible.
Pros and cons of student credit cards
Pros
No or lower eligibility requirements for annual income and credit history
No annual fee
Helps build and establish your credit as early as possible
Rewards, cashback and other perks that appeal to college and university students
Cons
Lower minimum credit limits
Any rewards are not as lucrative as traditional cards
Can have higher than average interest rates and fees
No sign-up bonus or promotional introductory rates
Less-rigorous income requirements can lead some to take on more debt than they can pay off