The World's Most Dangerous Drives
From poor weather conditions to inexperience behind the wheel, accidents on the road can occur for a number of different reasons. With millions of drivers and billions of vehicles across the world, where are the most dangerous places to drive?
The UK cities with the most dangerous roads
With over 30 million people on the roads across the UK, and over 100,000 casualties occurring in the last year, what are the UK's most dangerous areas to drive?
Take a look at the map below to find out the places in the UK with the highest casualty rates.
The London boroughs with the most dangerous roads
London alone saw over 30,000 road casualties in the last 12 months. With the capital known for its busy roads and heavy traffic, which boroughs are the most and least safe to drive in when it comes to the number of casualties?
The 8 main causes of road casualties in the UK
Road accidents can be caused by a number of reasons, from misjudging the distance of another vehicle, to weather conditions impacting your ability to drive. But what are the 8 main causes of casualties on UK roads?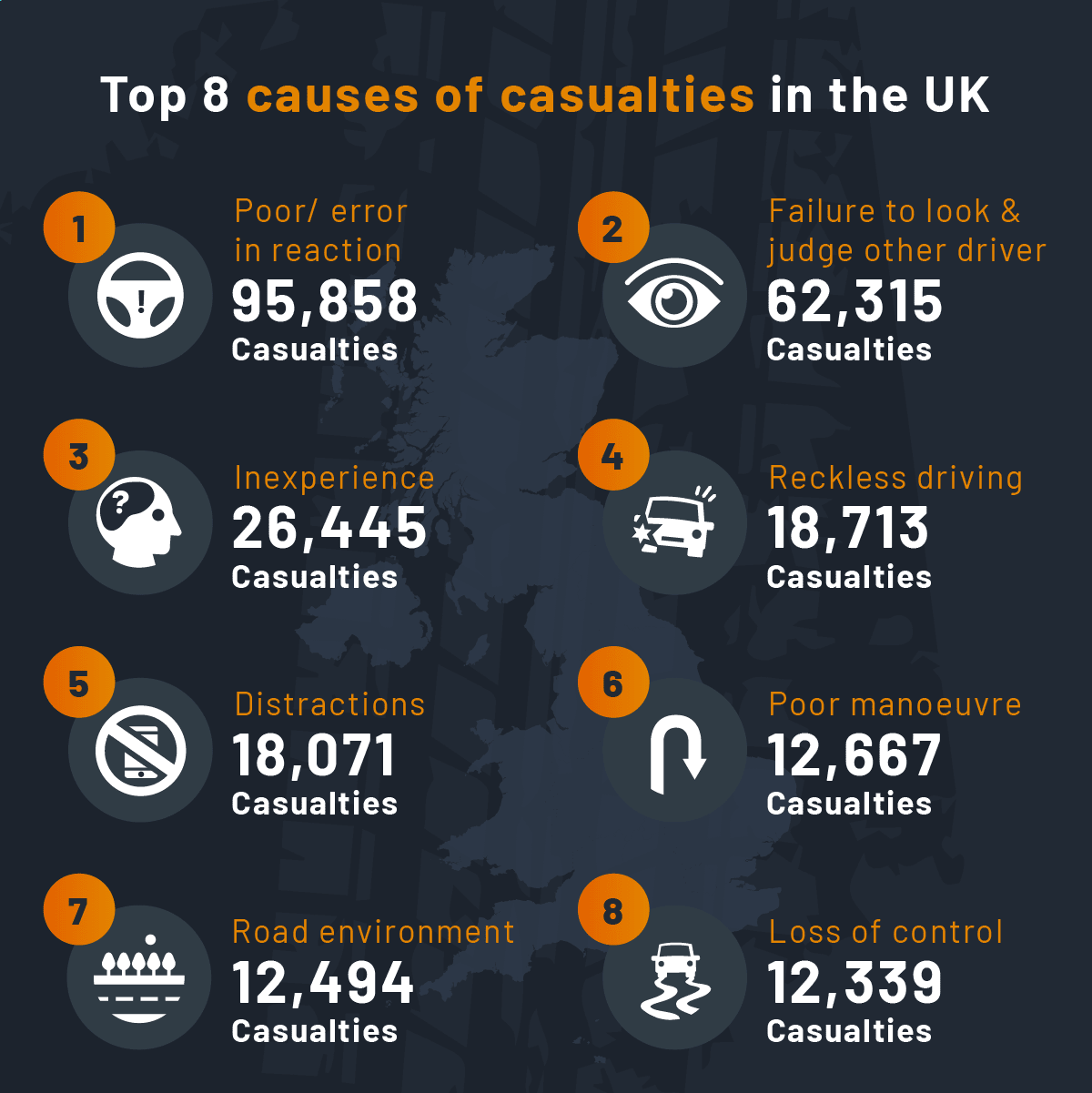 There is lots to consider when driving in a new country, from understanding road regulations to keeping to the correct side of the road. But which countries are the best and worst to drive in?
We have analysed road incident data, as well as average congestion levels and maximum speed limits to determine the best and worst places to take your vehicle.
Sources and Methodology
The research was carried out between 30/09/2020 - 01/10/2020, using latest UK Gov data (released 30/09/20). In this data we analysed the number of road accidents and casualties across the UK in 2019, the causes for these, the number of casualties in different local areas, and the severity of each incident. We also analysed the size of different local areas to determine the number of casualties per square mile across the UK.
Using World Health Organization's (WHO) 2018 road safety report, we analysed the best and worst places to drive across the globe, analysing metrics such as the number of road deaths, road quality, average speed limits, and funding that goes into roadworks in different countries. We also used Inrix data to determine the hours lost to congestion on average in each country. These metrics were collated into a weighted index to determine the best and worst places to drive overall.
Disclaimer: Information in this article was correct at the time of publication.
About the author:
John Ellmore is a director of NerdWallet UK and is a company spokesperson for consumer finance issues. John is committed to providing clear, accurate and transparent financial information. Read more