What Is a Medicare Advantage Plan?
A Medicare Advantage Plan is an alternative to traditional Medicare, offered by private insurers. Here are the benefits and drawbacks.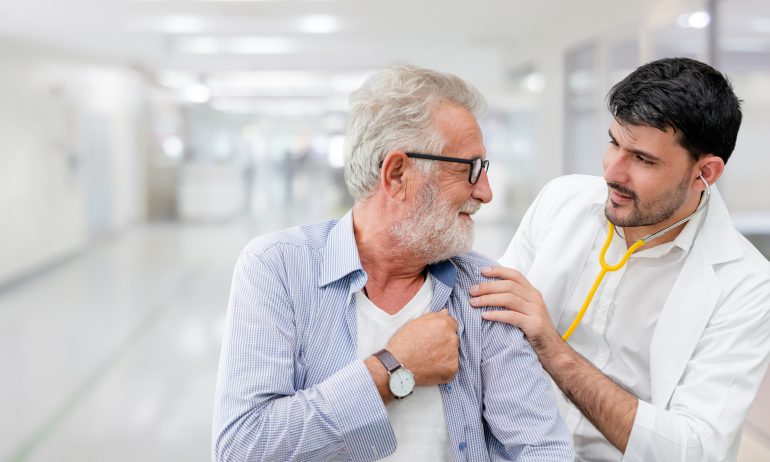 Many or all of the products featured here are from our partners who compensate us. This may influence which products we write about and where and how the product appears on a page. However, this does not influence our evaluations. Our opinions are our own. Here is a list of our partners and here's how we make money.
Medicare Advantage is an all-in-one alternative to Original Medicare. Private insurers that offer Medicare Advantage Plans contract with the federal government to provide health insurance benefits to people who qualify for Medicare.
In 2021, about four in 10 people eligible for Medicare are in Medicare Advantage Plans.
The pros and cons of Medicare Advantage
Medicare Advantage plans have benefits and drawbacks. While they're a slam dunk choice for some people, they're not right for everyone.
Potentially lower premiums for coverage.

Limits on how much you may have to pay out-of-pocket for hospital and medical coverage.
Less freedom to choose your medical providers.

Requirements that you reside and get your nonemergency medical care in the plan's geographic service area.

Limits on your ability to switch back to Original Medicare with a Medicare Supplement Insurance policy.
How Medicare Advantage Plans work
Medicare Advantage Plans — also known as Medicare Part C or MA Plans — are required to provide the same benefits as Medicare Part A, which covers hospitalization, and Medicare Part B, which covers doctor's visits. Medicare Advantage Plans also typically include Medicare Part D prescription drug coverage and may include benefits not covered by Medicare, such as routine dental care, eye exams and glasses, and hearing aids.
Medicare Advantage vs. Medicare
Medicare Advantage Plans may have provider networks that limit your choices. If you go outside the network, your care may not be covered. With Original Medicare, you generally can use any doctor or medical facility that accepts Medicare assignment.
In exchange for less freedom, though, you often pay less. You would still be required to pay a monthly premium for Part B, but the additional cost for a Medicare Advantage Plan may be less than for a Medigap plan. Sometimes the Medicare Advantage Plan may have a $0 premium.
Medicare Advantage Plans may also have a maximum out-of-pocket limit for covered care. That caps the amount you'll be expected to pay in addition to your premiums. Original Medicare and most Medigap plans don't have out-of-pocket maximums.
Medicare Advantage vs. Medigap
Medicare Advantage Plans are sometimes confused with Medicare Supplement Insurance, also known as Medigap. Both are offered by private insurance companies, but Medigap policies cover people who buy Original Medicare (Part A and Part B), filling gaps in Original Medicare by covering additional copays or coinsurance. Medicare Advantage Plans, by contrast, provide an alternative to Medicare Part A and Part B. You can't have both a Medicare Advantage Plan and a Medigap plan at the same time.
Also, because Medigap policies are standardized, it's relatively easy to compare costs. Every Medicare Advantage Plan may be different, so comparison shopping can be difficult.
How to choose the best Medicare Advantage Plan
Comparing Medicare Advantage Plans requires you to understand your health care needs and think about what each type of plan offers. If you have a chronic health condition and you see specific doctors, you'll want health coverage that they accept. If you take prescription drugs, some plans may offer lower out-of-pocket costs than others.
Here are some questions to ask:
Do you have to get a referral to see specialists?

What benefits do they include? (Do you need vision or dental?)

How much will your drugs cost?

Are your doctors covered?
Medicare Advantage providers
Get more information about some of the major Medicare Advantage providers here:
How to enroll in a Medicare Advantage Plan
Once you've done your research and found a Medicare Advantage Plan that fits your needs, there are various ways to enroll:
Go to the plan's website to see if you can enroll online. Contact the plan to get a paper enrollment form. Fill it out and return it to the plan provider.

Call the provider for the plan you wish to join.

Call Medicare at 1-800-MEDICARE (1-800-633-4227).
You will need your Medicare number and the date your Medicare Part A and/or Part B coverage started.
Keep in mind that you can only enroll in a Medicare Advantage Plan during your Initial Enrollment Period (when you first become eligible for Medicare) or during the Open Enrollment Period from Oct. 15 to Dec. 7. Once you're enrolled in a Medicare Advantage Plan, you can switch plans during Medicare Advantage Open Enrollment from Jan. 1 to March 31 each year.
How to switch Medicare Advantage Plans
If you want to change Medicare Advantage Plans, you can do so once a year, either during Medicare's fall open enrollment period (Oct. 15 to Dec. 7) or the Medicare Advantage open enrollment period (Jan. 1 to March 31).
You also can change to Original Medicare during these periods, but it could be hard to get a Medicare Supplemental Insurance policy if you switch after the first year. Insurers are required to issue you Medigap policies only during your initial Medigap enrollment period (typically the six months after you turn 65 and enroll in Medicare Part B), or if you switch out of your Medicare Advantage Plan in the first year. After that, insurers may deny you a Medigap policy if you have health problems, or they can require a waiting period before your preexisting conditions are covered.
Read more about the different parts of Medicare and what they cover.
Frequently asked questions
Get more smart money moves – straight to your inbox
Sign up and we'll send you Nerdy articles about the money topics that matter most to you along with other ways to help you get more from your money.