Medicare Advantage Plans: How to Compare
Medicare Advantage Plans are an alternative to Original Medicare, offered by private insurers. Here's how to shop.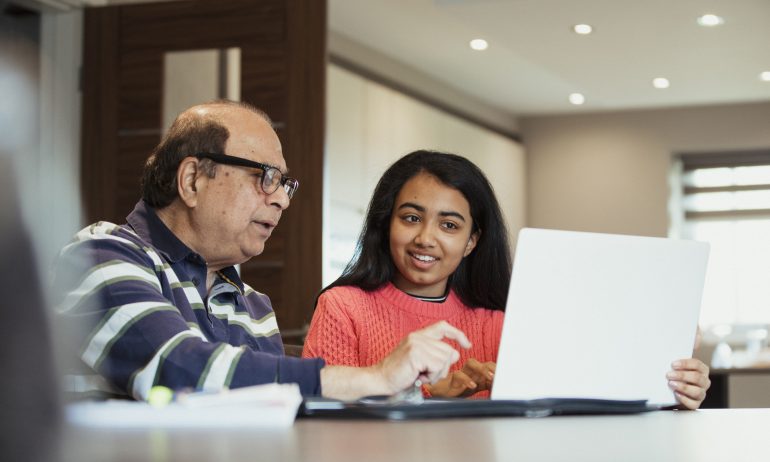 Many or all of the products featured here are from our partners who compensate us. This influences which products we write about and where and how the product appears on a page. However, this does not influence our evaluations. Our opinions are our own. Here is a list of our partners and here's how we make money.
You may have heard of Medicare Advantage plans, but do you know how to shop for one (or how they fit into the Medicare universe)?
Medicare Advantage plans are a bundled alternative to Original Medicare — meaning they include Medicare Part A (hospital coverage), Medicare Part B (medical insurance) and often Medicare Part D (drug coverage). Plus, the costs are structured such that you don't need an additional Medigap plan. (In fact, it's illegal for an insurance company to sell you a Medigap plan if you have a Medicare Advantage plan.)
Also known as Medicare Part C, Medicare Advantage plans are offered by private insurers that have been approved by Medicare. Most plans offer additional benefits that aren't covered under Original Medicare, which may include some cost sharing for dental, hearing and vision care. You'll probably be required to stick with doctors in the plan's network, but out-of-pocket costs may be lower.
Still deciding on the right carrier? Compare Medicare Advantage plans
The best place to start shopping for Medicare Advantage plans (or a Part D or Medigap policy) is on the Medicare.gov comparison tool. After answering a few questions about your location and any financial help you might be receiving — from Medicaid, for instance — the tool will show you all available plans that meet your criteria.
If you want to see drug costs when you compare plans, you can enter the name, dosage, quantity and frequency for each drug you take regularly — and even the pharmacy where you get prescriptions filled. The final list will then be populated with your expected drug costs in each plan. Filter plans by available benefits, plan type, ratings, insurance carrier and drug coverage options. Select up to three plans for side-by-side comparison.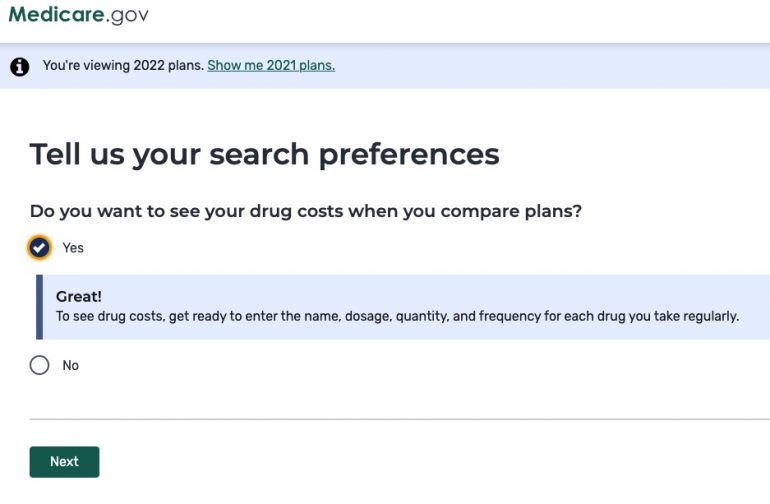 If you're a little overwhelmed by online tools, you can find live human help from State Health Insurance Assistance Programs (called the SHIP network). Although they can't give personalized plan recommendations, they can help guide you through choosing a plan. Each state has its own SHIP program — find your local program at shiphelp.org.
What Medicare Advantage plans are available?
There are five types of Medicare Advantage plans:
Health maintenance organization, or HMO, plans: Require you to see an in-network provider unless it's an emergency situation, and most require a referral to see a specialist.

Preferred provider organization, or PPO, plans: Allow you to see both in-network and out-of-network health care providers, although it's usually more expensive to go out of network. PPOs are generally networked in a local area or may expand to a wider region.

Private fee-for-service, or PFFS, plans: Allow you to see any Medicare-approved health care provider as long as they accept the plan's payment terms and agree to see you. You may also have access to a network of providers. You can see doctors that don't accept the plan's payment terms, but you might pay more.

Special needs plans, or SNPs: Created to improve the management of care for Medicare beneficiaries who are either dually eligible for Medicare and Medicaid, require an institutional level of care or have certain chronic or disabling conditions, such as diabetes, chronic heart failure or dementia.

Medical savings account, or MSA, plans: Combine a high-deductible insurance plan with a medical savings account that can be used for health care costs.
Medicare Advantage companies
Get more information below about some of the major Medicare Advantage companies. These insurance companies offer plans in most states. The plans you can choose from will depend on your ZIP code and county.
What should you consider?
While you might not have a lot of Medicare Advantage options if you live in a rural area, urban dwellers could have two dozen or more choices available. Narrow the field with these strategies:
Find the star rating. Medicare collects data on Medicare Advantage plans from member surveys, the plans themselves and health care providers, then assigns a star rating based on its findings. "It's based on performance on a range of different things to do with quality, including things like, 'How responsive is the plan to any complaints or questions?'" says Anne Tumlinson, CEO of health care research and consulting firm ATI Advisory. The star rating goes from 1 to 5 stars, with 5 stars being excellent.

Check the numbers. The two primary cost considerations are a plan's premium and the maximum out-of-pocket cost, which is the most you'll pay in a year for covered health care. The plan maximum can be as high as $8,300 out of pocket in 2023 ($8,850 in 2024), where plans with lower out-of-pocket maximums have higher premiums.

Consider your meds. The plan comparison tool on Medicare.gov and some private comparison sites allow you to enter your regular prescriptions to help determine plan coverage and cost.

Cross-reference your health care providers. If you've got a regular network of caregivers and medical facilities, you'll probably want a plan that includes all of them. It's up to you to find out if the doctors, specialists and facilities take the exact Medicare Advantage plan you're considering.

Think about your preferences. If you see specialists frequently and you don't want to request a referral for every office visit, a PPO plan will be a better option than an HMO. If you're a light health care user and see mostly your primary care physician, an HMO might be more affordable.

Visit the plan's website. Before you pull the trigger on a plan, go to the provider's website and make sure you understand all the benefits — and limitations. "What we're seeing is that plans are offering these new and different benefits, like in-home palliative care," Tumlinson says. Those are exciting and, if you have a need, they're something to consider. But these new benefits are often quite limited, so check the plan directly.

Call the carriers. If you're thinking of enrolling or switching to a different plan, call the carrier directly to make sure all details match what you're seeing online.
Still deciding on the right carrier? Compare Medicare Advantage plans
You can enroll in a Medicare Advantage plan (or switch from one to another) during the following windows:
From Jan. 1 to March 31, during Medicare Advantage open enrollment, you can switch from one Medicare Advantage plan to another (but you can't enroll in a Medicare Advantage plan if you aren't already in one).
If you're switching plans, you'll be automatically unenrolled from your old plan once your new one starts.
If you have any questions about the process, you can reach the folks at Medicare at 800-MEDICARE (800-633-4227), or you can find information at Medicare.gov.
Read more about the different parts of Medicare and what they cover.
Frequently asked questions
What are the pros and cons of Medicare Advantage plans?
What is the difference between Medicare and Medicare Advantage?
Do most Medicare Advantage plans offer prescription drug coverage?
How do I switch to a Medicare Advantage plan?
Get more smart money moves – straight to your inbox
Sign up and we'll send you Nerdy articles about the money topics that matter most to you along with other ways to help you get more from your money.