Medicare Part D Prescription Drug Plans: What You Need to Know
Medicare Part D is the optional portion of Medicare that covers prescription drugs.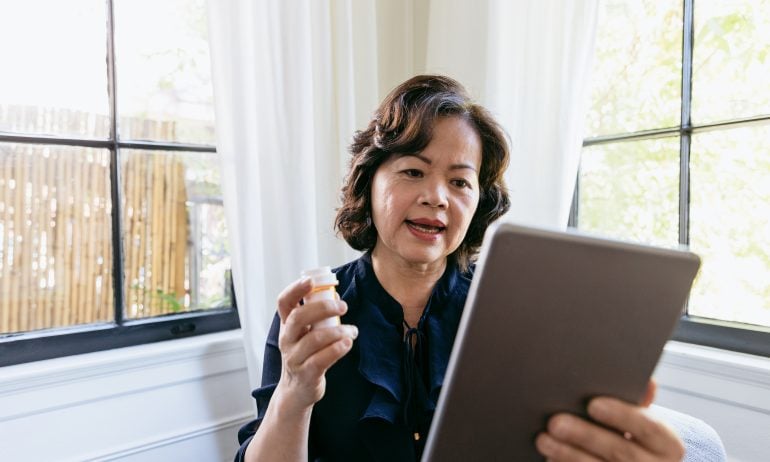 Many or all of the products featured here are from our partners who compensate us. This may influence which products we write about and where and how the product appears on a page. However, this does not influence our evaluations. Our opinions are our own. Here is a list of our partners and here's how we make money.
Medicare Part D is an optional program that covers prescription drugs, with federally approved plans offered by private insurers. Most recipients pay a monthly premium that varies by plan, plus co-pays and other potential costs. Introduced in 2006, Part D is Medicare's most recent addition.


Compare Medicare options with eHealth
Find Medicare Advantage and Medicare Supplement Insurance plans in your area.
on eHealth's non-government site.
The program is designed primarily for those enrolled in Original Medicare (parts A and B). You can sign up during your initial enrollment period (a seven-month window with your 65th birthday month in the middle). You can also add Part D during the annual Medicare fall open enrollment period, but you may incur a late penalty.
If you choose Medicare Advantage (instead of Original Medicare), most of those plans include prescription drug coverage. If yours doesn't, you may be able to enroll in a separate Part D plan.
Different Medicare Part D plans cover different drugs with different cost-sharing structures. "It's amazing how many people don't realize that the medicines they need may not be included in their Medicare drug coverage," says Judith Stein, executive director of the Center for Medicare Advocacy. "You need to check carefully."
Medicare drug plans cover both generic and brand-name drugs. All plans must meet a standard level of coverage set by Medicare. This means they must all cover the same categories of drugs, such as asthma or diabetes medicines, but plans can choose which specific drugs are covered in each drug category.
Each Medicare Part D plan lists the drugs it covers in what's called a formulary. This list will likely include both brand-name and generic drugs and includes at least two drugs in the most commonly prescribed categories.  A specific formulary may not include your medicine but may include a similar option. Formularies change from year to year and even within the year, so it's important to check regularly that the medicines you need are included in your Part D coverage.
You may also want to check the insurers you are considering for any restrictions they put on drug coverage. This may include prior authorization before a drug is prescribed, limits on the quantity of certain drugs and step therapy in which generic and lower cost brand-name drugs are required before the most expensive drug is used.
It's worth noting that Part D specifically covers self-administered prescription drugs. Prescription drugs administered by a doctor during a covered hospital stay, or in a doctor's office, are typically covered by Medicare Part A or Part B.
If you or your prescriber believes none of the drugs on your plan's formulary will work for your condition, you can ask for an exception. This option is also available to you if your plan changes and discontinues coverage of your drug.
In addition to premiums, you'll be responsible for cost-sharing with your Medicare Part D coverage, which can be in the form of deductibles, copays or coinsurance. Depending on how much you spend on prescription medicine, there may also be some cost-sharing rules that may affect you. Here's a rundown of Part D costs.
Nerdy tip:
A 5% copay may not sound like much, and in many cases it is reasonable. But you'll pay this for the cost of your medicines for life. So for someone with a serious illness requiring costly drugs such as non-injectable cancer drugs or treatments for hepatitis C, it can be a burden. Says Juliette Cubanski, deputy director, program on Medicare Policy at the Kaiser Family Foundation: "The very expensive drugs that didn't exist back when Medicare Part D was introduced get unaffordable very quickly."
Initial enrollment period
You can enroll in a stand-alone prescription drug plan (Medicare Part D) or a Medicare Advantage Plan that includes Part D prescription drug coverage during the initial enrollment period. This is the seven-month period starting three months before the month you turn 65, including your birthday month and ending three months after your birthday month. So if you turn 65 in July, you'll have from April 1 to Oct. 31 to enroll.
If you don't enroll during the initial enrollment period and you don't have "creditable prescription drug coverage," you will likely pay a premium penalty. Creditable prescription drug coverage is coverage from your or a spouse's employer or union that pays on average at least the same amount as Medicare standard drug coverage.
The cost of the late enrollment penalty depends on how long you went without Part D or creditable prescription drug coverage. Basically you'll pay 1% of the standard Part D premium ($33.06 in 2021) times the number of full months you didn't have prescription drug coverage. That number is added to your monthly premium. So someone who went 10 months without coverage would pay approximately $3 more.
Keep in mind the national base beneficiary premium often increases each year. When that happens your penalty amount is recalculated and increased using the new base premium.
Special enrollment period (if you qualify)
This is the two-month period starting at the month after your employment ends or the month after losing your qualifying employer insurance, whichever happens first. You can generally qualify for this special enrollment period if you or your spouse have "creditable prescription drug coverage" when you turn 65.
You can switch to a different Part D or Medicare Advantage plan during the fall Open Enrollment Period for Medicare and Medicare Advantage, which runs from Oct. 15 through Dec. 7 every year. If you have Original Medicare, you can also join a Medicare Part D prescription drug plan during this period, but you may be subject to the premium penalty.
How Part D works with other insurance
If you want to keep your prescription drug coverage from an employer or union, it must be what's called "creditable prescription drug coverage" to avoid the Part D premium penalty. Your plan should notify you whether or not your coverage is creditable. If you don't receive word, contact the plan or your employee benefits department directly to find out.
Be aware that if you sign up for Medicare Part D and your spouse or dependents receive prescription drug coverage from your employer or union, they may lose their coverage.
The following types of government-sponsored insurance are considered creditable coverage. If you have coverage from one of these sources, it may make sense to continue with it.
Federal Employees Health Benefits.

Tricare (military benefits).

Civilian Health and Medical Program of the Department of Veterans Affairs.
This interactive tool on Medicare.gov can help find a Part D plan that covers your prescriptions and help you compare costs among Medicare Part D and Medicare Advantage plans available to you.
Some things to keep in mind when comparing plans.
If your plan does change, and the change affects the prescription drugs you need, you can switch plans during Medicare's open enrollment period, Oct. 15 to Dec. 7. Changes go into effect on the following Jan. 1.