14 Profitable Ecommerce Business Ideas for 2022
Ecommerce businesses that capitalize on trends and industry growth can often become profitable more quickly.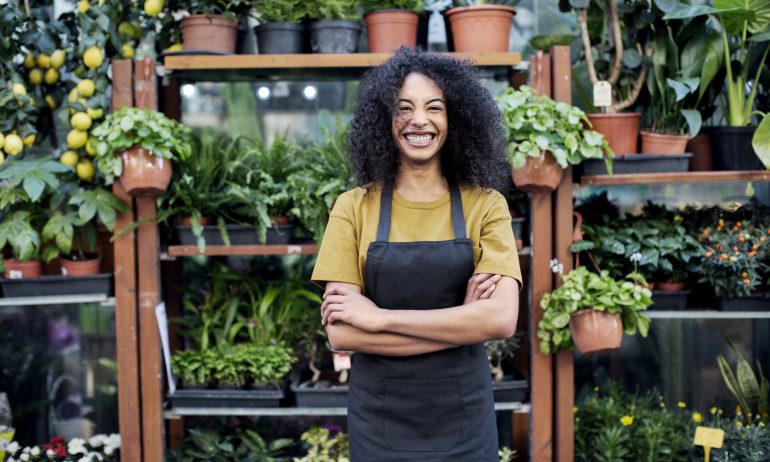 Many or all of the products featured here are from our partners who compensate us. This may influence which products we write about and where and how the product appears on a page. However, this does not influence our evaluations. Our opinions are our own. Here is a list of our partners and here's how we make money.
Ecommerce businesses attract a lot of interest among prospective entrepreneurs, but these ventures are hardly all the same. While some ecommerce businesses require no more than a minimal financial investment and a basic website, others may take more time and money to develop.
Consider these ecommerce business ideas for 2022 to find the one that best fits your interests.
14 ecommerce business ideas 
The sky's the limit when it comes to creating a successful ecommerce business. You should follow your passion and get creative, but these 14 ecommerce business ideas can help you capitalize on popular trends and industry growth.
There is a good reason more and more companies are adopting some form of a monthly or quarterly subscription model. Essentially, it's an easy way to guarantee recurring income from customers. In 2019, a study found that subscription-based sales grew by more than 300% over the last seven years.
Subscription models can suit a variety of different ecommerce businesses. How they work is a customer agrees to pay a set fee that the company charges automatically to the credit card on file each time the next installment is sent out—typically monthly, but subscriptions can also be weekly or quarterly. Once the customer is charged, they will be sent a physical product (or group of products) or will gain access to online platforms and digital products.
This is a great ecommerce business idea because the possibilities are just about endless. Subscription models are ideal for products needed on an ongoing basis like personal care products, such as razors or toothbrushes, as well as fun products like makeup, clothing, and more. Some subscription services are for digital products: Music, movies, online communities, even retail platforms like Amazon have benefited from subscription services. If this model works for you, you could make and save a lot of money. Gaining a new customer is five times more expensive than retaining a current one, after all. And in case you're wondering, in 2018 Amazon made over $1.4 billion from their subscription services in one quarter alone.
A meal delivery service can benefit from one-time orders or subscription-based models. In an increasingly busy and hectic world, many working professionals are happy to spend a little extra money on convenience. Frozen meals, meal making kits, and fresh food deliveries are more popular than ever before. If you can fill a niche in this area (gluten-free, vegan, paleo, etc.), you may be able to find a devoted audience whose needs you can fill. The online food delivery industry is expected to grow to a value of $200 billion by 2025.
Do you have valuable expertise that you can share with the world? This ecommerce business idea could be the one for you. There is a lot more to education than literary analysis and arithmetic. There are plenty of people looking to better themselves without heading back to a physical classroom. Creating online courses, ebooks, and any type of educational content (like blog posts or videos) can help your audience learn—and help you earn the big bucks.
While you can always host this type of educational content on your own website, there are services like Teachable that make creating and selling online courses easy. You can also sell your course through online education marketplaces like Udemy. If ebooks are more your style, you can sell them directly from your website or through options like Amazon or Etsy.
According to Forbes, e-learning sales are likely to climb to $325 billion by 2025. Because you can offer online education through web portals, there is no need to invest in expensive production costs or supplies. This is an affordable ecommerce business idea for anyone who is ready to share their valuable skill set.
Another low-cost ecommerce business idea you can take advantage of is affiliate marketing. If you already have an online presence and have established authority on a certain topic, this may be a very easy way for you to boost your income. Affiliate marketing is a form of marketing that allows individuals to represent other companies. Essentially, you can sign up for affiliate programs (also known as referral programs) with brands that align with your audience's interests. For example, a fashion blogger would team up with retail brands to promote their clothing. In their blog content or on social media they can share their favorite dresses or shoes and include links to the products or offer discount codes so their audience can save money on their purchase.
Affiliate marketers use special links and codes to track how many clicks and sales they are sending to a brand. The content creator will then receive a commission from the brand for this work. It's important to only work with companies that align with your personal brand and audience, or you risk appearing inauthentic. A fashion blogger would likely alienate her audience if she continually tried to convince them to check out the latest outdoor equipment or financial software. But those products might be a great fit for other content creators. If you're already running a successful business website or blog, affiliate marketing can be the natural next step to monetize your website's traffic.
Consumers have become increasingly interested in products that help them live an all-natural or more environmentally friendly lifestyle. Cleaning, household, beauty, and personal hygiene products made from safe and clean ingredients take advantage of a very popular trend that isn't likely to end anytime soon. The global natural cosmetics market alone is estimated to grow from a worth of $36 billion in 2019 to $54 billion in 2027.
An emphasis on natural and organic food is also a trend worth capitalizing on. In 2018, the U.S. organic market grew 6.3% to $52.5 billion. Non-food sales increased by almost 11% to $4.6 billion. If you have a passion for natural and organic products, this ecommerce business idea is the perfect way for you to share this passion with like-minded customers.
Wellness is winning. Similar to the emphasis on natural and organic products and food, many consumers are investing in wellness-based products. From workout gear to essential oils to meditation apps. Anything that can help consumers relax, feel better, and be healthier is desirable at the moment. As of 2019, the global health and wellness industry is worth an estimated $4.2 trillion. So get your Zen on and start a fitness business or other wellness ecommerce business.
7. Coaching and mentoring
Similar to online education opportunities, you can sell your coaching or mentoring services through an ecommerce website. A business like this requires even less effort upfront than creating ebooks or e-courses and can be simply managed through a website and a series of phone calls or in-person meetings.
However, this format does not allow for passive income. In order to make an income, you will have to continually provide services. Whereas with online education options like video content or an e-course, you can create a product once and keep gaining revenue from it over the years. However, coaching and mentoring is an easier way to dip your toes into the water of online education as well as gain a loyal customer base. An appointment scheduling software can help you keep track of your calendar and allow clients to easily check your availability.
Are you a creative? Do you know how to design an eye-catching logo, write killer copy, or arrange flowers like nobody's business? It sounds like you're a creative at heart—and like you have some valuable skills you can sell online. Many creatives sell their products and services online. Designers, photographers, writers, and others can offer their services online, as well as sell any existing products they may have available. A web designer, for example, can offer custom website designs for clients, or sell pre-made templates at a lower cost through their ecommerce business.
So, maybe you're not the creative type. But if you've developed a technical skill set, then you can offer your in-demand skills online. Can you provide tech support? Are you a coding wizard? Perhaps you have software or an application you can sell. Even if your product or service only exists on a device, you can still start a bustling ecommerce business. Luckily, without all the expense of manufacturing, storing, packaging, and shipping.
Say you want to start an ecommerce business selling material goods, but don't want to commit to product development, sourcing, and manufacturing. Not to mention having to store inventory and ship products. There is a great solution for making selling products easier and it's called dropshipping. If you're a dropshipper, you'll sell products to customers that ship directly from a manufacturer or supplier. You'll get a commission for each sale, but don't have to commit to buying any inventory (although some startup costs may apply) that you might not be able to sell.
For the record, the global dropshipping market is expecting a compound annual growth rate of 28.8% between 2019 to 2025. Working with larger retailers will help you take advantage of their faster and more affordable shipping options, warehouses, and other valuable resources. This ecommerce business idea is a great way to dip your toe into the industry with little risk on your end.
Everyone is looking for a great escape, so why not take advantage of that fact? According to Deloitte, from 2009 to 2017, U.S. hotel booking grew from $116 billion to $185 billion. Similarly, airline revenue jumped from $155 billion to $222 billion. Now is the time to start a travel business. You can help customers plan trips, provide valuable advice, write travel guides, or sell travel necessities like luggage. Conveniently enough, travel companies often offer affiliate programs. Airbnb, Booking.com, Trip Advisor, and Skyscanner all offer credits to use their services or cold, hard cash if you join their affiliate programs.
Do you love love? You're not alone, which is why the wedding industry is booming. Considering the average wedding costs $32,329 and the U.S. wedding industry brings in $72 billion in revenue annually, there is a lot of earning potential in the wedding space. Food, flowers, decorations, fashion, beauty, stationery, photography, and wedding planning are just the beginning. Chances are you can find a space for your ecommerce business in the wedding world. And where do brides start their wedding planning? Online, of course.
When sellers get started in this particular ecommerce business, they usually start with reselling their own clothes that are looking to phase out of their wardrobe. With sites like ThredUp and Poshmark, reselling your unwanted clothing items is easy, but you could also create your own website easily with one of the many web builders out there.
The more serious fashion resellers gather inventory from thrift or consignment stores to snag unique finds for cheap, and then resell them for a big profit. This is by no means a new idea, but with the newfound obsession over decluttering and only keeping items that bring you joy, this type of ecommerce business is making a huge comeback. As of 2018, the fashion reselling industry was a $24 billion industry.
For most of 2020, facial coverings were essential when going out in public, into stores, or waiting in lines. At first, getting your hands on a surgical mask was all the rage, but now, it's all about customization. Fun and functional face masks are popping up everywhere, and it's a great time to get into the business, since the need for masks doesn't seem to be going anywhere anytime soon.
By purchasing fun fabrics, downloading free patterns and templates, and having basic sewing skills, you too can be a part of this booming business. Create a free website to sell them, or stick to the old standbys of social media or a marketplace like Etsy. The face mask market is anticipated to surpass $21.2 billion by 2026.
First and foremost, you'll want to research your desired market and analyze the demand, as well as your competitors. How is it growing? What are its struggles? When you review recent Google trends, does your market or business idea show up as a popular search? If you want to launch a physical product-based business, how is your product category selling on major ecommerce websites like Amazon?
Next, you'll need to find your audience. Are there bloggers, influencers, and social media communities talking about your industry? Are there entire Twitter or Reddit threads devoted to the search for your product or service? Are there niche audiences and communities on social media channels like Facebook and LinkedIn that suit your business idea?
No matter what your startup budget is or what your interests are, there are likely viable ways for you to enter the ecommerce space. But regardless of which type you choose, doing your homework in advance will help increase your chances of success.
This article originally appeared on JustBusiness, a subsidiary of NerdWallet.