10 Ways to Make Money on Shopify
You can use Shopify to run all kinds of e-commerce businesses, including selling products, dropshipping and more.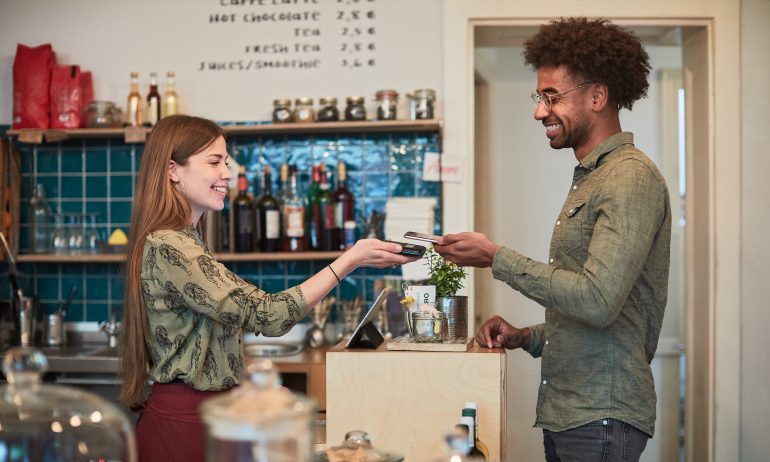 Many or all of the products featured here are from our partners who compensate us. This influences which products we write about and where and how the product appears on a page. However, this does not influence our evaluations. Our opinions are our own. Here is a list of our partners and here's how we make money.
Shopify is an e-commerce website builder that you can use to run an online business. It lets you create a website, list your products, manage your inventory levels, take credit and debit card payments and even facilitate a dropshipping business.
Selling products isn't the only way to make money with Shopify, though. You can put your Shopify expertise to use by building websites for others or helping market the platform, too.
Here are 10 ways to make money on Shopify, plus tips for maximizing your business idea.
1. Create a Shopify store
Shopify is primarily an online store builder. You can use it to set up an e-commerce website with relative ease, upload unlimited products, host your website on Shopify and use Shopify Payments to process customers' credit and debit card transactions. 
You'll have to spend at least $29 per month to use Shopify. Pricier Shopify plans include additional features — like a point-of-sale terminal, more detailed sales reports and shipping rate calculations for customers — but payment processing rates go down at each tier.
Your Shopify store can sell virtually anything, and we'll dig into some ideas for products and services below. Note that some of these e-commerce business ideas are facilitated by Shopify apps, which are additional pieces of software that connect to Shopify to expand the platform's capabilities. Apps may charge additional fees, so take advantage of free trials and read reviews in Shopify's app store to make sure you're choosing one that has the functionality you need.
2. Set up a dropshipping business
Dropshipping is an online selling method in which you don't keep inventory in stock. Instead, when a customer purchases an item, your business orders the product from the manufacturer at that time. Dropshipping can help your business keep initial costs down, since you won't need warehouse space or inventory. 
If you want to dropship on Shopify, there are a variety of third-party apps that you can install to help connect with dropshipping suppliers. You can source products from those suppliers, then list them on your website and launch your store. 
3. Monetize your social media presence
Shopify is currently developing an influencer marketing program called Shopify Collabs. If you have a significant audience on social media, you may be able to refer your followers to products you love and earn a commission when they make a purchase.
As of this writing, influencers can apply for early access to Shopify Collabs. Those accepted to the program can apply to work with certain brands, receive free products, create content and make money if a follower buys one of the products.
4. Sell print-on-demand products
Print on demand lets graphic artists sell all kinds of merchandise — like T-shirts, mugs, throw pillows and more — with their designs printed on them. When a customer places an order, a third-party vendor creates the product and then ships it to the buyer.
As with a dropshipping business, there are lots of Shopify apps that can facilitate print-on-demand services. You may want to order sample products first so you can compare quality across multiple vendors.
Crafty business owners can use Shopify to sell handmade products, both on their own websites and on other online platforms. Shopify offers social media sales, so you can market your products on Facebook, Instagram and TikTok. You can even use a third-party app to integrate Shopify with Etsy and reach a crafty audience.
6. Sell digital products and downloads
Digital downloads don't just include e-books anymore. You can sell sewing and embroidery patterns, spreadsheet templates, sheet music and more — without having to worry about managing inventory, shipping or supplier relationships. Depending on your skill set, you can also accept orders for custom logos, label designs, templates and other digital products.
Several Shopify apps facilitate digital downloads, including one designed by Shopify itself. If you're selling a service, be clear in the product listing about how much work you'll do for each price and what the customer will receive when you're done. Shopify recommends creating custom email templates to communicate with customers who've made purchases.
7. Sell thrifted or vintage goods
Reselling vintage clothing or existing goods is both trendy and sustainable. You can use third-party apps to list goods from your Shopify store on Depop and Poshmark, which are popular online sales platforms for secondhand clothes, and on eBay. Shopify integrates directly with Facebook and Instagram, too.
8. Help other business owners set up online stores
If you've developed Shopify expertise, other business owners may be willing to pay for your time and knowledge to help them set up their stores. You can advertise your services as a Shopify developer on a freelancer-for-hire website or look to partner with web development companies.
You can also sign up to become a Shopify Partner, through which you can help Shopify store owners build, migrate and troubleshoot their stores. You can charge clients a set fee or collect a percentage of their future sales and maintain an ongoing relationship for when they need future services.
Shopify Partners can also create profiles in Shopify's Experts Marketplace, where merchants can hire them for a variety of types of projects. Experts can charge a flat fee for services, but Shopify takes a 10% cut.
9. Develop a Shopify app or theme
When you develop an app and sell it in the Shopify App Store, you'll keep at least 80% of sales revenue, depending on the pricing plan you choose. With themes, you'll keep all of your revenue until you've made more than $1 million, and 85% of revenue thereafter.
Designing an app or theme isn't a guaranteed success, however. You'll have to assume all the development costs yourself, and your app may not be approved for Shopify's store. And even if it is, you may have to undertake marketing efforts to make it stand out among competitors.
10. Become a Shopify Affiliate
If you're a content creator with an active website, loyal audience and e-commerce experience, you can apply to become a Shopify Affiliate. Affiliates earn $150 when someone they referred signs up for a full-price Shopify plan.
Tips for making money on Shopify
As more and more people start selling products and services online, it becomes increasingly important to differentiate your offerings from the rest. What sets your store apart from all the others on Shopify? Do market research to define your customer base, understand what they want and where they shop, and then provide it on those platforms.
Describe your products and services clearly
Providing ample information about your products can help keep customers from being surprised and, hopefully, keep them from making returns. Clear product photography, measurements, detailed descriptions of how they work and explanations of special features are critical. If you offer multiple color and size variants, make sure those are easy to find on each product listing.
Offer great customer service
Great customer service can bring buyers back over and over again. Make sure you have an easy way for customers to reach out during the buying process if they have questions, and that they understand how to ask questions and make returns and exchanges after the fact. Shopify's store management apps can help you provide customer support through Facebook Messenger and WhatsApp, track customers' shipments and more.
Although you might expect your customers to want one thing, their behavior might show something else. Use Shopify apps to generate sales and inventory reports and understand audience behavior. Then, be flexible about making changes to your Shopify store — whether it's in what you sell, how you price it or how you market it.
A version of this article originally appeared on JustBusiness, a subsidiary of NerdWallet.