How to Dropship on Shopify
Learn how to dropship on Shopify and build your product collection as you explore dropship vendors.
Many or all of the products featured here are from our partners who compensate us. This influences which products we write about and where and how the product appears on a page. However, this does not influence our evaluations. Our opinions are our own. Here is a list of our partners and here's how we make money.
The Shopify e-commerce platform is a top pick for anyone considering dropshipping. Shopify directly connects to hundreds of vendors who stock, pack and ship products for you — with little to no upfront cost. You simply build a collection of products in your Shopify store, market your brand and dropship vendors take care of the rest. Here's what you need to know to get started.
Dropshipping vs. other e-commerce businesses
What is Shopify dropshipping?
Shopify is the undisputed leader when it comes to e-commerce dropshipping. With website plans starting at just $29 per month, it's an economical choice for startups and small businesses. Shopify even offers a 14-day free trial, so it's a completely risk-free way to launch a new business or test-drive a brand concept.
More importantly for dropshipping, Shopify's beginner-friendly platform directly connects to over 100 dropship services, which you can explore in Shopify's App Store, shown below.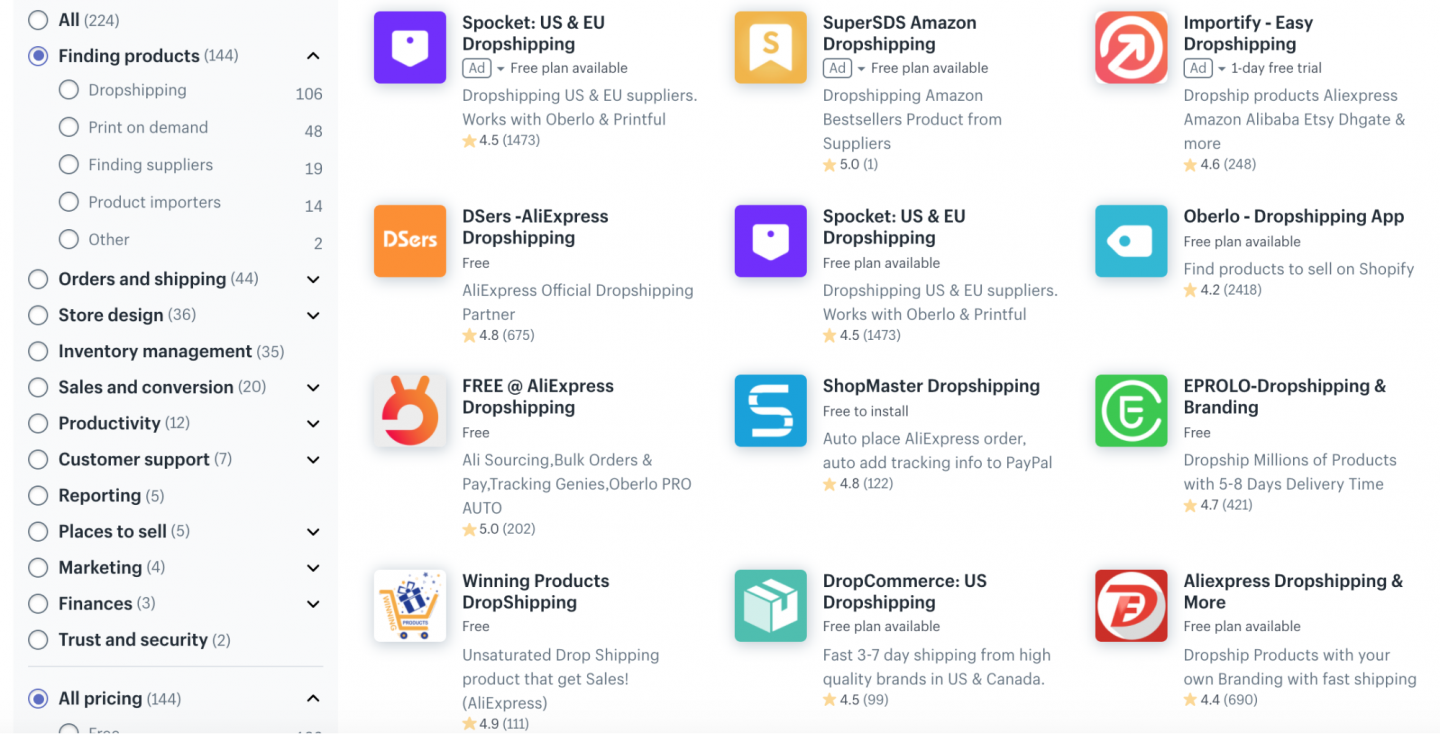 These dropship vendor apps seamlessly connect their product listings and back-end order management within your Shopify dashboard. This makes it incredibly easy to launch a Shopify store filled with dropship products that complement your brand and efficiently manage customer orders, vendor shipping and stock updates.
The great thing about dropshipping on Shopify is that you can explore product options and build your Shopify dropshipping store at the same time. Once you've set up your Shopify free trial account, you simply connect one or more dropship vendor apps. Once that's done, you can explore products, spot those that complement your brand and add them to your Shopify store with a click so you can begin selling.
Here's how to dropship on Shopify, from start to finish, in five simple steps.
The easiest way to learn how to dropship on Shopify is to open a free trial account. This way, you can actively build your Shopify store's product collection as you explore dropship vendors and research dropship products.
Of course, if you already have a Shopify store and want to add dropship products to your product mix, jump to step two.
To open your Shopify account, simply visit Shopify's website and enter your email address like we did here for our startup concept, Bean Brew and Vine: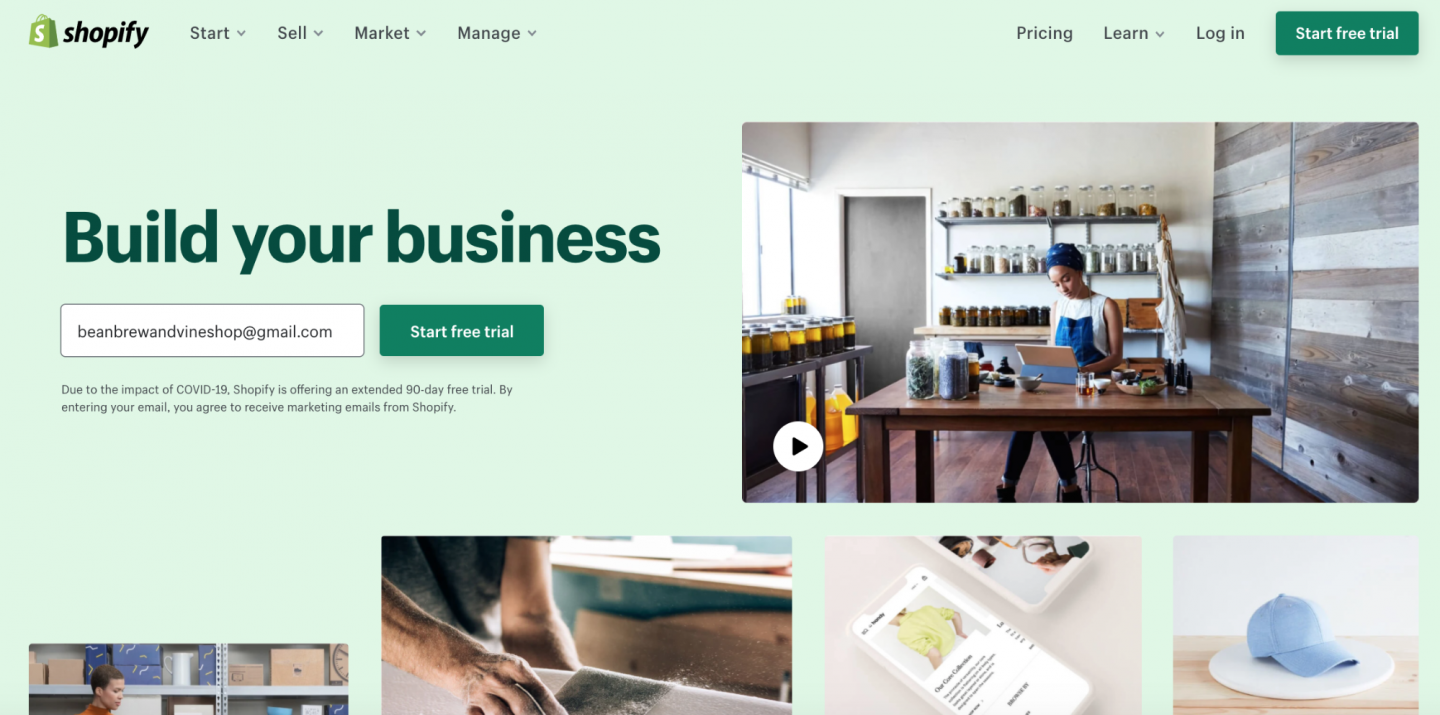 Don't have an email address for your business? You can quickly set a Gmail account for free. If you're not yet sure of your business name, or even your concept at this stage, don't worry. You can always change your trial store's name and email address in your Shopify settings as you solidify your market niche and brand.
Once your account is created, Shopify walks you through the store quick-start wizard, shown below, that helps define your account needs.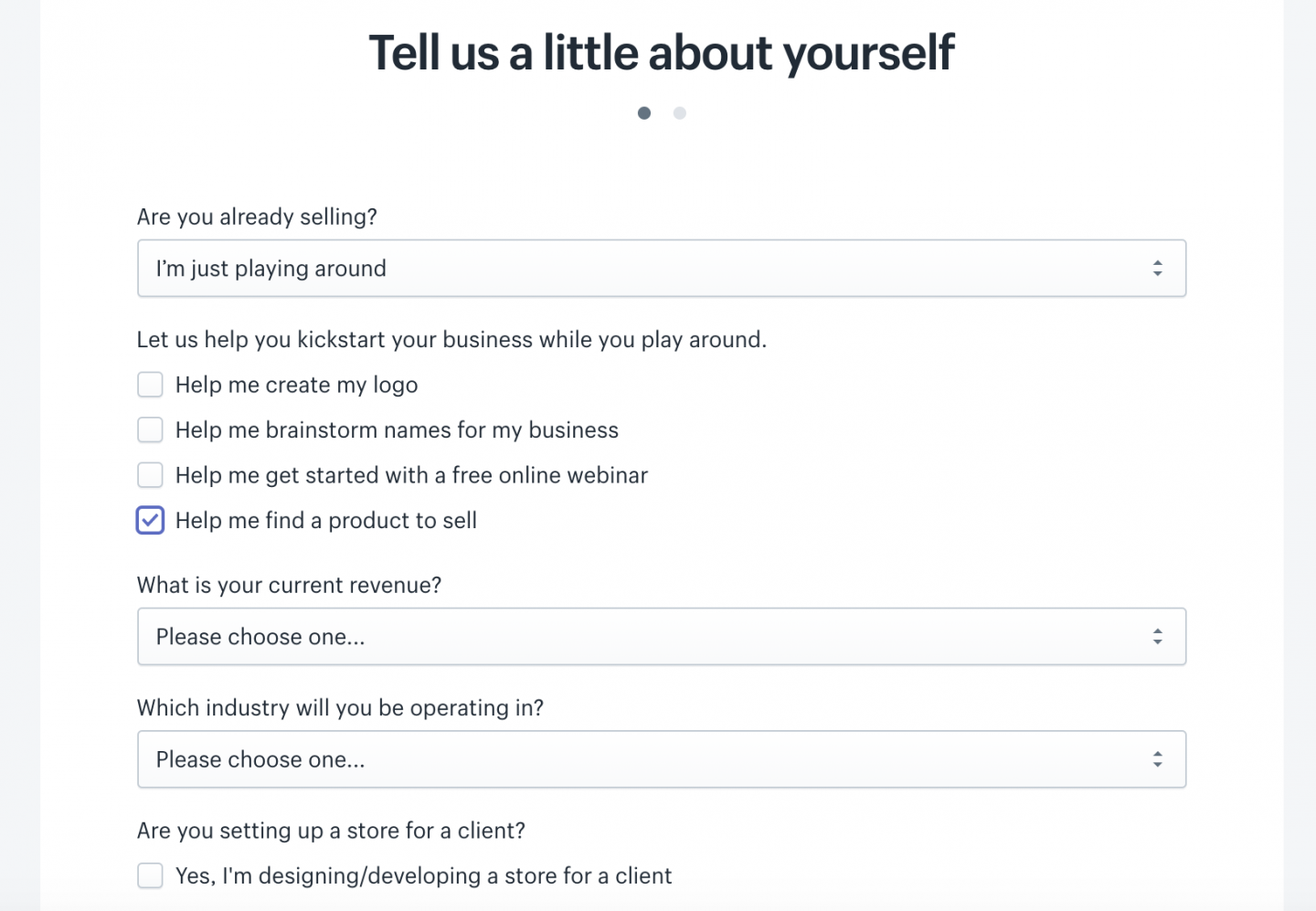 If you select "help me find a product to sell," in the field shown above, Shopify will automatically populate your new store's Apps tab with Shopify's own Oberlo dropshipping app, shown below.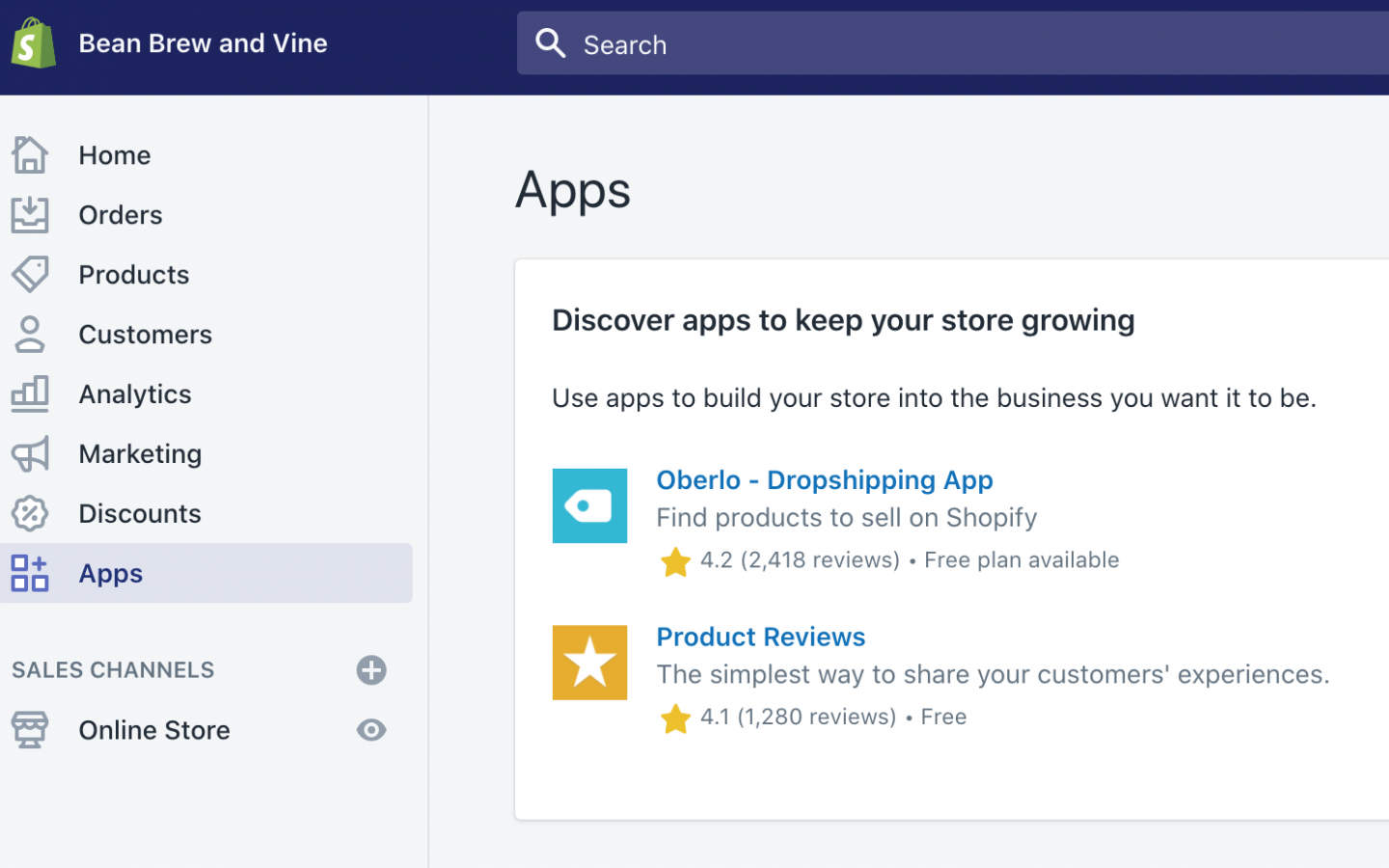 The built-in Oberlo app seamlessly connects Shopify stores to the dropship mega-marketplace, AliExpress. But this is just one of many dropshipping Shopify vendor apps that you can use alone or in combination to build a branded dropship product collection.
2. Explore and install dropshipping apps
You can start building your dropshipping Shopify store with just the Oberlo app or explore other options first.
Some Shopify dropshipping apps are niche-specific, like Blingy for jewelry or Dripshipper for private label coffee and Printful for custom-printed goods. Others, like Oberlo, Sprocket and Modalyst connect your Shopify store to large dropship marketplaces featuring thousands of vendors and millions of products.
Here are a few top-rated dropshipping Shopify apps that you might want to explore along with, or in place of, Oberlo.
Modalyst: Dropship goods marketplace focusing on U.S. and European-based suppliers and name-brand items.

Sprocket: Dropship marketplace focused on trendy products that ship from U.S., European and Canadian vendors.

Printful: Print-on-demand (POD) dropship vendor that lets you create all types of customized goods with your own designs.

Dripshipper: Private-label coffee supplier.

My Online Fashion Store App: U.S.-based fashion apparel and accessories dropshipper.

Beardsy: Private-label hair and beard products dropship vendor.
Shopify's highly integrated Oberlo marketplace app is one of the easiest ways to learn how to dropship on Shopify. Better yet, it has no upfront fees for listing up to 500 items in your Shopify store.
To get started, simply click the Oberlo app and then "install," as shown on the screen below.

Once installed, the Oberlo dashboard automatically opens and you'll see that "Step 1: Connect your Shopify store," is already completed for you, as shown below. The next step — adding products — is where the fun really begins.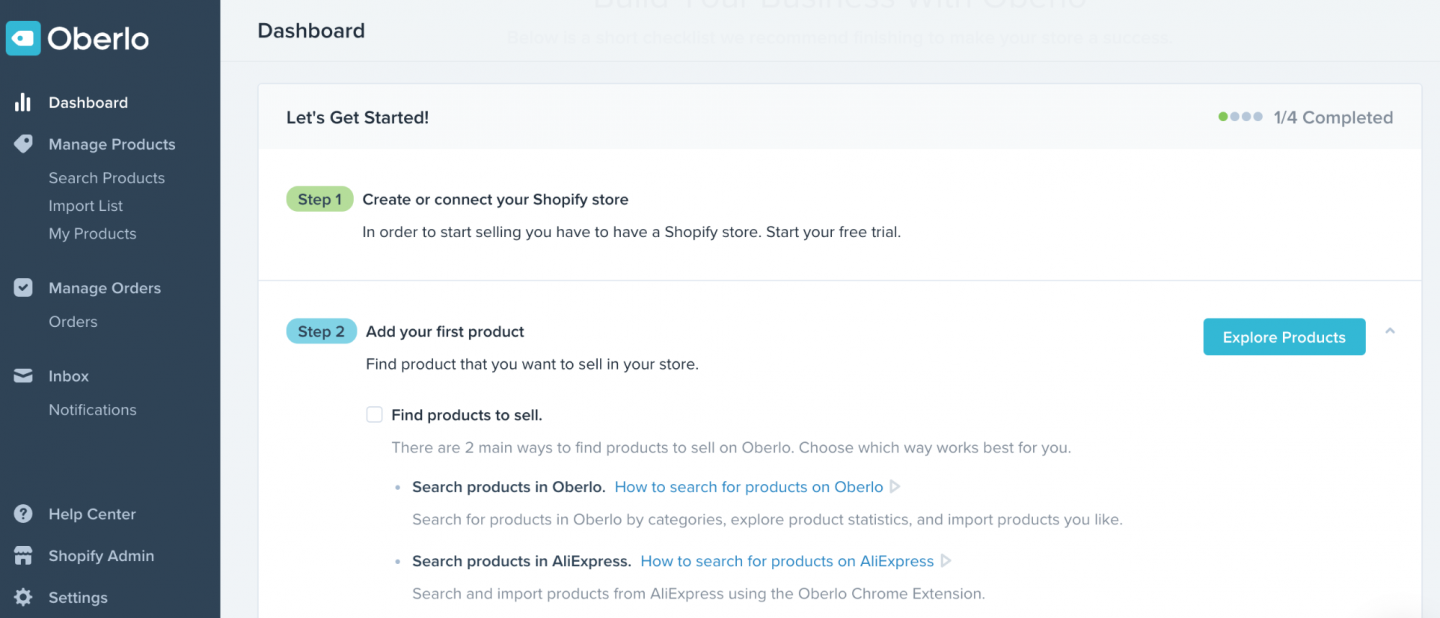 Before searching for products to sell, take a moment to explore Oberlo's dashboard. You can return to your Shopify dashboard anytime by clicking "Shopify Admin" on the bottom left and just above that, you can click the "Help Center" link for support and tutorials. There's also a "Chat" box icon on the lower right.
You should also tour Oberlo's "Settings" section, pictured below. Here, you can set up preferences and time-saving automation like customer notifications, retail pricing rules and real-time inventory updates. Most Shopify dropshipping apps have similar features.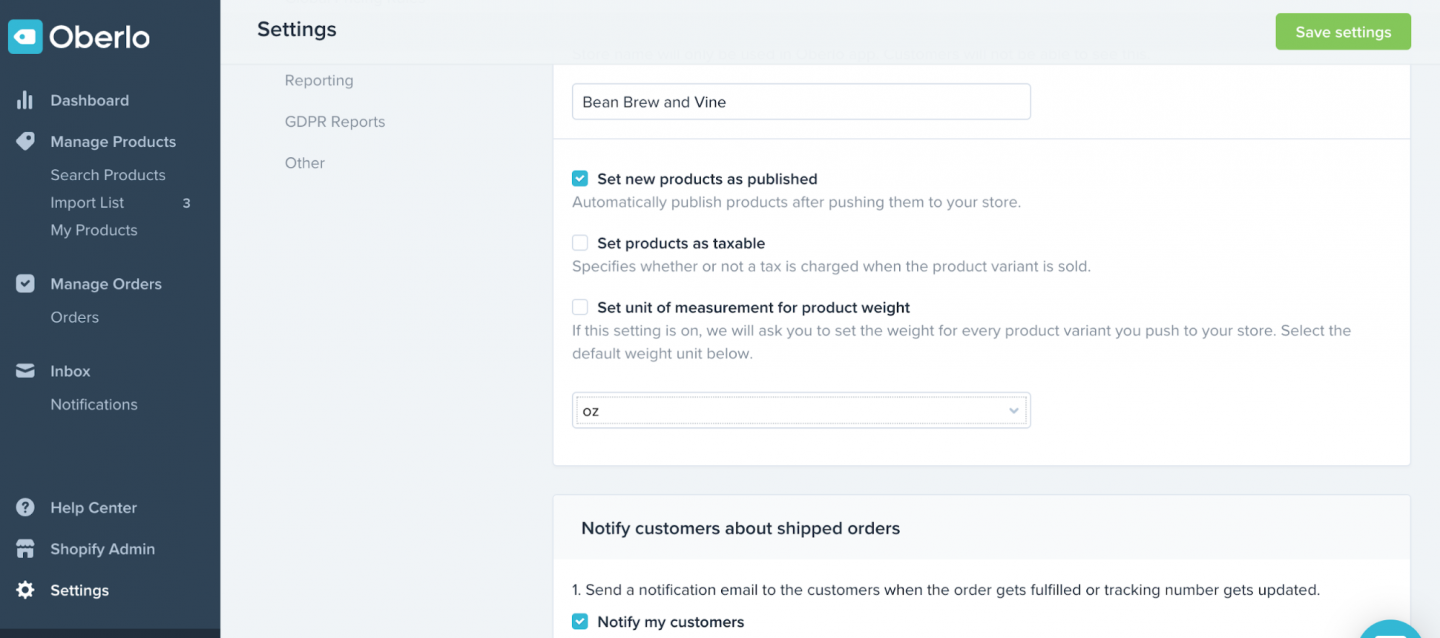 3. Add dropship products to your store
Most Shopify dropshipping apps have intuitive interfaces that let you easily explore, research and compare products by broad categories or filtered searches. For example, Oberlo's dashboard home screen, shown below, is your launchpad for dropship product searches.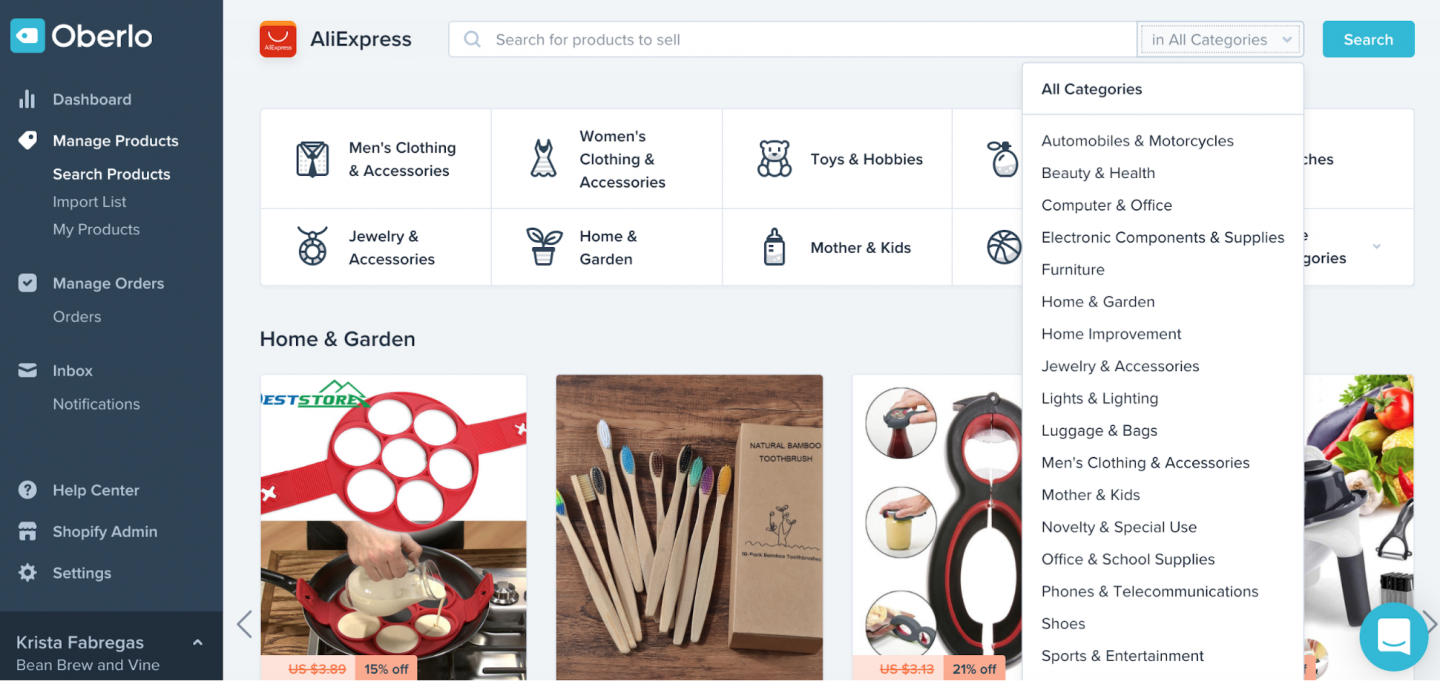 Here, you can quickly search for dropship products to sell by keyword or by category, then target your search using filters like "Seller Ratings," "Low and High Price" and "Order Count." For startup stores and dropshipping newbies, the "Order Count" filter is a great way to gauge what's selling well in your target niche and which vendors are performing well for other sellers.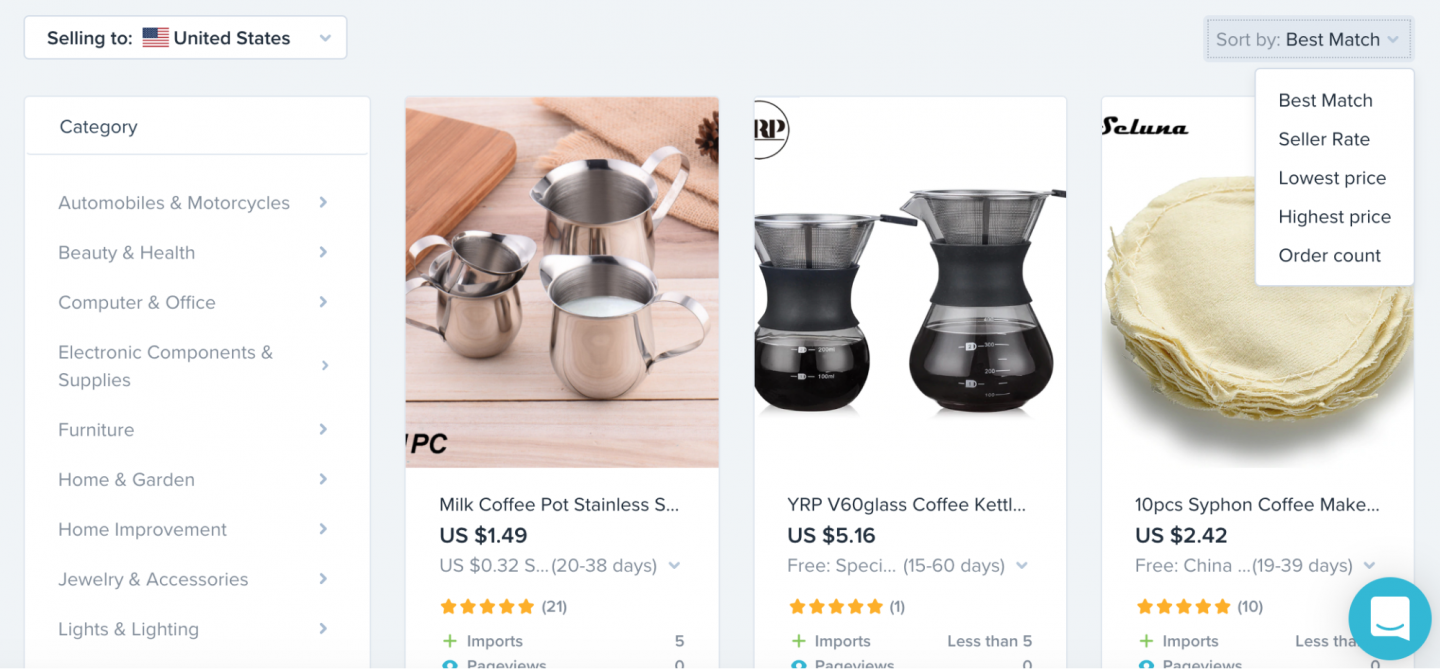 During your product exploration stage, Oberlo and most other dropship apps provide product data to help you determine whether an item is a good bet or not. For example, Oberlo displays the following item details and statistics to help you make informed choices:
Supplier ratings and feedback: Each item lists the supplier's user feedback ratings and length of time in business. You can even read their reviews on AliExpress.

Wholesale cost: This is the price you pay the supplier when it ships the product to your customer. Product listings include variant pricing for options like different sizes or quantity packs if available.

Number of downloads and quantity ordered: You can see how many dropshippers have downloaded an item and the number of sales over a given period, this includes both Shopify stores and overall AliExpress users.

Shipping methods and ePacket availability: This lets you know how the item ships to your target country, shipping costs and timeframes. ePacket is a low-cost, faster shipping option for China-made goods that make up the bulk of the Oberlo/AliExpress marketplace.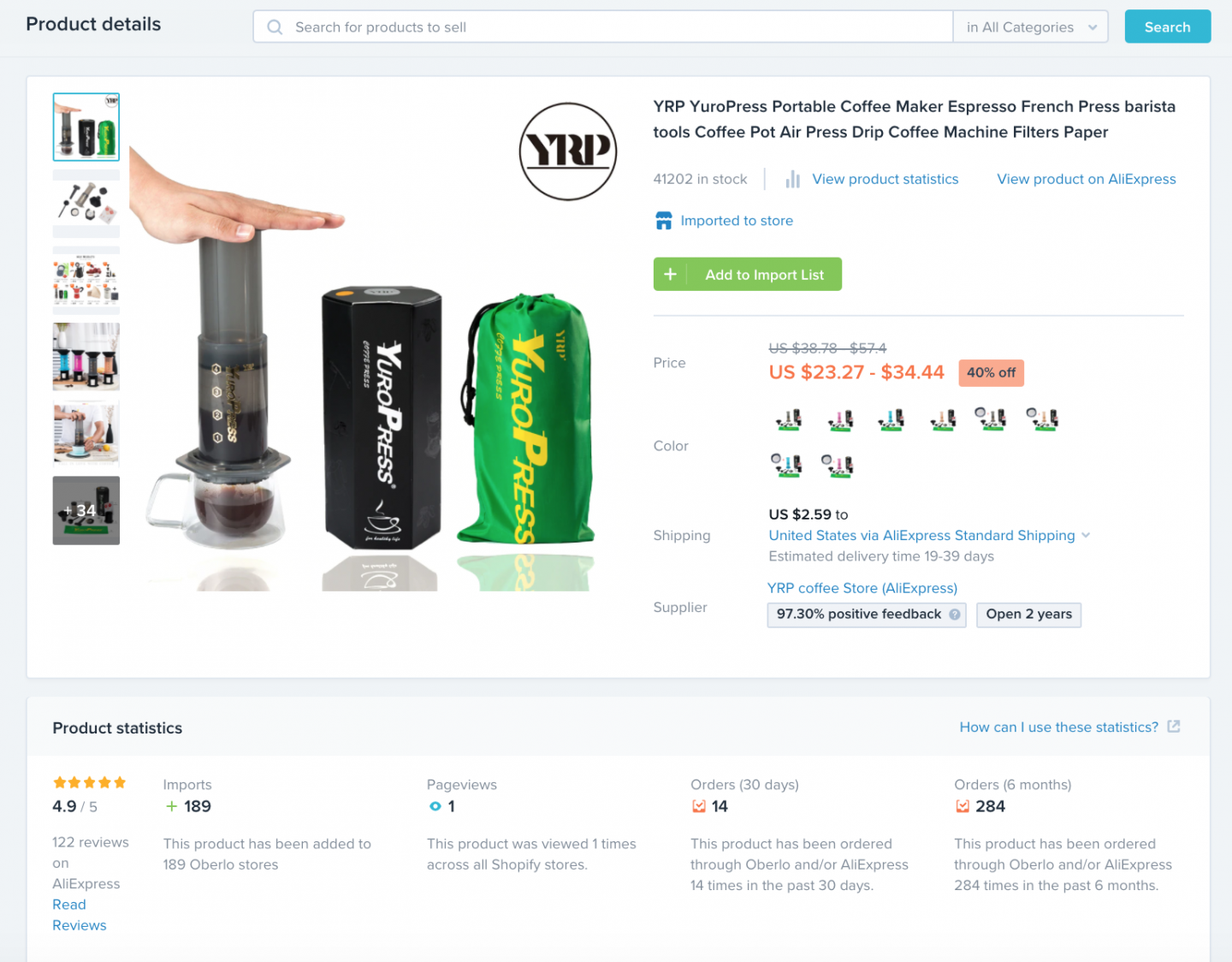 Once you've identified an item to sell in Oberlo, simply click on "Add to Import List," and continue the search process until you have an assortment of products that complement your brand concept.
For example, we added some top-selling French press coffee makers to the "Import List," as shown below.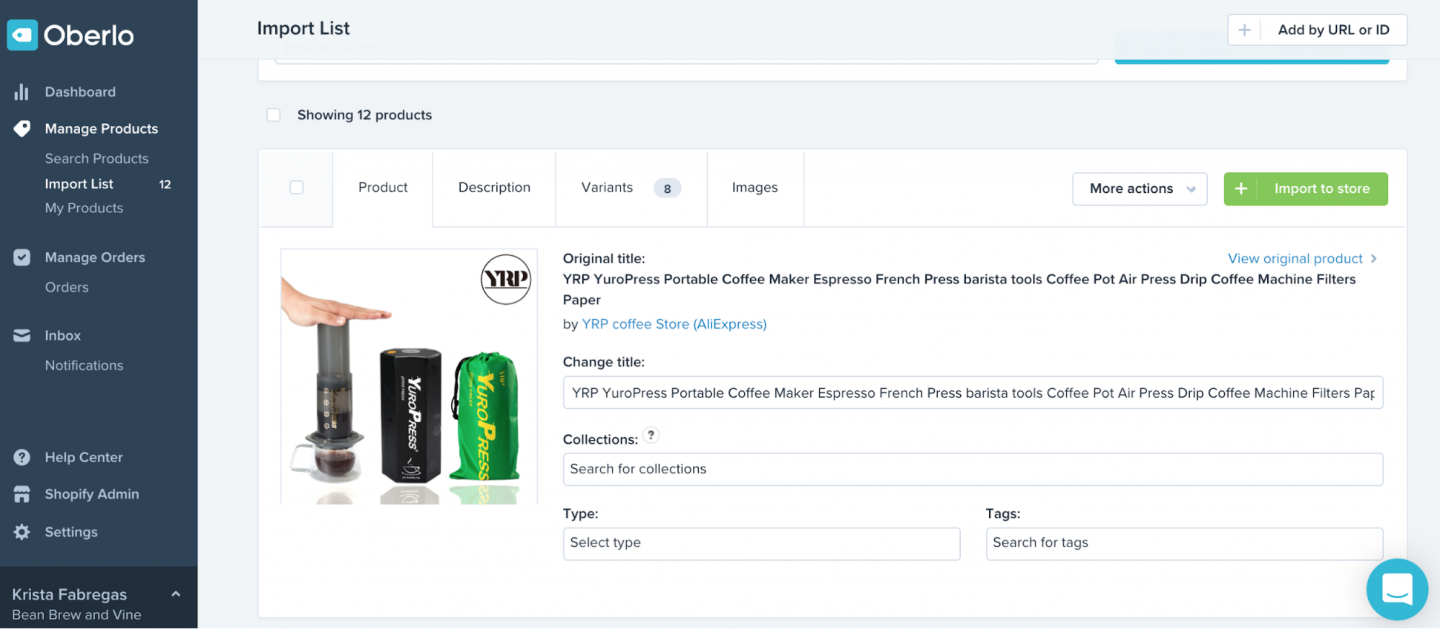 Before importing selected products into Shopify, it's a good idea to edit vendor-provided information and import details within Oberlo's "Import List" screen. Simply click through items' tabs, shown below, to customize product titles, add SEO-friendly item descriptions, select images to import, adjust variant pricing and assign to categories.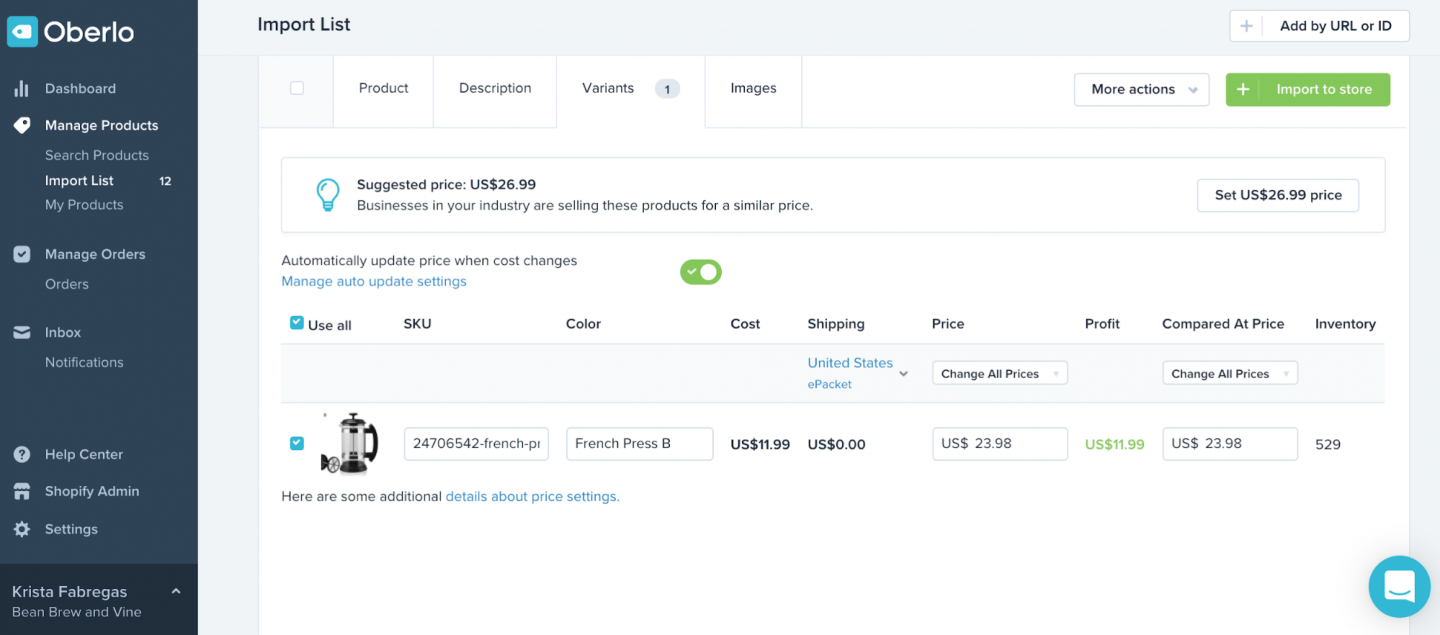 Of course, you can also edit any product information after importing items into your Shopify store. However, it's very easy to make these edits and category assignments in the "Import List" and it helps you quickly build your Shopify dropship store.
Once any edits are complete, simply check each item you want to import and click "Import All to Store," as shown below.

Within a minute or two, you'll see the items appear in your Shopify store product list, as shown below.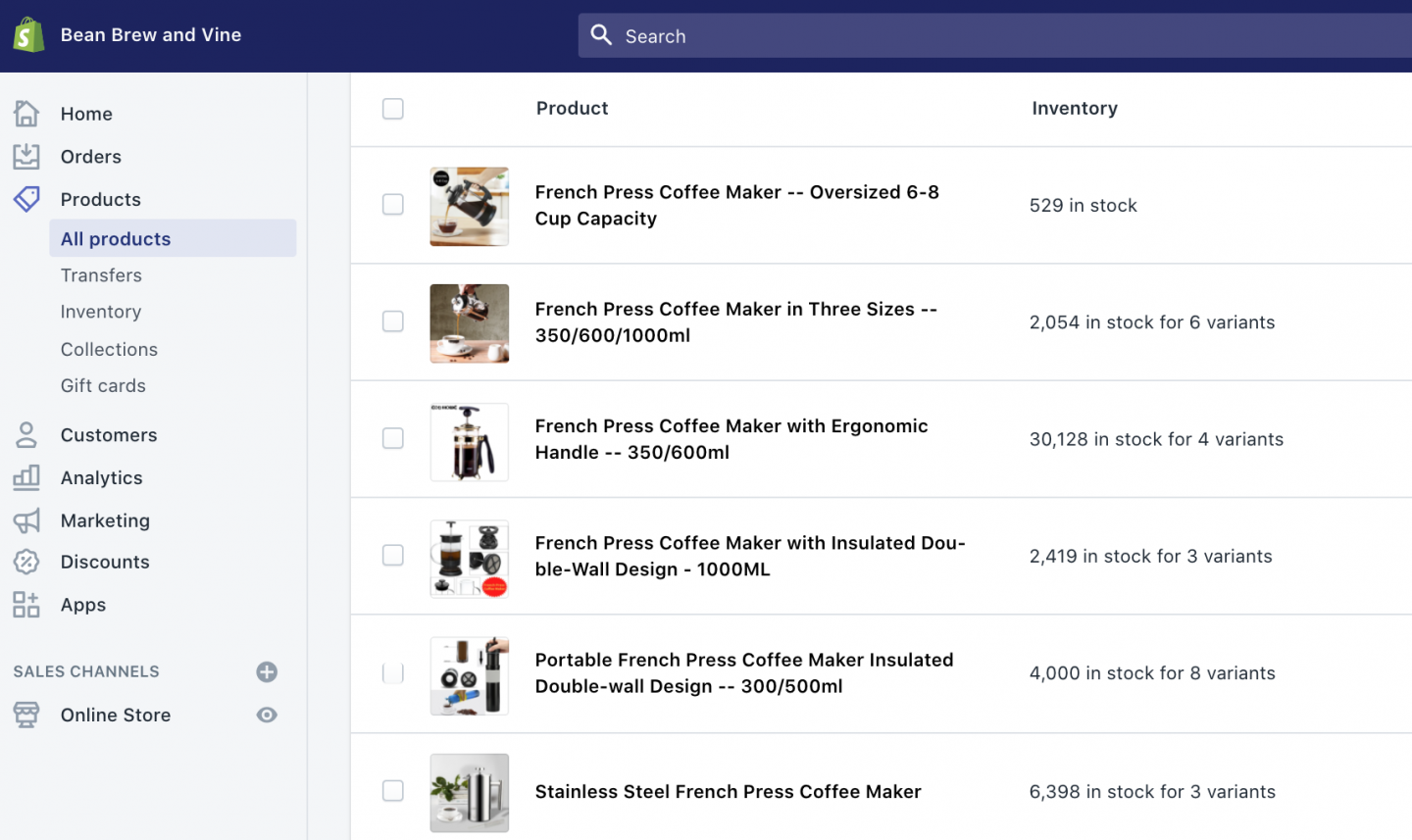 Oberlo and similar dropshipping apps clearly make it easy to search for products and build complete dropship collections on Shopify. However, the quick-start process covered above just scratches the surface of the in-depth product research behind most successful dropshipping businesses.
Overthinking product research in the early stages just slows you down. To make the most of your Shopify free trial period, focus on curating a selection of items with good track records. This way, you can quickly launch your website and test-market your concept.
Once you've populated your Shopify store with an assortment of dropship products, it's time to complete your store design and launch your Shopify website. To do this, you need to:
Set up your Shopify store theme, which is the overall design for your website.

Add Customer Service and Shipping pages.

Create navigation menus for your website.

Set up your payment, shipping and tax details.

Connect your domain name, or URL, which is your website address.
Shopify's quick-start wizard guides you through these key setup elements and the process is quite easy. Plan on spending about an hour or two to get the required elements in place to launch your new Shopify dropshipping store.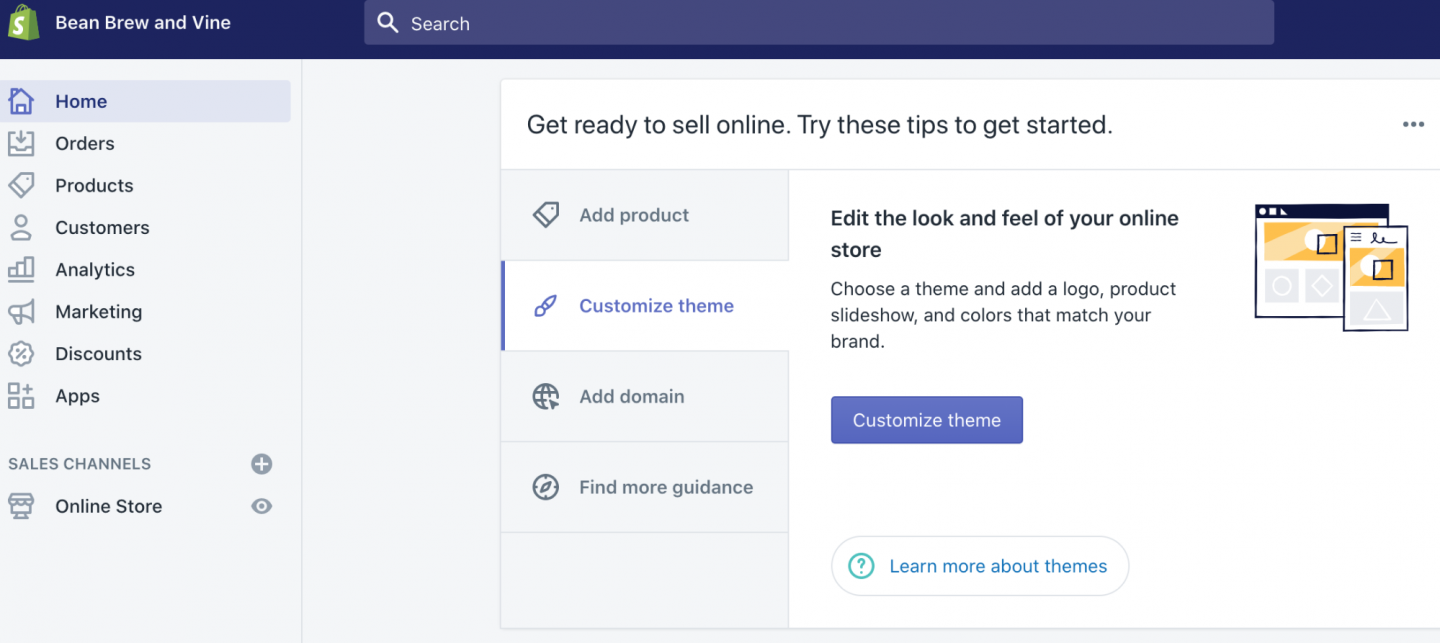 Once your Shopify dropshipping website is live, it's time to market your new online store. New websites take a very long time to appear in Google and other search engine results. So, you need to focus on more immediate marketing tactics, like social media, paid ads and email, to get the ball rolling.
Social media marketing and social commerce
Nowadays, social media marketing is the best way to spread the word about a new website. Here, too, Shopify makes this a snap with seamless integrations with Facebook and Instagram.
Simply set these up by clicking on "Sales Channels" in your Shopify dashboard, as shown below.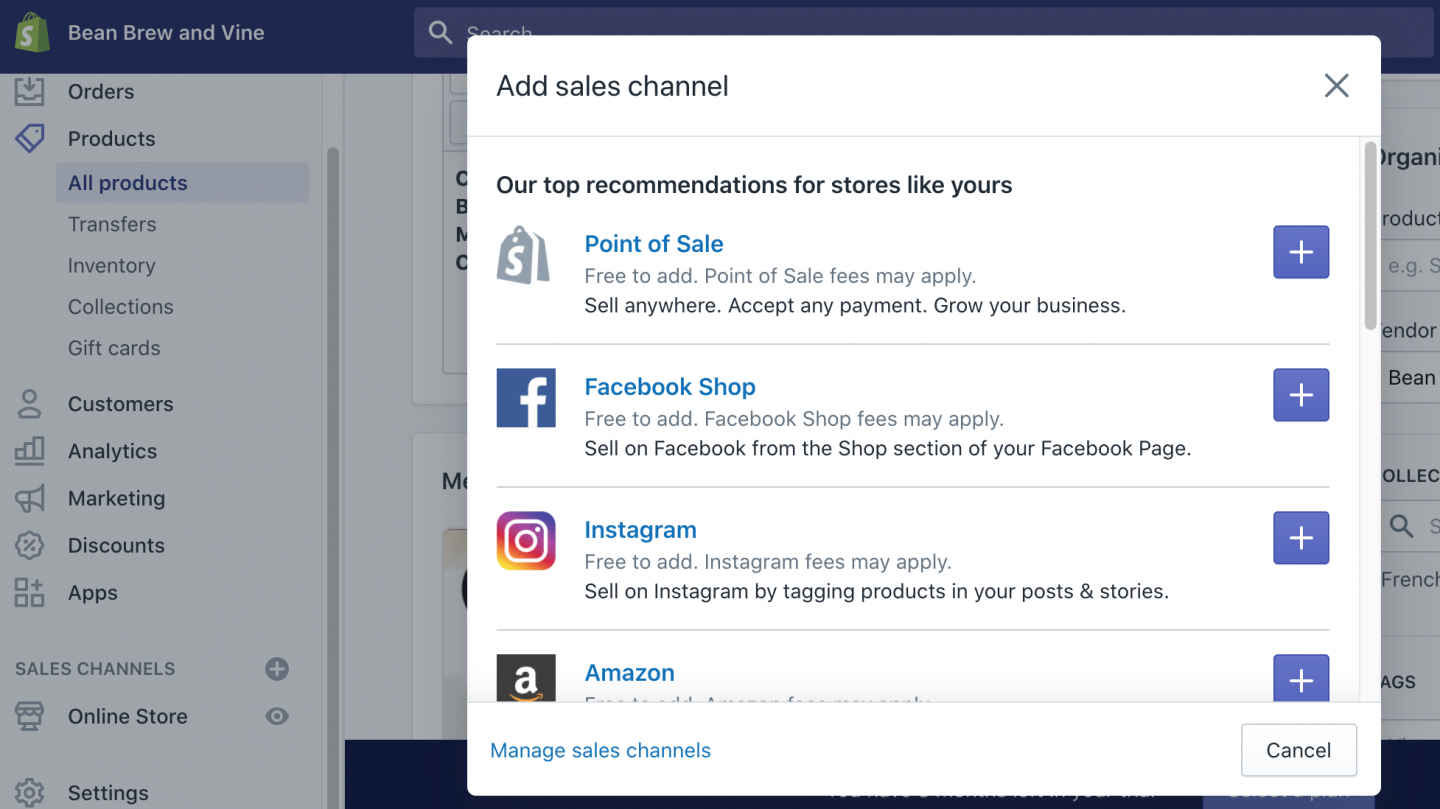 Once connected, you can display some or all of your Shopify products in a Facebook Shop and direct market items via Facebook Messenger. You'll need a Facebook Page for this, but that takes just a few minutes to set up. On Instagram, you can connect your products to share in your feed or create shoppable Instagram posts.
You can also explore other built-in Shopify sales channels, like eBay or Rakuten, but be wary of Amazon for dropshipping. Amazon's strict delivery times and high seller account fees make it challenging for most dropshippers.
Blogging and video marketing
Thoughtful blog and video content boost your social media marketing efforts and help your website achieve better search results long-term. Shopify's built-in blog feature supports both standard and video posts so you can publish engaging content around your brand and featured products.
As you write new blog posts or create new videos, share these to your social media pages and groups to grow a base of followers and convert them into shoppers.
Google Adwords and Facebook Ads
If you have some money to spend, you can also explore economical advertising options with Google Adwords and Facebook Ads. Both let you hyper-target your audience and set daily budgets, so you can drive shoppers to your new website very cost-effectively.
Lastly, don't forget the power of email marketing. From day one, you should build an email list to market your dropshipping Shopify store through engaging content and product specials.
Shopify makes this easy with plug-and-play apps for top-rated email marketing solutions like Mailchimp, Constant Contact and Convert Kit. Plus, Shopify is about to release its own built-in email marketing solution to compete with the top contenders.
A version of this article was first published on Fundera, a subsidiary of NerdWallet.