Where and How to Sell Clothes Online
When choosing a website, consider the kinds of clothes you're selling and how involved you want to be in the sale.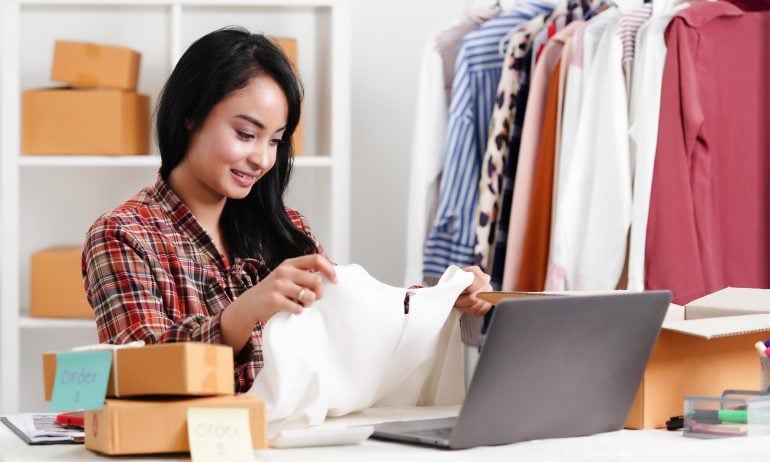 Many or all of the products featured here are from our partners who compensate us. This influences which products we write about and where and how the product appears on a page. However, this does not influence our evaluations. Our opinions are our own. Here is a list of our partners and here's how we make money.
You can sell clothes online through many sites; which one is right for you depends on what you have and how you want those pieces to be sold. Is your stuff mostly from H&M or Louis Vuitton? Do you want to send your clothes away and let someone else deal with them, or market your stuff and set the price?
Whatever your situation, the list below can help you learn where to sell clothes online. (Or skip the list to learn how to sell clothes online.)
Money management made easy
NerdWallet tracks your income, bills, and shows you ways to save more.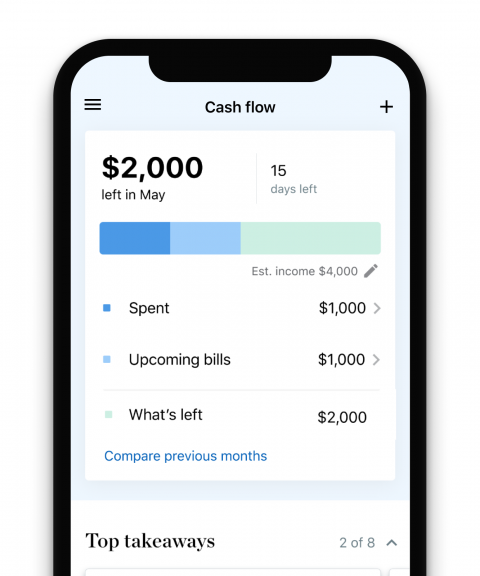 Best places to sell clothes online
Sellers it's a good fit for: Those looking to unload multiple pieces of women's and kid's clothes at once.
Effort needed: Minimal (you send stuff; the site gives you money).
ThredUP accepts many brands of women's and children's clothing. In fact, the site has made a name for itself as a secondhand children's clothing swapper, with a dedicated section for kids.
Think of thredUP like a local consignment shop that simply buys your clothes.
First, sign up and set the process in motion by making a request to "clean out." Then, print out an emailed shipping label, which you can attach to any box or bag and send it to thredUp via FedEx or USPS.
Note that thredUP has high quality standards. Clothes must be freshly laundered and new or like new, with no damage, signs of wear or alterations. For clothes that are accepted and listed for sale, thredUP will pay you a percentage of the final selling price. Pricier items earn more. For example, you'll earn 60% to 80% for clothes that sell for $100 to $199.99, but only 3% to 15% for those that sell for $5 to $19.99.
Clothes that aren't listed are sent to the site's third-party partners and recycled. You can also opt in to thredUP's "Return Assurance" service to have unaccepted items returned to you for a fee of $10.99, which is deducted from your earnings. You must choose this service when you first send in your clothes.
Sellers it's a good fit for: People looking to put up a variety of everyday gear piece by piece.
Effort needed: Hands-on (you provide photos, set prices and handle shipping).
Through the Poshmark app and website, you can post all kinds of clothing and accessories for sale, including women's, men's and children's items that are clean and in good condition.
Unlike thredUP sales, you take the lead on listing each of your items — although Poshmark's website gives plenty of guidance. According to Poshmark.com, you start by uploading well-lit photos of your item. Then set the item's price, add a detailed, accurate description and share.
When you make a sale, Poshmark emails you a USPS shipping label, but packaging is up to you.
Poshmark takes $2.95 on sales under $15 and 20% of the listing price for transactions of $15 or more. After the buyer receives the item, you get your share within three days.
The app also hosts "Posh Parties" a few times per day. During these events, you can submit items that fit into the designated theme so motivated buyers can find them. Brands, special occasions and departments, such as men's or maternity, are common focuses.
Sellers it's a good fit for: Fashion-forward types who have designer items for women, men and kids to offer.
Effort needed: Minimal (you send stuff; the site gives you money).
If you have designer items in your closet — think Gucci, Chanel or Louis Vuitton gear that may go for hundreds or even thousands of dollars — The RealReal may help you sell them. According to its website, you first print out a free, prepaid shipping label to attach to your package of goods. Or, depending on where you live, you may be able to drop off your items at one of The RealReal's locations or even schedule a pickup.
The RealReal sets prices for your items based on market trends, an item's condition and other factors. Unlike other online consignment stores, you won't get paid per clothing item. Instead, you'll receive a commission for everything sold over a calendar month, starting at 20% for sales of $99 or less. Commission percentages increase with higher sales. Selling $5,000 plus will net you 70% of proceeds, for example. Payout is on the 15th of the following month.
Sellers it's a good fit for: The style-conscious, with a knack for marketing their pre-owned men's and women's pieces.
Effort needed: Hands-on (you provide photos, set prices and handle shipping).
Grailed, originally a menswear reseller that now deals in womenswear too, curates clothing from your closet to ensure a stylish inventory. According to its informative website, those items can range from luxury designer goods to streetwear to mass-market brands and even vintage clothing. You upload pictures, describe each piece and set the price. After you hit publish, Grailed uses a digital authentication process to verify your item(s) or ask for more information.
Once an item sells, you can print a USPS or UPS shipping label and send it off. After the buyer receives the package, you'll be paid by PayPal, minus fees. Grailed takes a 9% commission on all sales, plus standard PayPal fees.
Sellers it's a good fit for: Trend-setters with a good feel for the fancy.
Effort needed: Hands-on (you provide photos, set prices and handle shipping).
Vestiaire Collective is a resale marketplace that specializes in luxury brands. You're responsible for photographing items, adding detailed descriptions and setting prices. The company is keen on authentication and says it carefully reviews each item listed before publishing.
Once an item sells, the company provides you with a printable shipping label and you pack it up and mail it.
Vestiaire Collective takes 15% of items priced $80 and up. It takes a flat $12 fee for items sold below $80. A processing fee applies too.
Other ways to sell clothes online
Neighborhood sites. If you'd rather sell clothes to people down the block and avoid dealing with shipping, try listing locally through sites and apps such as Craigslist, Facebook Marketplace, Nextdoor and VarageSale. Note that these sites don't operate like consignment stores. You post your own listings and work directly with the buyer.
Broader websites. You can also explore wider-ranging websites where you can list just about anything for sale. Try making money on Etsy or selling on eBay. Both sites allow sellers to list clothing, shoes, accessories and other items.
How to sell clothes online
Before using one of the sites above, read these tips to help you get the most money for your goods.
Freshen up your merchandise
Wash or dry-clean your items before putting them on the market. Polish hardware on shoes and handbags and buff away any scuff marks.
Also, carefully package items so they're less likely to get wrinkled or damaged in transit.
On sites that require you to post your own photos, bright, clear pictures will help your items stand out in a sea of dimly lit cell phone snapshots. Place your clothing on a flat, plain surface and angle a few lamps at it to reduce shadows.
Don't have a plain surface? A solid-colored bedspread or blanket will work in a pinch.
Write an honest description
Tell prospective buyers everything they need to know about the item you're selling. Use short, but complete sentences. Give basic information on size, brand and condition, as well as more nuanced details. Does a pair of jeans sit low on the hips? Is the fabric heavy or stretchy? Include such descriptions.
Well-loved items likely have a scuff or scratch. Presenting any defects upfront will preserve your reputation and seller rating, which are everything in some consignment circles.
A little competitive research will help you find the sweet spot — not too high, not too low — when pricing your merchandise. If your piece doesn't move, try dropping the price. Not ready to mark down your item? Revamp your photo and description.