Should I Fund My Business With a Credit Card?
Most business owners should consider opening a business credit card, but not all should fund their business with it.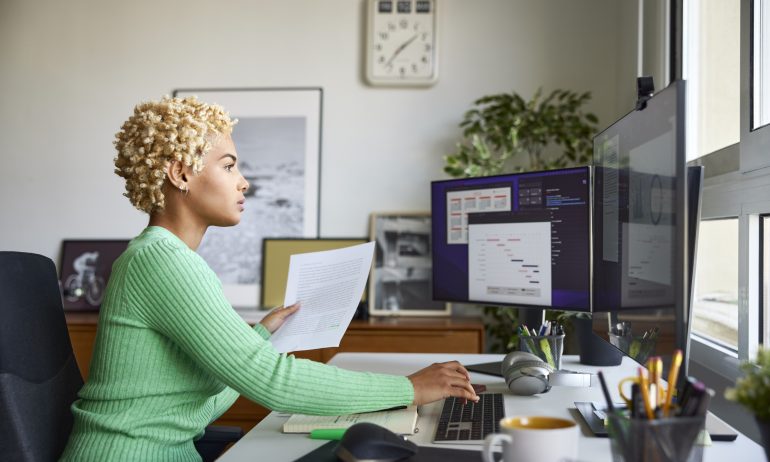 Many or all of the products featured here are from our partners who compensate us. This influences which products we write about and where and how the product appears on a page. However, this does not influence our evaluations. Our opinions are our own. Here is a list of our partners and here's how we make money.
Though it has its risks, funding a business with credit cards can be a legitimate way to finance everyday business expenses or address short-term cash flow issues. And unlike more traditional types of funding such as business loans or lines of credit, credit cards are usually easier to qualify for and quicker to fund. However, most credit cards won't give you access to the same funds or long repayment terms that loans might.
with Fundera by NerdWallet
Funding a business with personal vs. business credit cards
While you can use a personal credit card for business expenses, business owners should consider applying for a business credit card instead. On top of helping keep business and personal finances separate, business credit cards often have higher credit limits and business-specific rewards. Additionally, business credit card interest and fees count as tax-deductible business expenses.
Perks aside, applying for a business credit card could affect your personal credit score and you will be personally responsible for paying off any debt you accumulate. Misusing a business credit card can also negatively impact your personal credit if the business credit card you choose reports to consumer credit bureaus.
Business credit card applications commonly ask for a business's employer identification number, years in business, number of employees, industry type and annual revenue. Applicants with good to excellent credit will usually have a better chance of being approved.
Pros of funding a business with credit cards
While opening a business credit card — and using it responsibly — is a smart choice for most business owners, using it to fund your business isn't right for everyone. Still, it could be a lifeline for businesses that have exhausted more traditional lending options or don't need a large amount of funding.
Here are some of the perks of using a credit card for business purchases.
Credit cards are typically easier to qualify for than business loans. Business loan qualification often hinges on time in business, annual revenue, collateral and credit score. Business credit cards, on the other hand, typically depend on your credit history and score.

You can access funds quickly. The entire Small Business Administration loan process could take up to 90 days, and bank loans can be slow to fund, too. While online loans have faster turnaround times, credit cards can be even faster.

You can earn rewards for each dollar spent. Similar to personal credit cards, many business credit cards come with rewards programs that offer cash back or points or miles for travel. Using these rewards to offset other business costs is an added bonus.

It establishes your business credit. To build your business credit, aim to pay off the card in full each month to keep debt at a minimum. A history of using credit responsibly can help your business qualify for more funding options down the line.
Regular APR

18.49%-26.49% Variable APR

Regular APR

18.49%-24.49% Variable APR

Intro APR

0% intro APR on purchases for 12 months from the date of account opening

Intro APR

0% intro APR on Purchases for 12 months
Cons of funding a business with credit cards
Like other forms of small-business funding, credit cards come with risks.
Overspending can lead to debt. Credit cards are a great way to inject cash into your business as long as you're able to pay off what you borrow. If not, interest can add up quickly and it can be hard to get out of the cycle. Introductory offers, like 0% annual percentage rate for the first several months, can help you buy time. Just be sure you're making the minimum payments each month and have a plan to pay off the full balance before the introductory period ends and a variable APR sets in.

You'll probably need to sign a personal guarantee. In other words, you will be held personally responsible for paying off your credit card balance if your business cannot. This puts your personal assets at risk. Some business credit cards also report to consumer credit bureaus, which means your personal credit score can be affected by your business spending for better or worse.

Loans may give you access to higher limits and longer terms. While business credit cards can be used for everyday business expenses, term loans may be a more fitting option for long-term financing and large purchases, like real estate.
Alternative funding sources for small businesses
If your business qualifies, consider these other financing solutions to fund your business.
Bank loans: Best for established small businesses that have collateral, excellent credit and strong annual revenue. Bank loans usually offer the most competitive interest rates, though they're difficult to qualify for.

SBA loans: Best for small businesses that don't meet banks' lending requirements but have been operational for multiple years and have good credit. SBA loans may have longer repayment terms than banks, up to 25 years in some cases. They also have competitive interest rates but may take weeks or even months to fund.

Online loans: Best for small businesses that don't qualify for SBA or bank loans. Online loans are generally more expensive than traditional business loans, but they are quick to fund and usually easier to qualify for.
Keep in mind, though, that these types of loans typically require at least one to two years in business. For businesses that are just starting out, you may also consider these startup business loan options.