Building business credit should be one of your top priorities as you grow your small business. A strong business credit profile can help you qualify for bank loans or other sources of funding at competitive interest rates.
If you've been denied a small-business loan, it might be because you have bad personal or business credit. Thirty-six percent of small-business borrowers who get a "no" from creditors are turned down because of their credit scores, while another 30% are denied for new or insufficient credit history, according to a study by the Federal Reserve Banks of New York, Atlanta, Cleveland and Philadelphia.
Borrowers with bad credit might also have higher interest rates, higher insurance premiums and less favorable payment terms with suppliers. You can get a small-business loan despite bad personal credit. But if you take steps first to build your business credit, you'll qualify for lower interest rates, cutting the total cost of your loan.
Here are seven steps to build your business credit.
1. Register your business and get an EIN
Whether you operate as a sole proprietor or a corporation, you'll need to register your business with the appropriate government entities in order to create a business credit profile. After that, you can apply for a federal tax identification number, also known as an employer identification number, or EIN, which will allow you to begin building business credit.
2. Keep your information current with all three credit bureaus
There are several credit bureaus that collect data and create business credit scores, including Dun & Bradstreet, Experian and Equifax. Each business credit bureau has a different formula for calculating scores, and different lenders report different types of data.
Need a credit report check-up?
Sign up for an account to have your free credit report and score on-hand, all the time.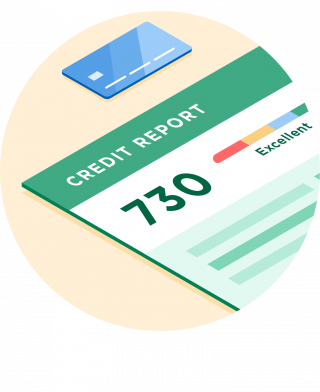 Since you never know which credit bureau your vendors, creditors or potential customers will check, it's smart to maintain all three.
3. Establish trade lines with your suppliers
If you buy supplies, ingredients or other materials from third-party vendors, those purchases could help build your business credit.
Many suppliers extend trade credit, which means they allow you to pay several days or weeks after you receive the inventory. If you have this type of accounts-payable relationship, ask your supplier to report your payments to a business credit bureau. Your business credit score will get a boost as long as you stick to the terms of the trade agreement.
You need at least three tradelines to get a Dun & Bradstreet Paydex score, which measures past payment history. Even if you don't work with a lot of suppliers, you can set up tradelines with any small vendor, such as your water or office supplies distributor. If those vendors don't report to a credit bureau, you can list them as a trade reference on your account, and Dun & Bradstreet will follow up to collect your trade data.
4. Make payments to creditors on time or early
Although each credit bureau uses slightly different methods of crunching business credit scores, all of them consider your history of paying creditors. To ensure a good score, make sure your payments are on time or, even better, early. Dun & Bradstreet only assigns perfect Paydex scores to those who pay early.
A long credit history tends to weigh favorably, so the sooner you can start establishing business credit, the better. Also, credit utilization is a factor in business credit scores — as it is with personal credit scores. So use your cards and lines of credit, but don't max them out. Limit your spending to 20% to 30% of your credit limit.
5. Borrow from lenders that report to credit bureaus
Small-business loans can actually boost your business credit if you make all your payments on time and the lender reports to a business credit bureau. But not all lenders do. So if you're intent on building business credit, ask the lender whether they report before you take out a small-business loan.
Banks typically report to credit bureaus, but if you have poor or limited credit, you probably won't qualify for a bank loan. Many online small-business lenders — which are more willing to lend to bad-credit borrowers — also report, including OnDeck, LendingClub, Funding Circle and Bluevine. However, other lenders including SmartBiz, Fundbox and merchant cash advance companies don't report.
6. Get a business credit card
A business credit card can be one of the best tools for building business credit, as long as you either pay off the card in full each month, or take advantage of a 0% intro APR period. As a bonus, many business credit cards offer benefits and rewards for your spend, from cash back to travel points.
If you have thin or poor personal credit, you may want to begin your card search by improving your personal credit score, since many card issuers will use your personal history to evaluate creditworthiness. If that isn't possible, applying for a secured credit card will likely be your best choice.
While secured cards typically don't offer rewards and may have a low ceiling for how much you can spend, they can still be valuable for contributing to your business credit profile. And some issuers will allow you to upgrade to an unsecured card if you can demonstrate a consistent pattern of responsible repayment.
If you want to avoid a personal credit check altogether, a handful of cards will evaluate your application on the strength of your business's financials alone. Once your business reaches a certain size or revenue threshold, it may be time to consider a corporate credit card, which does not rely on your personal credit score for consideration.
7. Keep your public records clean
In addition to detailing your business's history of paying creditors, your business credit report will have any public records filed in your business's name, including bankruptcies, judgments and liens. A judgment is a court ruling; if the ruling is against you in a debt collection lawsuit, it will have a negative effect on your credit score. A lien is a creditor's legal right to seize your property unless you pay an owed amount, such as an outstanding small-business loan or unpaid taxes.
These negative marks on your business credit report can haunt you. Bankruptcies, for example, stay on your Experian credit score for 10 years; tax liens, judgments and collections remain for almost seven years.