The Guide To Alaska Airlines Wi-Fi
Alaska offers passengers high-speed, satellite Wi-Fi on roughly 90% of its flights.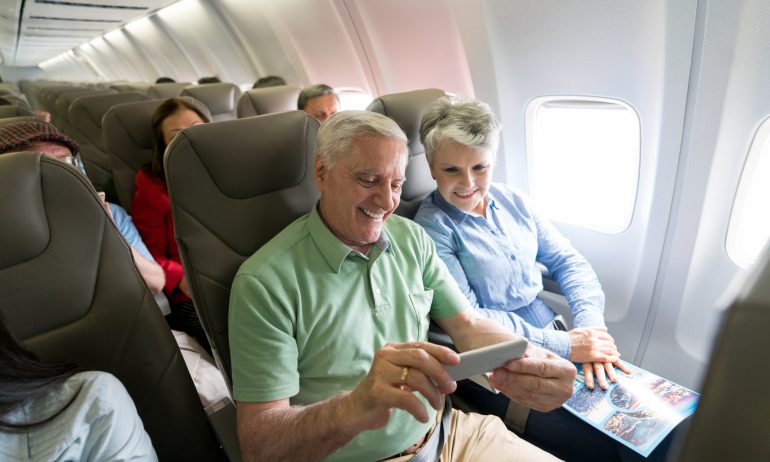 Many or all of the products featured here are from our partners who compensate us. This influences which products we write about and where and how the product appears on a page. However, this does not influence our evaluations. Our opinions are our own. Here is a list of our partners and here's how we make money.
We get it — no one wants to suffer without the internet for an extended period. This goes for camping, driving and, of course, taking flights.
Happily for travelers, airlines have been doing their best over the last decade to install and update their Wi-Fi services. Alaska Airlines is one of those, which means you'll nearly always find an internet connection on your flight.
Let's look at Alaska Wi-Fi, how to connect and how much it'll cost you. 
Does Alaska Airlines have Wi-Fi?
Alaska Airlines provides Wi-Fi on nearly all of its flights. Besides some select 737-9 Max (only the newly delivered ones) and all Q400 planes, you'll be able to find Wi-Fi on most of your flights. 
There are two types of internet connections you'll find when flying with Alaska, and the one you'll get will depend on the aircraft you're flying on. 
Streaming-fast satellite Wi-Fi
The first, a satellite connection, is available on 90% of Alaska-operated flights. The airline continues to install this Wi-Fi on the remainder of its fleet, with a scheduled completion date of early 2023.
That's good news because satellite Wi-Fi provides high-speed internet to customers, allowing you to message, stream videos and work on your laptop much as you would while on the ground. 
Satellite Wi-Fi is available on these aircraft:
All Boeing 737 Max planes (except newly delivered ones).

Nearly all Boeing 737-900s.
Along with faster speeds, you should experience better connectivity, including coverage within Alaska, Hawaii and Mexico. You'll also be able to use this internet from gate to gate, meaning you won't need to wait until you get into the air to connect. 
There's still an internet option for aircraft that don't yet have fast satellite Wi-Fi available for purchase. Although it's not as good as high-speed Wi-Fi, basic Wi-Fi will keep you connected until you reach the ground. 
According to Alaska's site, basic Wi-Fi will allow you to browse the web, shop or check your email. Streaming or downloading large attachments is off the table, and coverage is much more limited. You won't, for example, be able to use the Wi-Fi when flying to Costa Rica, Mexico, parts of Alaska or Hawaii. 
Aircraft with basic Wi-Fi include:
How to connect to Alaska Wi-Fi
Connecting to Wi-Fi during your flight is relatively simple. You'll be able to use your phone, tablet or laptop to connect as long as they're charged. 
Put your device in airplane mode and turn on your Wi-Fi. 

Select the "Alaska_WiFi" or "gogoinflight" network.

Open your web browser and navigate to AlaskaWiFi.com.

Purchase your internet pass.
How much is Wi-Fi on Alaska Airlines?
Alaska simplified its pricing structure in 2022, eliminating most variable costs in favor of a flat-rate fee. 
If you're on an aircraft with fast satellite internet, you'll pay $8 for in-flight Wi-Fi, no matter the length of your flight.
You can also text or watch movies for free with Alaska's Wi-Fi. 
If instead, your flight features basic Wi-Fi, you'll still see varying rates. On Embraer 175s, you'll still pay just $8 for an internet connection. On Boeing 737s with basic Wi-Fi, however, the rate will fluctuate and can cost up to $24.99
Is there an Alaska Wi-Fi day pass?
A day pass allows guests with multiple flights on a single day to access Wi-Fi for one fee. Although Alaska doesn't offer day passes, it may be possible to obtain one. 
If your flight is equipped with Gogo in-flight Wi-Fi, you can purchase a 24-hour Gogo pass that'll grant you access on more than one flight. Be aware, however, that this is limited to a single carrier. So, for example, you can't hop from Alaska Airlines to United and expect to continue having access. 
Does Alaska have free Wi-Fi?
Some airlines, such as Singapore Airlines, will provide free in-flight Wi-Fi if you're a business-class passenger. Others, like JetBlue, grant this privilege to all passengers, regardless of fare class.
Alaska is not currently working on a plan to offer free Wi-Fi for its passengers, but there is still one way to access it for free. Those who have an eligible T-Mobile phone plan can have complimentary access to Alaska Wi-Fi, though how much and how often will depend on your plan:
Magenta Max plans. Unlimited Wi-Fi and streaming with unlimited messaging. 

Magenta plans. Four flights per year with full-flight Wi-Fi. One hour of streaming and access for all other flights. Always unlimited messaging. 
How Alaska Wi-Fi compares to other airlines
Other major U.S. airlines also scored in second place, thanks to various factors, including cost, availability and whether there were discounts for co-branded card holders or elite members. 
If you wish to connect to onboard Wi-Fi on an Alaska flight
Internet access is integral to nearly everyone these days, whether you're staying connected for work, chatting with friends or keeping up with family. 
Alaska Airlines has done its part to ensure you have reliable in-flight Wi-Fi with an expanding network of high-speed internet on its aircraft. Although prices will occasionally vary, for the most part, you can expect to pay $8 for your service, no matter the length of the flight.
In return, you'll receive an internet connection that can handle whatever you throw at it, including downloads and streaming. 
---
How to maximize your rewards
Get more smart money moves – straight to your inbox
Sign up and we'll send you Nerdy articles about the money topics that matter most to you along with other ways to help you get more from your money.