In-Flight Entertainment: Broken Down by Airline
In-flight movies, TV, Wi-Fi and other entertainment vary significantly from airline to airline.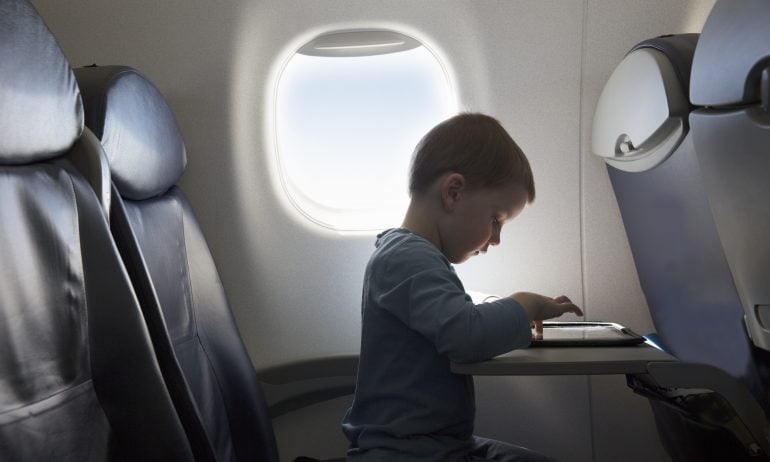 Many or all of the products featured here are from our partners who compensate us. This may influence which products we write about and where and how the product appears on a page. However, this does not influence our evaluations. Our opinions are our own. Here is a list of our partners and here's how we make money.
Flying can make the travel quicker, but hours spent sitting in the middle seat seem long. For the most part, the cell phone or laptop you bring along for entertainment is only as good as the battery life and the media you remembered to download beforehand.
That's where airlines come in. Carriers have stepped up their game to offer more in-flight entertainment options on both seatback screens and passengers' own devices.
We rounded up your options for onboard entertainment on some of the major U.S. airlines.
In-flight entertainment on American Airlines
Depending on the aircraft, American Airlines passengers can watch a slew of movies, television shows and live TV on seatback screens, overhead screens, passengers' personal devices or airline-provided tablets. Larger aircraft are more likely to have the seatback screens, which put the entertainment options right at passengers' fingertips.
Many airplanes are equipped with Wi-Fi that will let customers use their own personal device to stream from a catalog of movies and shows. People who want to watch from their smartphone or tablet must have the American Airlines app downloaded before takeoff to be able to access the content. As long as passengers are only watching video content from the American Airlines entertainment hub, they don't have to pay for the Wi-Fi.
Some first-class and business-class seats don't have screens, so American Airlines provides a Samsung tablet for movie viewing.
American Airlines is the first commercial airline to provide access to music streaming through complimentary inflight Wi-Fi access. Apple Music users will be able to stream more than 50 million songs, playlists and music videos on any domestic flight with Wi-Fi. Passengers can even sign up for Apple Music on board and get three months free.
American Airlines offers high-speed Wi-Fi on select domestic aircraft. Wi-Fi is available on most routes and starts at $10. If you fly often, American Airlines has a monthly $49.95 plan that covers one device and a monthly $59.95 plan that covers two devices.
United in-flight entertainment
United Airlines offers more than 100 channels of live television to the viewing options aboard certain 737 United aircraft with seatback TVs. In addition to the DirecTV channels, United customers also have access to a huge collection of movies and television series available on personal devices through the United app.
The United Private Screening options on seatback TVs include music channels and music video playlists from VEVO.
United works with four internet providers to offer Wi-Fi on various domestic and international routes. The airline does not allow people to use Wi-Fi for voice or video calls. Pricing for Wi-Fi access varies by flight but typically starts at $8 for domestic routes. Customers can also buy a monthly or annual Wi-Fi subscription if they are frequent flyers. United MileagePlus members can pay for Wi-Fi subscriptions with miles. It costs 7,500 miles for a monthly domestic subscription or 80,000 miles for an annual domestic subscription.
Meanwhile, all passengers can get free messaging on most United flights. As long as it's a Wi-Fi equipped aircraft and not one of the exceptions (select 757s, 767s  and 787s), then you can send and receive text messages using most apps that send text messages over Wi-Fi (such as Apple Messages/iMessage, WhatsApp, etc.). However, SMS messages can't be sent or received using United Wi-Fi because these messages can only be sent over a cellular network.
Delta in-flight entertainment
Unlike other airlines, Delta passengers must access the extensive catalog of movies and television shows from the Gogo Entertainment App, instead of the airline's app. Seatback screens are available on select aircraft, and that gives customers access to up to 300 movies, HBO, Showtime and 12 channels of live satellite TV.
The seatback screens provide a variety of audio content including podcasts and more than 2,500 songs.
One of the perks of flying Delta is that the airline will provide free Wi-Fi on most domestic mainline aircraft starting on Feb. 1, 2023. By the end of 2023, free Wi-Fi should be available on regional and international jets as well.
If you end up on a plane without free Wi-Fi, customers can still send messages free of charge on their in-flight Wi-Fi. Flyers can send messages through iMessage, Facebook Messenger or WhatsApp, provided that they already have the apps downloaded.
Southwest in-flight entertainment
Southwest passengers can watch movies and television shows on-demand on the Southwest app, which must be downloaded before takeoff. They also offer live TV channels like CNN, FX and ESPN.
The Southwest entertainment portal also lets passengers stream music from iHeartRadio. There are genre-specific radio stations, artist-focused playlists and curated stations with themes like "Pass the Time" or "Kids Zone."
Southwest has one of the cheapest Wi-Fi plans. It's only $8 for all-day access and free for A-List Preferred members. The carrier does restrict Wi-Fi usage to keep the speeds up, so passengers won't be able to watch videos from streaming services like Netflix or HBO Go.
JetBlue in-flight entertainment
JetBlue has a limited movie selection with only three movies per flight. The movie selection is different for outbound and inbound flights and changes every month. The television selection, on the other hand, is much more diverse, with as many as 100 channels of live TV from DirecTV on certain aircraft with seatback screens.
JetBlue also has The Hub for people to access content on their personal devices. Flyers connect to the Wi-Fi and then can access all sorts of free content including shows and movies, magazines and e-books. Through a partnership with Amazon, people can also stream Amazon Prime videos for free with the onboard Wi-Fi via the Amazon app. JetBlue TrueBlue loyalty members can earn 3 TrueBlue points for every $1 spent while shopping on Amazon.com during the flight.
Every seat on JetBlue flights is enabled with SiriusXM radio. Passengers can listen to more than 100 channels of music and talk radio.
JetBlue's FlyFi is free for all customers, and there are no restrictions on streaming.
Upcoming partnership with Peacock
In Spring 2023, JetBlue will be further enhancing its in-flight offerings via a new partnership with Peacock, NBCUniversal's streaming service. Through the partnership, flyers will be able to watch select Peacock original series' on their seatback screens and will be able to stream Peacock's full library on devices while connected to in-flight Wi-Fi.
TrueBlue loyalty program members will be eligible for special offers on Peacock, including a complimentary one-year Peacock Premium subscription for TrueBlue Mosaic status holders and the chance to earn points by subscribing.
Alaska Airlines in-flight entertainment
Alaska Airlines offers two options for customers to watch what they want. The first is the Alaska Beyond Entertainment hub, with more than 500 titles to stream from a personal device. Customers have to download the Gogo® Entertainment App before they fly to access the content. On some longer flights, passengers can also watch videos, play Xbox games or browse the internet on an in-flight tablet. Tablets cost $10 in the main cabin and are provided for free for first class & MVP Gold 75K customers.
Most Alaska planes currently have satellite Wi-Fi installed and available for use. Wi-Fi costs $8 for the duration of your flight. There are also monthly and annual passes available.
Alaska Airlines also offers free in-flight texting. Passengers can connect to the Wi-Fi and send messages via iMessage, Facebook Messenger and WhatsApp without charge.
Frontier in-flight entertainment
Frontier Airlines currently does not offer Wi-Fi or other in-flight entertainment options.
Spirit in-flight entertainment
The majority of the Spirit Airlines fleet offers inflight Wi-Fi. The price to connect varies from route to route and depends on which plan you choose. According to Spirit, the average price of an inflight Wi-Fi package is $6.50.
British Airways in-flight entertainment
Movies, television and music
Passengers can watch any title from a huge catalog of movies and television shows on the seatback screens on certain British Airways airplanes. The collection includes everything from new films to Headspace meditation programs and kids content. The airline gives passengers unprecedented access to what's playing onboard and allows them to create a watchlist online before they even take off. The in-flight entertainment system also has music channels and podcasts.
British Airways travelers also have access to more than 7,000 digital newspapers and magazines through the airline's partnership with PressReader. Users must download the PressReader app, and anything that they download can be kept even after the flight.
Wi-Fi is available on 90% of British Airways flights. They use the .air service provider to give passengers the option of purchasing 1-hour, 4-hour or full-flight plans.
Hawaiian Air in-flight entertainment
Hawaiian Airlines offers free in-flight entertainment to all passengers on flights across the Pacific. On the A330 planes, there are seatback screens in the main cabin and tablets in the premium cabin. On flights on Hawaiian's A321neo aircraft, travelers can stream entertainment via the Hawaiian Airlines app.
"HawaiianAirWifi" is available for mobile, tablet and laptop users. To access it from your mobile or tablet, you must have the Hawaiian Airlines App downloaded. Laptop users simply connect to HawiianAirlinesWifi.com via a web browser (only Chrome is supported) to begin browsing and playing content.
Frequently asked questions
How can I watch movies on a plane?
Do I need to download an app to watch movies on a plane?
Can I watch live TV on a plane?
Can I stream music on a plane?
How can I watch Netflix on a plane?
How can I text on a plane?
---
How to maximize your rewards
Get more smart money moves – straight to your inbox
Sign up and we'll send you Nerdy articles about the money topics that matter most to you along with other ways to help you get more from your money.