Advertiser Disclosure
Southwest Rapid Rewards Premier Card: Get to Companion Pass Status Fast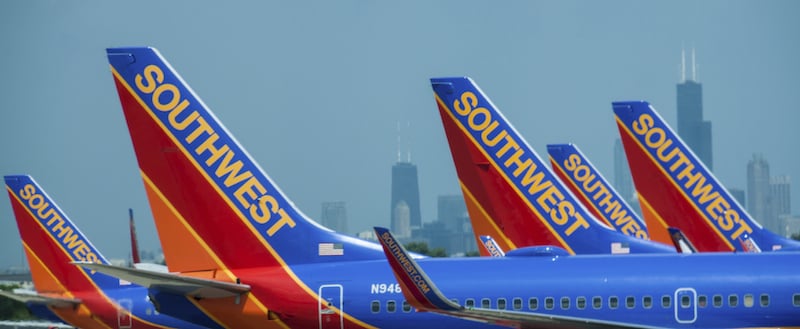 The Southwest Rapid Rewards® Premier Credit Card has a lot to offer loyal Southwest customers. But did you know that it could save you big bucks on flights if you use it to get to Companion Pass status?
For everything you need to know about Companion Pass, take a look at the details below.
What is Southwest Airlines Companion Pass?
Companion Pass is the highest status in Southwest's Rapid Rewards program. As the name implies, achieving this status entitles a companion of your choice to fly with you for free on any Southwest flight you book. In order to qualify for Companion Pass status, you'll need to complete 100 qualifying one-way flights in a calendar year or earn 110,000 Rapid Rewards points in a calendar year. That might seem daunting, but once you nab it, you'll have the companion pass for the rest of the year you qualified and the following calendar year. You'll need to re-qualify every year in order to hold on to your status.
Achieving Companion Pass status could potentially save you hundreds (or even thousands) of dollars if you usually fly Southwest with a travel partner. If you score it in January of a calendar year, you'll essentially be getting two-for-one tickets for almost 24 months. Even just a few weekend getaways could add up to a really great deal.
How to get to Companion Pass status as quickly as possible
Unless you practically live in the sky, getting to Companion Pass status is probably most achievable by earning 110,000 Rapid Rewards points in a calendar year. Luckily, there are some easy ways to get there fast:
Get the Southwest Rapid Rewards® Premier Credit Card or the Southwest Rapid Rewards® Plus Credit Card. The points you earn with it (including the signup bonus) are Companion Pass-eligible.
Book your hotel stay or rental car with Rapid Rewards partners, which include big names like Hyatt, Marriott, Hertz and Budget.
Shop online through Southwest's bonus mall, Rapid Rewards Shopping.
Become a Rapid Rewards Dining member and earn 3 points per dollar spent at select restaurants.
Nerd tip
If you have the Chase Sapphire Preferred® Card, you might be thinking of transferring your points into your Rapid Rewards account to hit the 110,000 mark. But transferred points are not Companion Pass-eligible, so you'll have to earn points with the strategies listed above.
Other Southwest Rapid Rewards® Premier Credit Card features you might be interested in
The Southwest Rapid Rewards® Premier Credit Card is one of the Nerds' favorite co-branded airline cards because it offers frequent flyers some really great perks. You'll earn 2 Rapid Rewards points per dollar spent on Southwest Airlines and with Rapid Rewards hotel and car rental partners and 1 point per dollar spent on all other purchases. You'll also get an annual 6,000-point anniversary bonus, which partially offsets the card's $99 annual fee.
To get the ball rolling, the Southwest Rapid Rewards® Premier Credit Card provides a signup bonus: Earn 40,000 points after you spend $1,000 on purchases in the first 3 months your account is open.
Finally, this card is a great option for international globetrotters because it charges no foreign transaction fees and comes chip-enabled. All in all, the Southwest Rapid Rewards® Premier Credit Card is a great choice for helping you get to Companion Pass status and using for everyday purchases. So don't delay – use it to start working toward your 110,000-point goal today.
Lindsay Konsko is a staff writer covering credit cards and consumer credit for NerdWallet. Follow her on Twitter @lkonsko and on Google+.
Image via iStock.