Best Airlines for Onboard Entertainment: Movies, Wi-Fi, Texting
JetBlue, Delta and Southwest all offer superior in-flight entertainment.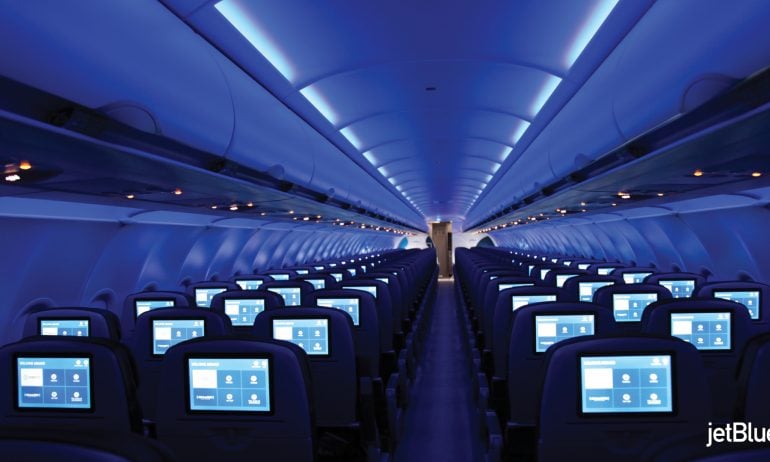 Many or all of the products featured here are from our partners who compensate us. This may influence which products we write about and where and how the product appears on a page. However, this does not influence our evaluations. Our opinions are our own. Here is a list of our partners and here's how we make money.
It's never fun to board your six-hour, cross-country flight just to find out that the only way to watch movies is on your own device (which is already low on battery). And it's agonizing to think you'll be able to productively catch up on emails, only to realize your airline doesn't offer Wi-Fi.
In-flight entertainment has dramatically improved in the last decade — at least on most airlines. In recent years, most airlines have removed the extra cost to watch a movie, and some now offer free in-flight messaging. Others even offer free Wi-Fi.
Yet some airlines still don't offer any of the above, period. Hopefully you brought a book.
Here are the best (and worst) airlines for onboard entertainment:
The three best airlines for onboard entertainment are JetBlue, Delta and Southwest. Here are all of the airlines we reviewed, and their overall ranking on a five-point scale:
The top three offer free in-flight messaging, allowing you to stay connected with folks on the ground. Only one other airline we reviewed, Alaska, offers free texting for all passengers. The top two, JetBlue and Delta, offer seatback screens on most flights, which you can use not just for watching free movies, but also for other forms of entertainment. Possibilities vary from flight to flight, but example options include digital magazines, guided meditations and more.
And while our top three picks offer Wi-Fi, it's free only when flying on our winner: JetBlue.
Don't fly on Hawaiian, Frontier or Spirit with high hopes of enjoying built-in entertainment.
The best overall airline for onboard entertainment: JetBlue
Does JetBlue have TVs? It sure does.
Since its inception, JetBlue has put an emphasis on the in-flight experience. Years ago, that meant some free DirecTV on its seatback screens or a small selection of free movies on most flights. In 2021, JetBlue's entertainment offerings have expanded far beyond that — far enough that JetBlue is the only airline of all those we reviewed to receive a perfect score.
These days, JetBlue offers not just free live TV, but also free movies, free Wi-Fi and free in-flight messaging. JetBlue is also the only major U.S. airline to have seatback screens at every seat (so you don't need to worry about bringing a charged-up iPad to watch those free movies — as is the case on other airlines). Current JetBlue movies include Dune and Last Night in Soho. JetBlue is also the only airline of those we reviewed to offer free Wi-Fi to all passengers.
Yet even with JetBlue, the quality of entertainment varies. There are essentially two categories of entertainment based on which aircraft you're flying in. While we're willing to give both five stars, let's just say the newer aircraft deserve extra bonus points. Here are the differences:
Newer JetBlue aircraft have upgrades
JetBlue's newer aircraft — the A320 Restyled, A321, A220 and A321 LR — have 10.1-inch, 1080P high-definition touch screen TVs on every seat back, providing full seasons of on-demand TV, plus dozens of movies to pick from and more than 100 channels of live TV. These aircraft also provide USB and standard outlet power at every seat, so you can keep your personal devices charged up.
On Mint, JetBlue's version of first class, you'll go even bigger, with at least 15-inch screens.
Older aircraft still delight
The airline's older aircraft, E190 and A320 Classic, offer slightly less in terms of in-flight entertainment. Besides having no touchscreens, you'll typically get to choose from only three movies, and the TV shows are limited to live TV only (there are about 36 channels of live DirecTV). There's also no in-seat power.
Still, even the older aircraft provide entertainment that's miles above most other airlines. Don't fret if you get in an older plane. Even with fewer movies and TV shows to pick from, you still get free Wi-Fi and messaging.
Runners-up: Delta and Southwest
Delta and Southwest were the only other two U.S. airlines to score at least 4 or higher. Both airlines offer free movies, free in-flight messaging and Wi-Fi for an additional fee.
A primary difference between the two is that Delta has seatback screens on most flights, while Southwest does not. The value of seatback screens has been hotly debated here on the NerdWallet travel team, and you'll have to weigh your personal preference to determine how important this is to you.
Some travelers prefer access to seatback screens, and understandably so. With these, you don't need to worry about whether your own device has sufficient charge or that you've downloaded the required app to connect to the airline's entertainment portal. This simplifies the experience overall.
And yet, other travelers don't like them. Even the best seatback screens inevitably have issues sensing your finger tapping (OK, punching) it. There's always that flight where the headphone jack works only when you've wedged the plug in at the exact right angle. Your personal tablet probably won't incur such a headache.
So, why didn't Southwest score higher? Because the answer to "Does Southwest have TVs" is no. Without TV screens, the process to actually watch TV and movies midflight can be mildly annoying. You have to bring your own device and connect to Southwest Wi-Fi. And while you won't necessarily need to pay for Wi-Fi, you still need to load the entertainment portal at southwestwifi.com.
In general, it's a fairly straightforward process, but it's still one more step to take. And, if you don't have your own device, you can't even rent one (some other airlines that don't have seatback screens let you rent a tablet for a fee). Plus, you'll need to ensure your devices are charged up, as Southwest doesn't offer onboard power outlets to passengers.
Delta has a giant entertainment selection, including roughly 300 movies and — on some flights — 12 channels of live satellite TV.
Delta has been working to improve its Wi-Fi speeds, and how you connect, through a partnership with high-speed Wi-Fi provider Viasat. With it, Delta launched a new Wi-Fi access portal that — upon connecting — displays options to purchase full in-flight Wi-Fi, connect to free in-flight messaging or access free day-of-travel features, like your flight schedule.
While Viasat isn't available on every aircraft, it's a big improvement for those that have it. Wi-Fi on Viasat-enabled aircraft costs $5 per flight and offers connectivity at higher speeds than the airline's old Gogo Wi-Fi.
The worst of airline in-flight entertainment
Spirit and Frontier both tied for the worst, receiving the lowest possible score of just 1. No movies, no TV, no Wi-Fi (in most cases).
Frontier Airlines says that not offering entertainment enables it to keep fares lower, which makes sense given that Frontier is a budget airline.
At Spirit, Wi-Fi has been rolled out over there past few years. The similarly budget airline offers Wi-Fi as a paid option for passengers on most of its aircraft. However, Spirit has specifically said that you should not expect free movies or TV.
Methodology: How we made our in-flight entertainment rankings
We analyzed 14 major airlines based on factors including Wi-Fi availability and cost, movie availability and cost, plus other metrics, like seatback screen availability. We also noted whether costs like Wi-Fi were waived if you have airline elite status or that airline's branded credit card.
In total, we gave each airline a score from 1 to 5 on eight different sub-categories. Some categories were given more weight than others (e.g., free in-flight messaging for all passengers received more weight than getting free Wi-Fi if you have a branded airline credit card). Then, we calculated the individual category scores and weighted them to come up with an overall score.
Here are our complete rankings:
Of the 14 airlines we analyzed, only one got a perfect, 5/5 score: JetBlue. Delta Air Lines and Southwest Airlines came in at spots No. 2 and 3, respectively. Together, these three airlines were the only U.S.-based airlines to earn a score of 4 or higher.
The median ranking was 3.5. And the average ranking was 3.2, brought down especially by Frontier and Spirit, both of which received the lowest score possible — just one point.
If you want the best airline entertainment
When it comes to in-flight entertainment, JetBlue is unbeatable. Not only does it offer many kinds of entertainment — movies, TV, Wi-Fi and more — but it also offers it for free.
Fly Delta or Southwest, and you also likely won't get too bored as you barrel through the skies, given the solid entertainment offerings. But if you fly Spirit and Frontier, well, bring a magazine or crossword.
---
How to maximize your rewards
Get more smart money moves – straight to your inbox
Sign up and we'll send you Nerdy articles about the money topics that matter most to you along with other ways to help you get more from your money.