What You Need to Know About Southwest's Flights to Hawaii
All the benefits of flying Southwest, like free checked bags, still apply on its flights to the Hawaiian Islands.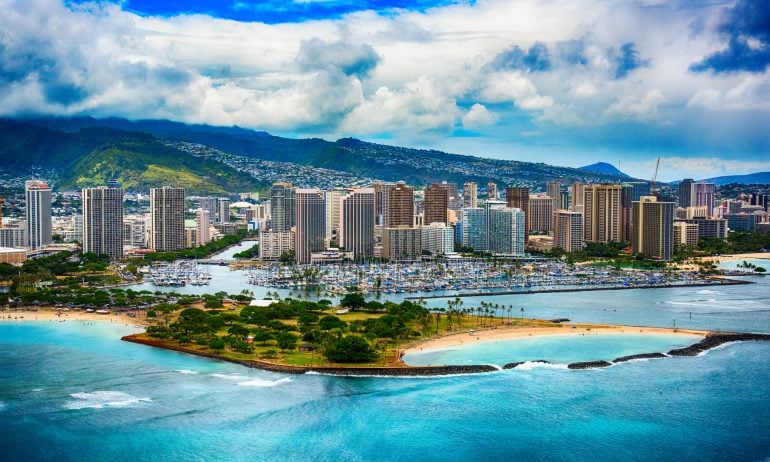 Many or all of the products featured here are from our partners who compensate us. This may influence which products we write about and where and how the product appears on a page. However, this does not influence our evaluations. Our opinions are our own. Here is a list of our partners and here's how we make money.
Does Southwest fly to Hawaii? Yes — true to its name, Southwest will fly you to the most southwestern state in the U.S.
The low-cost air carrier launched flights to Hawaii from the West Coast in 2019, and service to the tropical island state has only expanded since then, including new routes from Las Vegas, Los Angeles, and Phoenix as of June 2021.
Whether you're a snowbird seeking Hawaii's seemingly eternal summer, or the kids are out of school and you need vacation plans, you're in luck: Southwest flies to Hawaii year-round.
Here's what you need to know about Southwest Airlines' Hawaii flights.
Southwest serves five airports in Hawaii:
Southwest flies nonstop to Hawaii out of the following California airports:
Outside of California, Southwest also offers flights to Hawaii from:
Flight times vary based on the route, but tend to run between five and six hours.
You don't need to pick just one island to fly to; Southwest offers interisland flights, so you can easily skip from the quaint town of Hilo to the bustling nightlife of Honolulu in under an hour.
Here are some sample Southwest interisland routes, and their average flight times:
Since the five-to-six-hour flight to Hawaii is more than double the average Southwest flight length, expect some changes to service.
While food and beverage service has been temporarily reduced due to the coronavirus, flights in pre-pandemic times from the mainland toaHawaii entailed drink service and a complimentary snack box, with alcoholic beverages available for an additional cost.
Drinks: A typical Southwest flight includes a complimentary nonalcoholic drink. But on flights to Hawaii, you'll also have the choice to sip Minute Maid Pineapple Orange Juice Blend. Alcoholic beverages are also available for purchase. In addition to the usual beers, wines and spirits, Southwest brings the tropical vibes with the option to purchase a Kona Longboard Island Lager or a Blue Chair Bay Coconut Spiced Rum for an additional $7 each.
Snacks: The snacks get a tropical boost too. Many of us are familiar with the small bag of snacks (think pretzels, peanuts or a snack mix) typical of Southwest flights. And while service has been altered because of the coronavirus, flights to Hawaii usually feature a full snack box consisting of an assortment of prepackaged items (such as Welch's Island Fruits fruit snacks).
On all Southwest flights, movies and TV shows are free to stream, and there are even some live TV channels — just bring your own device. There aren't any seatback screens, so you'll have to stream movies and shows from your own phone, tablet or laptop.
To access entertainment from your device, open www.southwestwifi.com and navigate to the Inflight Entertainment & Connectivity tab to start streaming.
Southwest-provided entertainment is free to stream online. But pretty much everything else you want to access via Wi-Fi will cost you — albeit not very much. All other internet access can be purchased for $8 a day per device on Wi-Fi-enabled aircraft.
That said, in-flight Wi-Fi is free for A-List Preferred Members, which is the highest tier of . Free Wi-Fi is also a benefit for customers who hold the .
Southwest flights generally don't appear in third-party travel agencies and flight aggregators like Expedia, Orbitz or Google Flights. So if you're using those tools to search for flights to Hawaii, don't be dismayed if no Southwest flights show up. Instead, go directly to Southwest's website to book.
Figuring out how to book Southwest flights to Hawaii is easy if you're already familiar with the platform. As usual, you can book your flights using cash or .
No matter which currency you use to book, Southwest fares to Hawaii can vary based on where you're departing from, what island you're traveling to and your travel dates. Here are some tips for ensuring you get the best deal on your flight.
The lowest fares generally aren't available on the weekends, so weekday departures will be your best bet for saving money. Even the same flight one day apart could be a massively different price.
Use the Southwest Low Fare Calendar on the desktop site to see a monthly view of all airfares. This won't help you if there's a specific date you need to fly, but if you can be flexible about when you travel, you could sometimes save hundreds of dollars.
In this example, you could save $60 per ticket in some cases by flying out the same day of the week, but a week apart.
Looking at the return flights, say you intended to depart on Sunday, Aug. 8. Return airfare is a whopping $409 one way. But it's just $279 to return the next day. If you can find a cheap hotel room or room rental for one extra night (or slide your trip dates to accommodate), then you could actually save money by opting to fly home one day later given the $130 price difference per ticket.
The is essentially a buy-one-get-one-free pass that enables you to fly a companion of your choice for nearly free whenever you fly. Just pay the taxes and fees (often only $5.60 each way for domestic flights) and add your companion to your itinerary, and they will join you to Hawaii.
Especially if you find yourself having to book one of those $400 one-way flights, holding the Companion Pass could theoretically save you $800 on your Hawaii trip alone, depending on the original airfare.
While earning the Southwest Companion Pass can be a challenge, it might be worth pursuing if you know a Hawaii trip is on your travel horizon. To qualify for a traditional Companion Pass, you'll need to do one of the following:
You may want to consider applying for one of Southwest's credit cards, as the welcome offer can help you get a decent portion of the way to Companion Pass ownership.
Outside of Southwest, fares from the West Coast to Oahu could easily run $600 round trip. But as low-cost competitor Southwest entered the market, other airlines lowered their prices to remain competitive. Use tools to (we recommend Google Flights). While Southwest airfare prices don't appear in Google Flights, many other major airlines do. You may check Southwest airfares first, but check what the competition has for sale too.
In fact, shortly after Southwest announced service to Hawaii, Hawaiian Airlines began offering . But unlike Hawaiian's basic fare, Southwest flights include perks that could still net more in savings, such as up to two free checked bags, no change fees and more.
Southwest credit cards can help you quickly rack up Rapid Rewards points for your spending; plus, if you meet the welcome offer requirements, you can get a huge windfall of points at once.
Southwest offers several ways to help you rack up points toward free flights on purchases. Credit card options include:
Beyond earning points to use toward more flights, Southwest credit cards come with other benefits that will improve any flight — but especially one to Hawaii. Here are a few standouts:
Hold the , and you'll receive four upgraded boardings per year, when available.
First off, given how long the flight to Hawaii is, you don't want to get stuck in the middle seat for five hours. But secondly, even if you check in early enough to nab a B group over the dreaded C, you still could end up with a middle seat. That's because the allows families with a child age 6 or younger to board as part of family boarding, which occurs before the B group.
Given Hawaii's popularity as a family vacation destination, there likely will be more families boarding than your average Southwest flight. Even if those people were assigned C group, they'll board ahead of you with a tot in tow, leaving you with the middle seat in front of the bathroom.
Don't tempt fate on this one; pull out your and use your upgraded boarding credit.
Maybe you're headed to Hawaii to take advantage of or you just need to be connected during your flight. Don't miss a minute, even on the plane, thanks to Southwest's in-flight Wi-Fi. It normally costs $8 per day, per device, but is free for A-List Preferred Members. If you don't have , you can also get free Wi-Fi if you hold the , which offers 365 $8 credits per year.
On flights to Hawaii, most of the usual policies still apply, though there are some minor changes specific to Hawaii.
Change policy: As is the case with all Southwest flights, tickets to Hawaii can be changed with no fees. That said, if you're changing to a more expensive flight, then the fare difference may apply.
Pet restrictions: As far as animals go, only fully trained service dogs assisting customers with disabilities are permitted on flights between the U.S. mainland and Hawaii. Even still, those animals must comply with Hawaii's import requirements, such as proof of a current rabies vaccination. They're also subject to any fees.
Additionally, plan on flying into Honolulu International Airport if you're bringing a service animal on your Hawaii trip, as that airport is the only point of entry for dogs entering Hawaii unless a has been issued by the Hawaii Department of Agriculture.
Luggage restrictions: Not only can you not bring your pet, but you probably can't bring your pet plant. Per U.S. Department of Agriculture regulations, certain plants, plant products, animals and animal products are not permitted on flights to Hawaii. That's the U.S. government's rule — not Southwest's.
Upon your return, there are some souvenirs you can't take along with you back to California, or wherever your final destination may be. The USDA's Animal and Plant Health Inspection Service prohibits or restricts bringing many types of agricultural products from Hawaii to the U.S. mainland, including most fresh fruits and vegetables and certain types of plants and flowers.
Here are some common items from Hawaii not allowed into the U.S. mainland or Alaska:
However, here are some common items from Hawaii that are allowed into the U.S. mainland or Alaska:
So you're ready to jump on a Southwest flight to Hawaii — but now you're struggling to pick an island destination. Each Hawaiian island is unique, so pick one that suits your vacation style. All of the islands offer beautiful beaches, excellent snorkeling and breathtaking hikes.
There are a total of eight main islands in the Hawaiian archipelago, though only six are accessible to tourists. Of those, Southwest flies to four islands. Here are some differences:
You want a travel credit card that prioritizes what's important to you. Here are our picks for the , including those best for: