Frontier Miles: The Complete Guide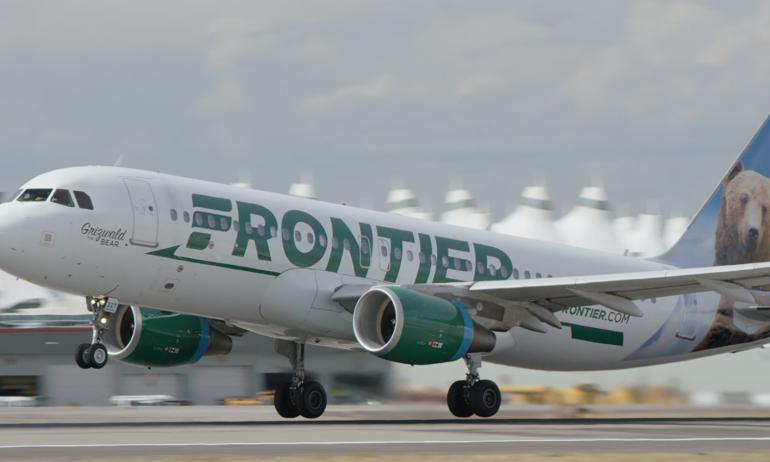 Many or all of the products featured here are from our partners who compensate us. This may influence which products we write about and where and how the product appears on a page. However, this does not influence our evaluations. Our opinions are our own. Here is a list of our partners and here's how we make money.
---
Known for its budget-friendly fares, Frontier Airlines serves dozens of cities in North America and the Caribbean. It operates a hub in Denver and has multiple "focus cities" throughout the country, including Chicago and Orlando.
NerdWallet Guide to COVID-19
Get answers about stimulus checks, debt relief, changing travel policies and managing your finances.
If you're a regular Frontier passenger, it's worth checking out the airline's frequent-flyer program, called "Frontier Miles". The program doesn't have many of the high-end benefits of its counterparts from full-service airlines, but it does offer decent value given Frontier's generally low fares. Here's a rundown of how the program works.
How much are Frontier miles worth?
Based on our most recent analysis, NerdWallet values Frontier miles at 0.3 cent apiece. To determine the value of reward miles, we compared cash prices and reward redemptions for economy round-trip routes across several destinations and dates. We divided the cost of the cash ticket by the cost of the reward ticket to determine a "cent per mile" value for each flight, then averaged this value across several flights and dates. Read more about how we arrived at these figures.
This is therefore a baseline value for Frontier miles, based on real-world data collected from hundreds of economy routes, not a maximized value. In other words, you should aim for award redemptions that offer 0.6 cent or more in value from your Frontier miles.
To determine the value of your miles for specific flights, divide the cash value of the ticket (less any applicable taxes/fees if you redeem miles) by the number of miles required for the flight. So if the ticket would cost either $100, or 15,000 miles + $10 in taxes/fees, the math would be as follows:
($100 – $10) / 15,000 = 0.006, or 0.6 cent per mile.
How to earn Frontier miles
Any passenger can join "Frontier Miles" for free. Confusingly, the "Frontier Miles" program is nested within another program called "MyFrontier," which includes personalization options. Signing up for Frontier Miles automatically enrolls you in MyFrontier. In other words, don't sweat the difference.
Miles can be redeemed for free flights aboard Frontier; how many miles you need for a particular flight depends on where you're going and seat availability. Frontier does have an award chart, which, as we explain below, isn't as simple as it sounds.
Do Frontier miles expire?
Yes, Frontier miles expire within six months of inactivity. This means you need to earn miles every six months or risk losing your miles. This expiration timeline significantly reduces the usefulness of Frontier miles compared to other programs.
EARNING FRONTIER MILES BY FLYING
For the most part, you earn Frontier miles based on how far you fly on Frontier, measured as flight distances from airport to airport. If a flight is 750 miles, for example, you'd earn 750 miles. On the big carriers like American, Delta and United, by contrast, you earn miles for a flight based on how much you paid for the ticket. The airline offers additional miles for flights during certain promotions.
So even though Frontier miles aren't worth a lot (0.6 cent per our current valuation), it's relatively easy to earn them, especially when flying long distances.
If you forget to book your flight through your account, you can still get credit for miles up to 180 days after your flight by filling out a flight mileage credit request form.
EARNING FRONTIEr MILES WITH A CREDIT CARD
The Frontier Airlines World Mastercard® with an annual fee of $0 intro for the first year, then $79 is your card if you want earn miles for your spending. It gives you 5 miles per $1 spent on airfare purchased directly from Frontier on flyfrontier.com and 1 point per dollar on all other spending. There's a generous sign-up bonus: Earn 50,000 bonus miles after spending $500 on purchases in the first 90 days. That's enough for two domestic round-trip tickets. And every year that you put at least $2,500 on the card, you get a $100 discount voucher — more than making up for the annual fee.
Frontier's partnerships with certain hotel chains allow you to earn points in those hotels' loyalty programs and then transfer them to Frontier. Since those chains have their own credit cards that earn points with every purchase, those cards can effectively become Frontier cards.
EARNING MILES WITH PARTNERS
You can earn additional Frontier miles by spending money with partners that include car rental agencies, hotel chains, retailers and more. See the list of partners here.
Frontier allows customers to buy Frontier miles at a rate of 2.5 cents per mile. In general, buying frequent flyer miles on any airline provides poor value, and this is no exception. That said, buying miles can be helpful for members who are just shy of being able to redeem their accumulated miles for a flight.
How to redeem Frontier miles
You can of course redeem Frontier miles for flights, but also for auto rentals through agencies including Hertz and National. Through Points.com, you can also exchange miles for points in other loyalty programs or redeem them for shopping or gift cards.
When redeeming miles for flights through the Frontier website, there are three types of award seats available: Economy, Choice and Last Seat. Economy seats cost the least in terms of miles, but there are fewer of them, and they might not be available on all flights. Choice seats are available on more flights but cost more. The Last Seat option is only for Frontier members with elite status; it's the most expensive option, but it allows you to book even the "last seat" on a flight.
Miles are redeemed for airfare only. Taxes and fees must be paid separately. Here's the cost in miles to redeem:
One way within continental U.S. and Puerto Rico

Round trip within continental U.S. and Puerto Rico

One way to/from Mexico or Dominican Republic

Round trip to/from Mexico or Dominican Republic

• For flights in continental U.S. and Puerto Rico, taxes/fees start at $5.60 one way and $11.20 round trip • For flights to/from Mexico, taxes/fees start at $33.70 one way and $80.20 round trip • For flights to/from Dominican Republic, taxes/fees start at $36.90 one way and $105.70 round trip
Low-fare airlines seem to charge extra for everything — and at Frontier, that can include redeeming frequent-flyer miles. Elite status members do not have to pay a redemption fee, nor do members with a Frontier credit card. And no fee is charged if you book at least 180 days before you fly.
Redemption fees for everyone else:
Flights booked 21-179 days before departure: $15.

Flights booked 7-20 days before departure: $50.

Flights booked 6 days or less before departure: $75.
Beyond the basic membership that anyone can sign up for, Frontier offers three tiers of elite status for its most frequent flyers. You earn elite status by flying a certain number of either miles or segments in a calendar year (a one-way flight counts as one segment; a round trip is two segments). Once you qualify for elite status, you get it for the rest of the calendar year as well as the following year.
The three tiers are named after the number of miles needed to earn them, making them easy to remember. Here's a full breakdown, along with the benefits each level receives: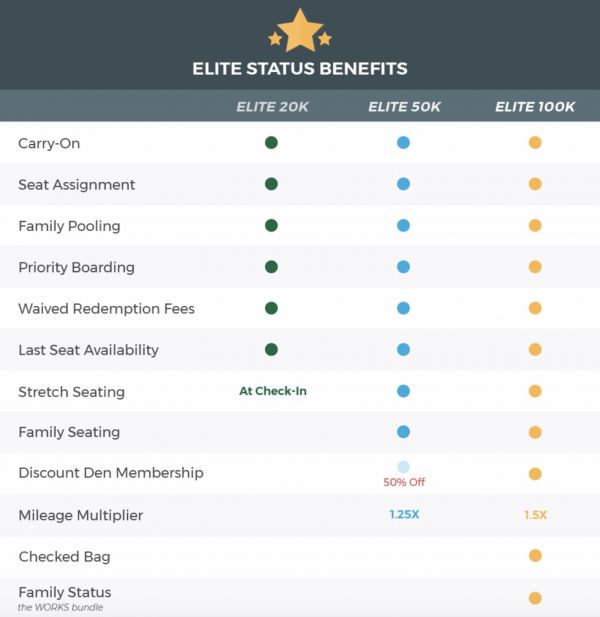 Free carry-on bag: Frontier charges for carry-ons, with prices of up to $60 depending on when you "reserve" and pay for space for your carry-on. (Checked bags cost up to $45 for the first bag and up to $85 for additional bags.)
Stretch seating: "Stretch" seats offer more legroom and recline more than other seats. If stretch seats are available 24 hours before departure, Elite Status holders can upgrade at no cost.

Waived fees: Elite members don't have to pay extra for such things as mile redemptions, call center reservations, unaccompanied minor, same-day confirmations and standby flying.

"Last Seat" redemptions: All elite members can redeem miles for any available seat.

Discount Den membership: Discount Den offers low fares exclusively to members (see below for full description). 50k members get 50% off Discount Den membership and 100k members get 100% off (free).

Mileage multiplier: 50k members get 25% extra miles and 100k members get 50% extra miles. So a 1,000-mile flight would earn 1,000 miles for a normal or 20k member, 1,250 for a 50k member, and 1,500 for a 100k member.
Checked bag: Only 100k members get free checked bags — unlike most airlines, which offer this benefit to all elite members.

Family status: 100k members also receive many benefits for up to eight family members flying on the same reservation.
Frontier's credit card is issued by Barclays.
Frontier Airlines World Mastercard®
$0 intro for the first year, then $79 annual fee.

5 miles per $1 spent at FlyFrontier.com.

1 mile per dollar on all other purchases.

Sign-up bonus: Earn 50,000 bonus miles after spending $500 on purchases in the first 90 days.

$100 discount voucher when you spend $2,500 on the card in a year.
The card gives you free access to your FICO score and if for some reason you wanted to transfer a balance to your Frontier card (transfers do not earn miles), you get a 0% introductory APR for 15 months for transfers made within the first 45 days you have the card. See the link above for more information.
Photo courtesy of Frontier Airlines.
---
How to Maximize Your Rewards