Do You Need a Passport for a Bahamas Cruise?
Closed-loop cruises to the Bahamas — those that begin and end at the same U.S. port — don't require a passport.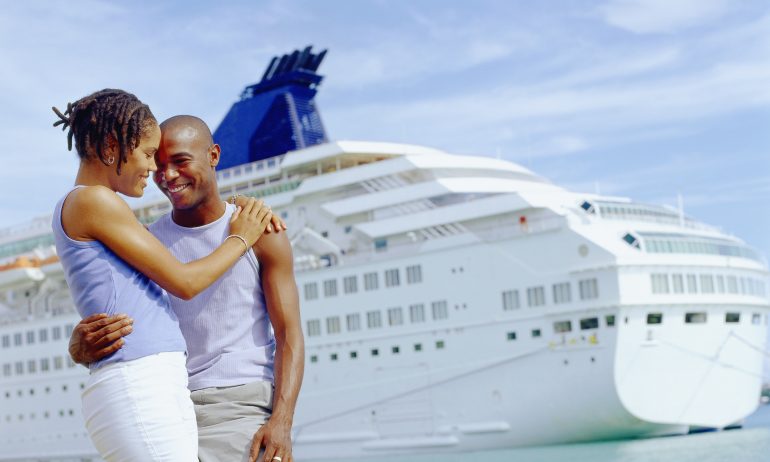 Many or all of the products featured here are from our partners who compensate us. This influences which products we write about and where and how the product appears on a page. However, this does not influence our evaluations. Our opinions are our own. Here is a list of our partners and here's how we make money.
Cruising has had a rough few years, with increased travel restrictions and plummeting demand due to the pandemic. Now that the majority of countries are open again, many travelers are thinking it's time to jump back on board. If you've never taken a cruise but are interested in traveling by ship, you may be wondering, "Do you need a passport to go on a cruise to the Bahamas?" 
The answer to this question depends on a number of things. Let's take a look at whether you need a passport for a Bahamas cruise, what other types of documentation you can use and how it differs when you're flying versus cruising.
For those who are unfamiliar with cruising or the Caribbean, the Bahamas is a frequent destination for these behemoth ships. This nation of islands is conveniently located just off the coast of Florida, near Miami, which makes it an easy destination no matter the length of your cruise. 
For this reason, you'll see plenty of cruises taking off from Florida, stopping off in the Bahamas, then looping back and docking in the United States. 
Do you need a passport for a Bahamas cruise?
So, do you need a passport to cruise to the Bahamas? For U.S. citizens, the answer will depend on what type of cruise you're taking. However, in most cases, you won't need one. 
This is because the majority of cruises that you'll find taking off from the U.S. and heading down to the Bahamas operate on a closed loop. Closed-loop cruises are those that take off from a U.S. port, visit at least one foreign port of call and then return to that same port.
There is an exception to the closed-loop rule: If your ship will be docking in a foreign country that requires a passport to enter, you will need to carry one on board. In order to find out if you'll need a passport for any of your destination countries, check with your cruise company. 
What you need for a Bahamas cruise
If you're sailing on a Bahamas cruise that's closed loop and isn't visiting any countries that require a passport, you don't necessarily need to bring one with you — there are a few different identification options available to you.
According to the U.S. Customs and Border Protection, you'll still need to provide some proof of U.S. citizenship. This can take the form of an Enhanced Driver's License, a passport or a government-issued birth certificate. Additionally, you'll need to bring a government-issued ID with your photo, name and date of birth. 
It's important to note that this documentation is only valid for reentry to the United States through a sea or land border crossing — it won't work for air travel.
If you're bringing a birth certificate for proof of citizenship, it must be issued by the Vital Records Department of the state in which you were born. A hospital certificate of birth or baptismal papers don't qualify. 
If you're not a U.S. citizen, do you need a passport to cruise to the Bahamas? Lawful permanent residents will be able to reenter the U.S. with a valid green card, but they will likely require a passport (and maybe even a visa) to visit any ports of call — including those which do not require passports of U.S. citizens. 
Other non-U.S. citizens will require a passport or documentation specific to the status they're seeking when entering the U.S., though there are some exceptions for those traveling to the U.S. on the Visa Waiver Program.
Be aware that these requirements only dictate reentry into the United States. You'll want to research entry regulations for your destination country or countries before you leave to ensure you have proper documentation on hand.
It's important to understand the information provided above is limited to either land or sea border crossings. This means that if you're heading to the Bahamas by air, you're going to need to bring your passport to reenter the U.S. 
If you have a passport, you may want to consider bringing it with you on your cruise even if it's not required. Here's why: Say you accidentally miss boarding the ship after your land excursion and need to take a flight back to Miami. In this case, your closed-loop cruise will have been interrupted and you'll need your passport to get back into the United States.
Don't have a passport and still want to fly somewhere special? Consider heading to a United States territory, such as the U.S. Virgin Islands, American Samoa or Guam. 
When you need a passport for a cruise
Cruising further from the U.S.
There are occasions when you'll need to bring your passport for a cruise. If you're cruising outside of the U.S. — such as a jaunt through the Mediterranean — you'll need to have your passport with you. 
Certain repositioning cruises
You'll also need a passport for cruises that begin and end in different ports, even if they're both in the United States. 
A good example of this is a repositioning cruise from Miami to San Diego. During different seasons, cruises will often sail one-way routes from one port to another in order to reposition their ships.
If you board in Miami, make a few ports of call, sail through the Panama Canal and end in San Diego, you'll need to bring your passport. 
In case of medical emergencies
In general, it is preferable to have a passport with you — especially in the event you need emergency medical care and have to stay in a foreign country, for example.
Other closed-loop cruises
Various ports in Mexico, such as Baja, Cozumel or Ensenada.
The Caribbean includes over a dozen different countries and territories, so don't think that you're limited. Your options range from Barbados to Grand Cayman, Jamaica, Aruba and more. 
If you want to cruise to the Bahamas 
There are plenty of reasons to take a cruise, including great food, plentiful activities and lots of sunshine. If you're looking for a Bahamas cruise, you'll want to be aware of the documentation requirements for your trip. 
As long as you're on a closed-loop cruise, you'll be able to skip the passport in favor of other government-issued IDs.
However, depending on your cruise's itinerary and the destinations you'll visit, you may be subject to different regulations. Always be sure to double-check before departure to ensure you have everything you need. 
---
How to maximize your rewards
Get more smart money moves – straight to your inbox
Sign up and we'll send you Nerdy articles about the money topics that matter most to you along with other ways to help you get more from your money.