Cruises Might Be a Surprisingly Affordable Way to Visit the South Pacific
If you have a lot of vacation time and you don't get seasick, it might be cheaper to cruise than fly to Australia.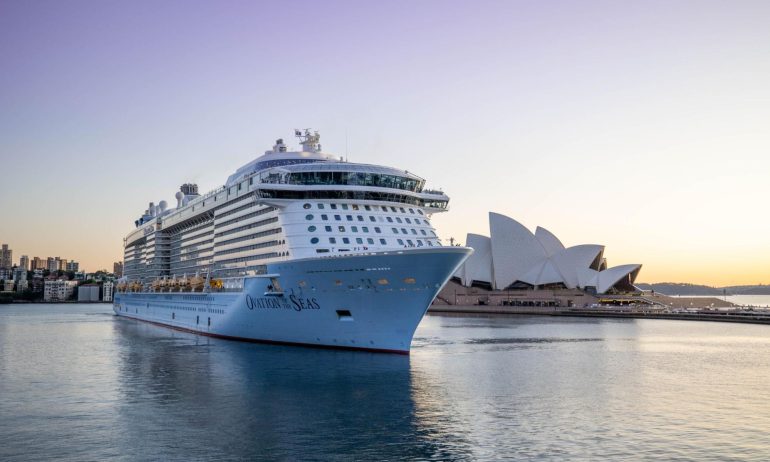 Many or all of the products featured here are from our partners who compensate us. This influences which products we write about and where and how the product appears on a page. However, this does not influence our evaluations. Our opinions are our own. Here is a list of our partners and here's how we make money.
When Disney Cruise Line announced in September at its D23 Expo that it would launch its first-ever South Pacific cruise itinerary, Rachel Medlock was ecstatic. She describes her and her husband as "those Disney adults" — referencing people who, for better or for worse, love Disney like it's a religion. 
Medlock, who works in Australia as a freelance copywriter, sought a spot on the cruise, which starts in Honolulu, then meanders through American Samoa, Fiji and New Caledonia before arriving in Australia.
Disney's South Pacific cruise has two scheduled sailings so far, one in October 2023 and a second in February 2024 (which follows a similar itinerary, albeit in the reverse direction). Bookings opened in October 2022, with the first few days limited to Disney's most loyal customers, including Disney Vacation Club members and repeat cruisers with Castaway Club status.
But even Medlock's fandom wasn't enough for early access, and she says every cabin posted on Disney's website was booked before sales even opened to the public.
Optimistic that someone's deposit might fall through and she'd snatch a room, Medlock and her husband refreshed roughly every hour. Two days later, they finally snagged a coveted spot. 
South Pacific cruises are hot right now
The dash to book Disney's South Pacific cruise is an anomaly, says Tracy Sannes, who runs The Disney Cruise Family Travel Blog. A spokesperson for Disney cruise line said the route is "very popular" and confirmed in an email to NerdWallet that bookings through its website are sold out. Though, there is availability through some online travel agencies, including Expedia.
"The last Disney cruise I remember selling out that quickly were cruises from Vancouver to Hawaii," Sannes says. That cruise was set for spring 2020 but never departed due to the COVID-19 pandemic. The route is back for 2023 and 2024, with cabins still available.
Disney isn't the only company cruising in the South Pacific for the first time this year. Others include Variety Cruises, which will launch its first-ever Tahitian cruises in January 2023.
Royal Caribbean operated South Pacific cruises pre-pandemic, and in October 2022 resumed sailings out of Sydney for the first time since 2019. And in November, Royal Caribbean launched its first-ever voyages out of Queensland for South Pacific trips that include stops at Vanuatu and New Caledonia.
Why South Pacific cruises are so desirable
Planning an escape to the paradisiacal islands of the South Pacific is rarely cheap or easy. Flights are long and tough to come by. High-end luxury resorts dominate the lodging options at many tourist hotspots, where you'll face high prices for rooms, food and excursions. And with so many islands, it can be tough to decide which to visit.
Cruises solve many of those problems.
No long-haul flight is needed (or perhaps just one way)
Flying between the U.S. and South Pacific is almost certain to induce jetlag. Flying from Los Angeles to Tahitian island Mo'orea takes just over eight hours, and it's 11 hours to Fiji. And that's if you can get a direct flight — which can be difficult.
"The biggest driver of cheap flights is not distance traveled or size of the cities, but rather competition between airlines," says Scott Keyes, who runs deal-tracking website Scott's Cheap Flights. "Right now, the number of scheduled flights across the Pacific is down 50% from 2019."
For what it's worth, flight availability is growing among some major airlines. As of mid-December, Delta Air Lines jets off three times a week on a never-before-operated, nonstop route from Los Angeles to Tahiti. Hawaiian Airlines is set to launch flights between Honolulu and the Cook Islands in May 2023, though that flight will run once a week only.
Keyes, who sends out alerts to readers whenever he spots extraordinary deals, says South Pacific airfares are higher now than pre-pandemic. He says the cost of South Pacific flight deals he emailed his followers in 2019 averaged $672. In 2022, it was $828 on average.
But when opting for an itinerary like the Crown Princess's 28-night cruise through Hawaii, Tahiti, Mo'orea and Western Samoa — which starts and ends in Los Angeles — West Coasters might not need to fly at all.
Transpacific cruises at least eliminate jet lag and airfare one way. And typically, that one-way flight is from a major city, thus there's more availability. Los Angeles, San Diego or Honolulu are common docking points on one end, with Sydney or Brisbane, Australia, or Auckland, New Zealand, on the other.
You'll conveniently see multiple islands
Deciding which of the South Pacific's many islands to visit can be tough, but spending a chunk of your trip in airports to island-hop could be tougher. 
Plus, cruises efficiently ferry you to your next destination while you sleep — and you'll only have to unpack once.
Prices can sometimes be cheaper than other cruise itineraries
Disney's 13-night South Pacific itinerary starts at about $2,400 per person, assuming two people per room.
While Disney cruises are notoriously pricey compared with most other cruise lines, the South Pacific itinerary is actually cheaper than many other Disney cruises of similar length. Disney's nine-night Alaska cruise in summer 2023 starts at about $2,800 per person. Its 10-night Caribbean cruise in summer 2023 starts at just over $4,000 per person.
It's not even much more than some cruises that never leave Australia — yet more than twice the duration. For example, a December 2023 Disney cruise from Brisbane to Sydney starts at about $1,800 per person (that's about 25% less), but it's only six nights long.
"With flights to Hawaii, a week there and then jumping on the Disney Wonder back to Australia, it's not costing that much more than they're charging for a week in Australia itself," Medlock says.
The cost savings is due in part because the cruise is called a "repositioning cruise." 
In October 2023, Disney will send its ship, the Disney Wonder, from the U.S. West Coast to Australia for the winter (as it's summer down under). The Wonder will return to the U.S. by March 2024 for spring and summer itineraries around San Diego and Mexico. The South Pacific itinerary is a way for Disney to keep the ship at capacity while it makes a voyage it would need to make anyway.
"Repositioning cruises are notoriously better value, regardless of cruise line," Medlock says.
Disney's $2,400 cruise includes 13 nights of meals plus 24-hour room service, shows, pools, character meetings, kids clubs and nightclubs. Expenses like alcohol, spa services, port excursions and tips are extra. 
Though sometimes even those extras can be paid for in advance — and at a discount.
"Cruises offer package deals that cover transportation, lodging and meals, in addition to activities and entertainment," says Mirela Letailleur, who runs a travel blog called The Travel Bunny. "Travelers won't stress about reserving several hotels and flights, which may rapidly mount up and increase vacation costs."
Cruising can be one of the cheapest ways to see the South Pacific
Expedia found that the average two-week vacation package from Seattle to Sydney in October 2023 costs between $2,400 and $3,400. That's just flight and hotel — it doesn't include meals and activities. An Expedia spokesperson said that if you opt out of a package and instead book a la carte, costs can balloon to $4,200 (because Expedia offers discounts for booking trip elements together).
Disney's cruise starts at $2,400, yet other companies are cheaper. Royal Caribbean's 17-night cruise in April 2024 from Australia to Hawaii starts at about $1,300 per person — just over half the cost of Disney's. 
Letailleur also says that cruises tend to offer promotions like discounted fares for kids or groups, which can make cruising an especially good option for families.
If cruising on floating cities isn't appealing, other options include Variety Cruises' 10-night round-trip Tahitian cruise, which puts you aboard a small vessel with just 48 other passengers. The cruise starts at about $3,100 per person.
The downfalls of cruising the South Pacific
For all the benefits of cruising, there are trade-offs. Avichai Ben Tzur, who has written several South Pacific travel guides for his website X Days In Y, has done multiple South Pacific cruises. But, he says he usually wouldn't recommend it.
"It's impossible to get a sense of these magical islands during a quick port call when hundreds of passengers quickly flock to the main tourist sites," he says. "The magic of the South Pacific islands is only felt when you overnight on the islands and interact with locals."
And even if you do opt for a transpacific cruise, there are trade-offs compared with other cruise routes. Expect to spend multiple days at sea before setting foot on land. For example, the Royal Caribbean's 18-day cruise from Sydney to Oahu leaves French Polynesia on day 12, but you don't dock again until day 18 upon arrival in Hawaii. That leaves passengers with the final full five days of their cruise at sea. 
Ben Tzur said he recognizes that sometimes cruising can be the only way to see islands that are otherwise hard to reach and expensive, particularly if there are no airports or hotels. But for itineraries that just stop in large ports anyway, Ben Tzur steers clear. Instead, he advises people to choose one area to hone in on and explore, rather than trying to see everything.
"Focus on a specific region, and make the most of this once-in-a-lifetime trip," he says. "That's key to avoiding disappointment."
---
How to maximize your rewards
Get more smart money moves – straight to your inbox
Sign up and we'll send you Nerdy articles about the money topics that matter most to you along with other ways to help you get more from your money.