Is Orbitz Legit? Can It Get Me a Good Deal?
Orbitz is a good tool for making sure you're getting the best deal, but it comes with some drawbacks.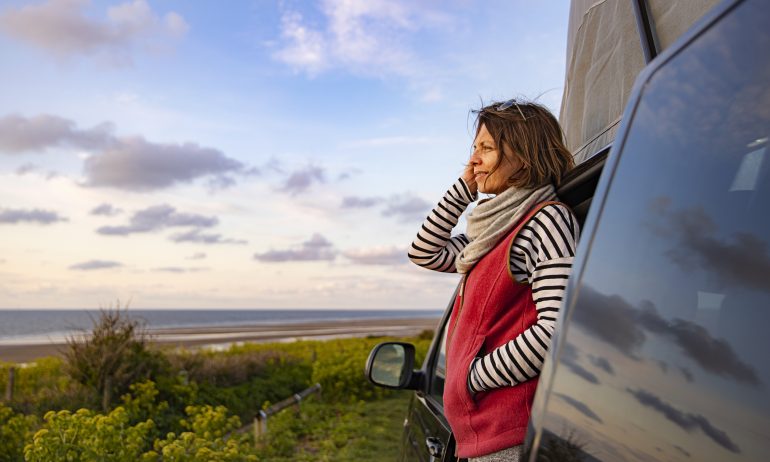 Many or all of the products featured here are from our partners who compensate us. This influences which products we write about and where and how the product appears on a page. However, this does not influence our evaluations. Our opinions are our own. Here is a list of our partners and here's how we make money.
If you're thinking of using an online travel booking portal to find and book travel, you may be wondering, is Orbitz legit? Orbitz is one of several online booking platforms that make it simple to book flights, hotels, rental cars, cruises, activities and travel packages.
Knowing what to expect before using this tool and reading Orbitz reviews may help you have more success booking a great travel deal. Here's what you need to know about Orbitz.
If you're considering booking your next trip with Orbitz, the first question you may ask is how does Orbitz work?
Orbitz is an online travel agency, OTA, or travel booking platform. You can use the Orbitz website or app to search for travel and compare availability and pricing. It functions as a search engine and displays pricing from different travel companies.
When you're ready to book, you can make your reservation through Orbitz instead of making a reservation directly with the travel brand. Since you can compare companies and book all in one place, Orbitz can be an easy and convenient way to make travel arrangements.
You may be asking, can I trust Orbitz? Since Orbitz is a genuine brand and a well-known platform, it's pretty safe to put your trust in it.
As long as you verify all of your reservation details to ensure the booking meets your needs and you understand all of the terms before booking, you can feel confident when making a reservation through this online travel agency.
What should I know about Orbitz?
While Orbitz can be a great money-saving booking tool, it has some potential downsides.
Orbitz reservation issues and limited customer service
It's important to remember that Orbitz is a third-party booking website. That means you're not booking with the travel brand directly, and there is a possibility of your reservation getting lost in the system.
After making a reservation through Orbitz, call and verify your reservation with the hotel, airline or travel brand before your trip begins. This way, you can feel confident that your reservation will be honored.
It's also important to remember that customer service may be lacking. When you deal with an airline, hotel or rental car company, it'll be easier to get more direct and detailed help. When you deal with a third party like Orbitz, it may only provide minimal assistance.
Earned Orbucks can only be redeemed for hotel stays
Another downside is that the Orbitz rewards program has limitations. You can earn from 1% to 4% of your spending in rewards from booking flights, hotels, Orbitz flights and hotel packages, and activities. The percentage varies by booking type and whether you use the website or app to book.
The biggest limitation is that Orbucks can be redeemed for hotel stays only. That means you can't use Orbucks to book a flight.
There's no guarantee that you'll earn brand-specific rewards
By booking through a third-party booking website like Orbitz, there's no guarantee that you will earn points or miles through your favorite hotel, airline or rental car company loyalty programs.
In some cases, you will still be able to earn rewards after supplying your loyalty program details. Just be aware that there is a possibility that you won't earn rewards, so you'll want to check with your selected loyalty program first before booking.
How do I get a good deal on Orbitz?
Is Orbitz a good deal? There's no guarantee that Orbitz will provide the best rate, but it is possible to find a good price through the platform.
The following tips may help you have more success.
Orbitz has a rewards program that rewards travelers for making bookings — and it's free to become a member.
Once you're a member, you'll earn Orbucks on eligible bookings. You can work your way up through the program tiers to earn more perks.
Make sure you create an account and log in before making an Orbitz booking to receive the Orbucks. You can redeem rewards for hotel stays in the future.
Orbitz also displays insider prices on hotels, so having an account could help you score better deals.
2. Use the calendar view to find cheaper travel dates for flights
No matter what booking tool you use, having flexible dates can be beneficial. If your travel dates aren't set in stone, play around with different dates and times to see if you can score a better deal.
Here's a simple trick: When searching for flights on Orbitz, click on your travel dates to revise them. You'll see a calendar view pop open that highlights the cheapest dates to fly. Another option is to click "Flexible dates" to access dates and prices in an easy-to-compare grid view.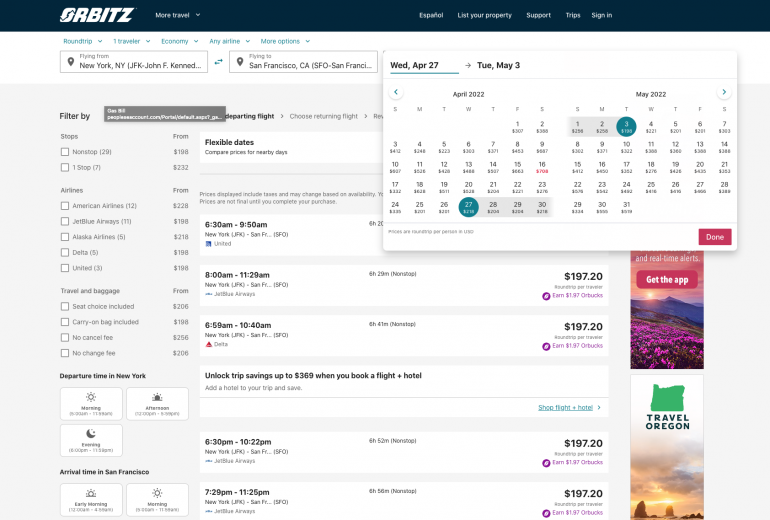 3. Rent a small car to save money
If you're using Orbitz to book a car rental, you may be able to save by booking a smaller vehicle. Often, compact cars and sedans are cheaper than larger vehicles. If you feel comfortable driving a small car, you could score a great deal.
4. Download the Orbitz app
Orbitz has a mobile app, and it's easy to use. If you're not yet using the app and plan to make a booking soon, download it. Some deals and discounts are available when booking through the app only. Plus, you'll earn more Orbucks rewards when booking through the app, too.
5. Use the search filtering and sorting tools to your advantage
Orbitz offers many search filtering and sorting tools. You can narrow down the search results to find options that better align with your travel needs. You can also sort the results in several ways, such as displaying results by lowest price first or highest guest rating. Sorting the results by price is an easy way to find the best deals.
6. Save money on hotels and vacation packages with Orbitz coupons
Orbitz has coupon codes that can be used to save money on hotels and vacation packages. These codes are listed on the website and app.
7. Browse the best deals for inspiration
Orbitz displays its best travel deals in one organized area. Often, these are last-minute deals. Look for the deals section on the website or app and maybe you'll find your next destination.
Is Orbitz legit? Yes, Orbitz is the real deal, and this travel booking platform can help you score some great travel savings. Just make sure that you consider the pros and cons of using a third-party platform like this before making a reservation. There's no harm in using Orbitz to see if you can score a better deal the next time you're ready to book a trip.
---
How to maximize your rewards
Get more smart money moves – straight to your inbox
Sign up and we'll send you Nerdy articles about the money topics that matter most to you along with other ways to help you get more from your money.