What To Do If an Airline Loses Your Luggage
If your bags are lost or delayed, file a report with the airline, then purchase necessities and keep the receipts.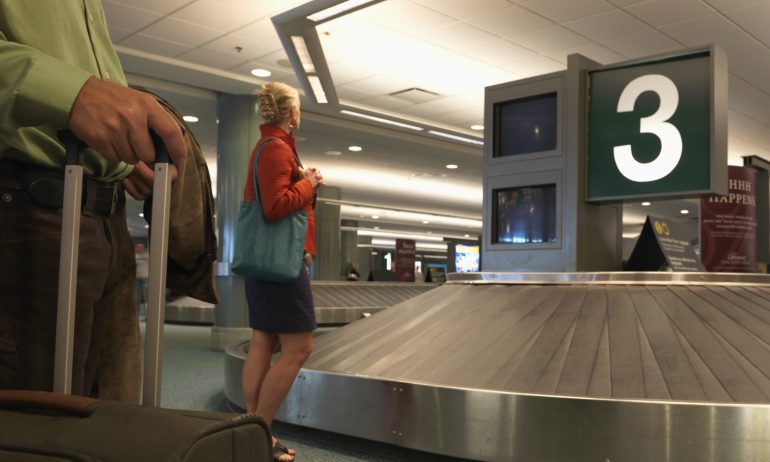 Many or all of the products featured here are from our partners who compensate us. This influences which products we write about and where and how the product appears on a page. However, this does not influence our evaluations. Our opinions are our own. Here is a list of our partners and here's how we make money.
We've all heard the horror stories. You're the last person standing at the baggage carousel when suddenly it beeps and drags to a halt. But your bag is nowhere to be found. What happens if an airline loses your luggage?
Your gut reaction may be to panic, but if you know what to do in these situations you can eliminate as much stress as possible.
Let's take a look at what you should do when you find yourself with lost luggage.
How often do checked bags get lost?
According to the Department of Transportation's September 2022 Air Travel Consumer Report, there were 269,083 mishandled bags in July 2022. This is up 7% from July 2021.
While Southwest had the largest number of mishandled baggage in July, it represented a smaller percentage of the total number of bags that it had put on board an aircraft. Meanwhile, American Airlines mishandled fewer bags, but they represented a larger percentage of the number of bags it enplaned.
What to do when your luggage is lost or delayed
As a passenger, you don't have much control over whether or not your bag makes it to your destination. Sure, there are ways to help ensure that the luggage ends up on the baggage claim carousel, but on the whole, it's the airline's responsibility to make sure you get your bag.
So what happens when it doesn't fulfill its end of the bargain? There are several steps you need to take.
File a report with the airline
Before you leave the airport, file a missing bag report with your airline. This means that if you're flying with American Airlines, you'll want to head to American's airport desk. Be aware that this is true even when flying on a codeshare flight; if you've booked with Delta Air Lines but you're flying on Air France, you'll want to visit the desk operated by Air France.
You'll usually find airline desks inside the baggage claim terminal. Once there, you'll be asked to provide identifying information about your bag, such as its color, its size and the type of wheels it has. The airline will give you a lost luggage claim number, which you'll want to keep with you. Once that's done, it's time to leave the airport.
Be sure to keep your checked luggage confirmation tag — also called a luggage claim ticket — with you at all times. Often, check-in agents will attach this to the backside of your boarding pass.
What happens if you lost your luggage claim ticket, too? The airline should still be able to find your items through your ticket information or ID, but it could delay the process.
Request that your lost luggage be delivered
Many airlines will deliver your luggage to your location — be it your home, hotel or vacation rental — once it arrives; if this service isn't mentioned by the agent, request it. This will save you a trip back to the airport.
Purchase your necessities
Hopefully, you've kept all your most important items, such as your medications, in your carry-on bag. If so, you'll just need to go out and buy your regular necessities.
What constitutes necessities? Airlines don't usually specify what these are, but they do say they'll reimburse any "reasonable" and "necessary" expenses.
Here are some common items which should be included:
Clothing, including socks, underwear, shirts, pants and jackets.

Toiletries, such as deodorant, toothpaste, toothbrush, face wash and a hairbrush.
Some airlines, such as Delta, indicate that spending $50 per day on necessities for the first five days that your luggage is missing qualifies as a reasonable. You may also be eligible for a bag fee rebate if up to two paid checked bags have been delayed for more than 12 hours after being reported missing.
Make sure you keep all your receipts, as you'll likely have to submit them along with your claim form.
After you've purchased everything, you'll need to submit a claim for reimbursement. The process to do this varies according to the airline. Some, like American Airlines' delayed bag compensation form, can be done online or via mail.
Contact your credit card issuer
The Chase Sapphire Reserve® card, for example, will reimburse you for expenses incurred if your bag is delayed for six or more hours. It covers up to $100 per day for the first five days that your bag is missing.
File a claim with your travel insurance provider
If your trip is covered through a pre-purchased travel insurance plan and your coverage includes delayed or lost baggage protection, now is the time to contact your insurance provider.
Much like the airline and your credit card issuer, your insurance provider will likely require receipts and other pieces of documentation.
How to avoid your luggage getting lost
While it's nice to know that you won't be hung out to dry if your suitcase goes missing, it's still not fun to lose it in the first place. Although you can't control what an airline does, you can make it easier on them (and yourself) by doing these things. Here are several ways to prevent lost luggage.
Do you fly often? How many old barcodes and bag tags do you have sitting on your luggage? Although most airlines will rip off the most obvious offenders, be sure to double-check your bag for leftovers.
Smart GPS tags are little devices that use cell phones to ping off each other and identify their locations. Stick one of these trackers in your luggage and it'll let you know where your bag is anytime someone with an eligible device walks by.
This can provide some serious peace of mind — and significantly more information than the airline is willing to give you. Is your bag still at your departure airport? Was it lost on a connection? A smart GPS tag will be able to let you know.
3. Fill out your luggage tags
There's a reason that airlines want you to fill out a luggage tag ahead of travel. Most airlines have disposable ones on hand, but you can also get yourself a sturdier one for multiple uses. What should you write on your travel tags? Include your name, email address and a phone number.
A personalized tag can double as a helpful way to identify luggage at baggage claim, too.
This last one may seem obvious, but airlines have a cut-off period after which they won't take your checked luggage. However, there is a gray period during which they'll allow you to check your bag — but won't guarantee its arrival.
These are often marked with a brightly colored "late" tag. Do yourself a favor and avoid this entirely by showing up well before these tags come out.
No one wants their bags to be missing after their flight. However, you have recourse to take if this happens to you — and you shouldn't be forced to pay out of pocket. Before you leave the airport, be sure to stop by your airline's luggage desk to file a report.
Once that's done, you'll want to purchase any necessities for your trip, including clothing and toiletries. Keep all documentation to get reimbursement from the airline. If you've paid using an eligible credit card, also check if you can file a claim for baggage delay insurance coverage.
Finally, reduce the odds of your luggage getting lost by showing up on time, keeping your bag easily identifiable and taking advantage of modern technology with GPS tracking tags.
---
How to maximize your rewards
Get more smart money moves – straight to your inbox
Sign up and we'll send you Nerdy articles about the money topics that matter most to you along with other ways to help you get more from your money.