Blue Ribbon Bags Reunites You and Your Bags in 4 Days — Or Pays
Blue Ribbon Bags will find and return your lost bags for just $5-$10 per bag, but you must buy before you fly.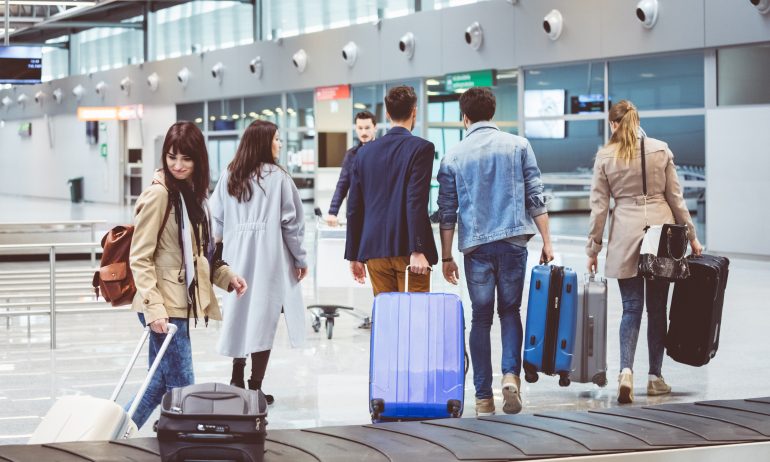 Many or all of the products featured here are from our partners who compensate us. This influences which products we write about and where and how the product appears on a page. However, this does not influence our evaluations. Our opinions are our own. Here is a list of our partners and here's how we make money.
There's perhaps no worse way to start a trip than the airline losing your checked bags. In addition to not having your clothes and supplies, you also have to spend precious vacation time filing a lost baggage report with the airline and following up constantly to get your bags back.
Thankfully, there's a service you can purchase that will either reunite you with your checked bags within four days of arrival or pay you at least $1,000 per bag: Blue Ribbon Bags.
Dig into what Blue Ribbon Bags offers and if its baggage service is worth purchasing for your next trip.
What is Blue Ribbon Bags?
Blue Ribbon Bags is a lost baggage concierge service that you can activate if an airline mishandles your bags. After you file a report, Blue Ribbon Bags agents use airline and airport systems to figure out the location of your bag. Then, Blue Ribbon Bags helps expedite your bag to its destination, or facilitates a forwarding flight to another airport if needed.
If it can't reunite you with your lost baggage within four days of arrival, Blue Ribbon Bags will pay you $1,000 per bag. That's even if your bags are found and returned after the 96-hour service period. And, unlike lost baggage payment claims you'd need to file with the airline, Blue Ribbon Bags doesn't require receipts for lost baggage contents to process the payment.
You must purchase the service before your first flight departs. Unfortunately, you can't pay to get help after you've started your trip or once you know that your bags are lost.
While you may not have heard of Blue Ribbon Bags before now, you may have already been covered by its services. That's because the vast majority of its business is partnering with dozens of online travel agencies, airlines, tour operators and even a South American credit card to provide lost baggage services and coverage. However, Blue Ribbon Bags also sells coverage directly to travelers.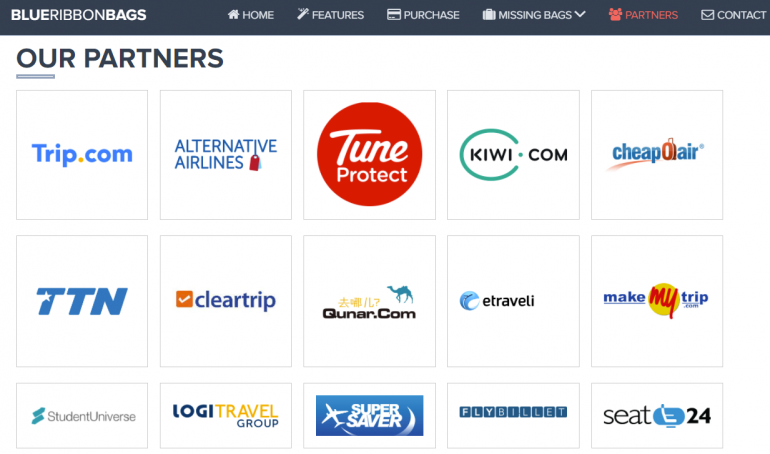 Blue Ribbon Bags service options
Blue Ribbon Bags offers several levels of service depending on how much lost baggage coverage you want. Each service agreement covers one passenger regardless of how many bags you check and when you check them. If you're purchasing coverage for a single trip, you have the option between the following levels of service:
Gold service: $5 per person per trip for $1,000 of coverage per bag.

Platinum service: $7.50 per person per trip for $1,500 of coverage per bag.

Diamond service: $10 per person per trip for $2,000 of coverage per bag.
Frequent travelers who don't want the hassle of purchasing coverage for each trip have the option of purchasing an annual plan. As with trip-by-trip service levels, the annual plan covers all bags that one passenger checks the entire coverage period. Just choose how much coverage you want per bag:
Yearly Gold: $50 per person for $1,000 of coverage per bag.

Yearly Platinum: $75 per person for $1,500 of coverage per bag.

Yearly Diamond: $100 per person for $2,000 of coverage per bag.
My Blue Ribbon Bags review
Back in 2018, Blue Ribbon Bags helped save the day when my checked bag was mishandled on a complex itinerary involving multiple airlines. My ticket had me flying from Charlotte to New York on JetBlue, New York to Cairo on Egyptair and then Cairo to Abu Dhabi on Etihad.
After an exhausting multiday trip, I arrived in Abu Dhabi to find my bag missing from the belt, leaving me without a change of clothes or supplies for the trip. I filed a missing baggage report with Etihad, the last airline I flew. However, airline agents weren't optimistic as they reported that Etihad never received the bag.
Blue Ribbon Bags jumped into the situation and figured out that my checked bag didn't make the connection between JetBlue and Egyptair in New York. Blue Ribbon Bags agents updated me as they tracked my bag making its way to its original destination of Abu Dhabi. As my bag arrived there after I'd left, Blue Ribbon Bags rerouted it onward to meet me at my next destination.
Because of the incredible service provided and my frequent travels, I was quick to purchase Blue Ribbon Bags' new annual baggage service. Having the peace of mind that Blue Ribbon Bags will help out in case of another mishandled bag is easily worth $50 per year for me. Plus, I like avoiding the hassle of entering my information for each one of my trips. However, if you don't travel as often, you may want to only purchase baggage service trip by trip.
Best credit cards for purchasing Blue Ribbon Bags service
Blue Ribbon Bags baggage protection doesn't cost much, but it's worth maximizing your point earnings on every purchase. Based on my latest purchase, Blue Ribbon Bags codes as a "professional services" purchase.
No credit card offers a bonus category for professional services. So you'll want to use a credit card that earns well on everyday purchases. Top choices include:
How Blue Ribbon Bags differs from credit card coverage
Many top travel credit cards offer lost luggage coverage as one of their travel perks. For example, the Chase Sapphire Preferred® Card reimburses essential purchases for baggage delays over six hours — up to $100 a day for five days. If the airline ends up losing your bag, the Chase Sapphire Preferred® Card provides up to $3,000 per passenger per trip in reimbursements.
This complimentary coverage can be incredibly valuable in the case of lost luggage and is activated just by using your card to purchase the trip. However, credit card benefit administrators don't make it easy to claim. Understandably, they want to pay out as little as possible, so you'll need to provide plenty of documentation to get reimbursed for your lost items — including original receipts for lost items and replacement items costing more than $25.
While credit card protections reimburse you for losses, they don't provide assistance in helping you get reunited with your luggage. If you really want to get your stuff back, you'll want to use a service like Blue Ribbon Bags. Best of all, you can utilize both Blue Ribbon Bags to try to get your bags back and still claim with your credit card for baggage delays and lost luggage.
Final thoughts on Blue Ribbon Bags insurance
Blue Ribbon Bags is a service that helps reunite you with your lost baggage within four days of arrival or pays you at least $1,000 per bag. You only have to pay $5 per trip or $50 per year for this insurance-like concierge coverage — or slightly more if you want a higher level of coverage.
The downside: Blue Ribbon Bags doesn't offer a service option once your bags are already lost. You'll need to purchase coverage before your trip starts to get help getting your bags back.
---
How to maximize your rewards
Get more smart money moves – straight to your inbox
Sign up and we'll send you Nerdy articles about the money topics that matter most to you along with other ways to help you get more from your money.