UPDATE (1/28/14): FULL VIDEO OF EVENT IS NOW AVAILABLE
**********************************************************************************************************************************************************************
We had the privilege of hosting Ryan Richard of McGuire Real Estate and Roberto Rivera of First Republic Bank last night at NerdWallet HQ. For those who missed the event, here are some highlights. We will post clips here when they are ready. Live tweet stream is available at #BuyOrRentSF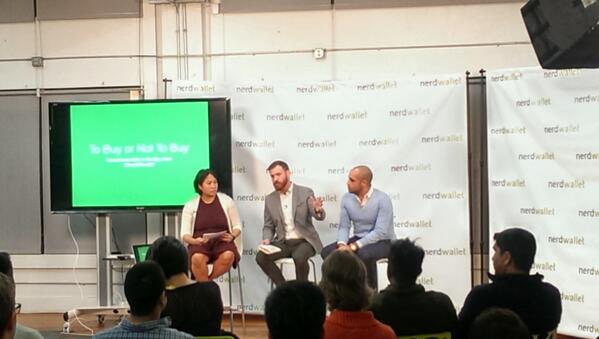 Why should I buy?
Ryan highlighted the importance of distinguishing between emotional (I want to paint my own walls, walking distance to schools) and financial (take advantage of price appreciation, diversifying portfolio) motivations
Emotional and Financial motivations can sometimes be in conflict; partners might be on opposite ends of the spectrum in terms of motivations – Remember to talk through them as you're considering the decision to buy
Useful tool at the NYTimes to get the initial read on how long it might take to break even on a purchase given your current rental situation
Financing a purchase
3 key things determine affordability / loan eligibility
Credit score
Total Debt / Gross Annual income should not exceed 4.5x
Cash and liquid instruments available for down payment
Making the down payment
Ryan highlighted that making the down payment and winning offers are the two big hurdles his clients face in San Francisco. He noted that these two issues go hand in hand. The larger the down payment %, the more attractive the offer (greater certainty of close) to the seller.  He is starting to see a relatively new financial instrument on the market for home purchases: Equity financing
How does equity financing work? 
Financing company offers a share of the down payment in exchange for a percentage of the future change in value of the home
A typical structure is 50% of the downpayment in exchange for 40% of the future change in value (shares in upside AND downside scenarios)
Buyers have the option to cash out of the agreement and repurchase the equity after 3 years (independent appraisal will be done at that time to determine cost of buyback)
How do the new CFPB rules impact borrowers?
Roberto said that tighter underwriting standards have already been effect for the last few years – if you were eligible for a loan in 2013, you will likely be eligible in 2014
Searching for a home
In the era of apps and websites, why bother hiring an agent?
Estimates 15-20% of SF sales in 2013 happened off-market – a good agent can give potential buyers access to pocket listings / "coming soon" listings
CONDO / TIC / CO-OP – What are they and how do they impact financing options?
CONDO – Most straightforward of the three, basically own the unit, and then share the common spaces. Every unit has a separate title.
TIC (Tenancy-in-common) – You own a percentage of an undivided property. Single title, multiple owners. Single title means that when people move in or out, the loan has to be refinanced. This creates more hassle for banks, which makes them less willing to lend / charge more for TIC loans. Loan pricing is a function of what recourse a bank has to get its money back. TIC loans are also not eligible for sale in the secondary market, making them less attractive to banks.
CO-OP- Purchasing stock in a privately held corporation (that owns the building). Coops often have stricter underwriting requirements than the banks themselves (requiring higher down payment amounts)
List Price – So many things appear to be selling above list, why is that?
List price doesn't equal market price – lower list prices are a strategy employed by some sellers to drive more interest/multiple bids
Particular problem in San Francisco, less prevalent outside the city
If it sounds too good to be true, it probably is – check comparable transactions in the area to get a better feel for "market price" so you can make a competitive offer
Winning an offer – what strategies can buyers employ?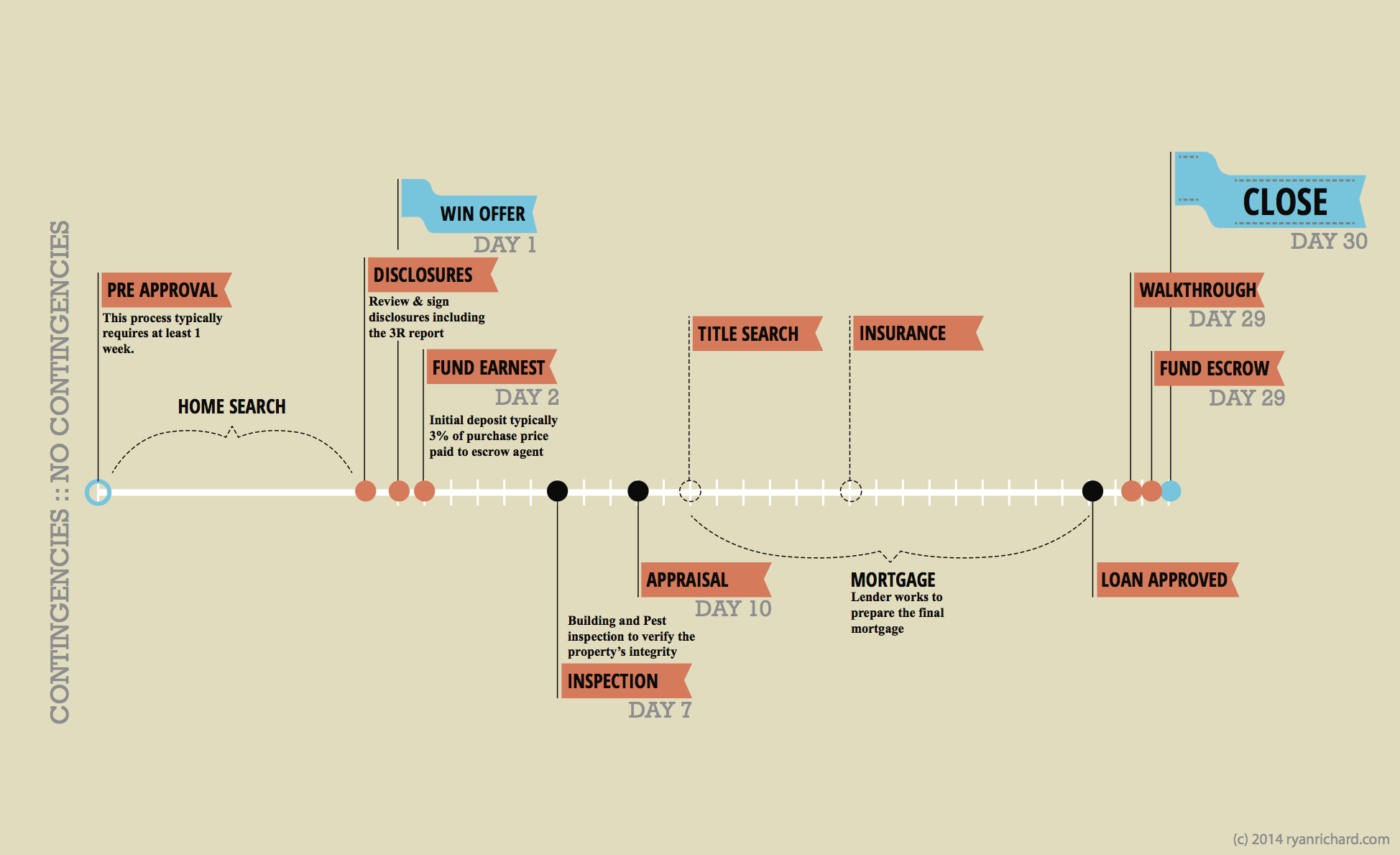 When thinking about winning an offer, take a seller's perspective:
Attractiveness of offer – how good is the headline number
Certainty of close: % downpayment
Certainty of close: # of contingencies
Some buyers have taken to removing contingencies to make their offers more attractive – this exposes you to the risk of losing your deposit if inspections ultimately cause you to walk away from the offer, or the risk of making up the difference if the home appraises for less than the offer.
MARKET PREDICTIONS
2014 – Year of the Condo (48,000 units approved last year) in San Francisco; increased supply may help condo prices soften
Looking at city planning projects can give a view into what some new and emerging neighborhoods might be: Cesar Chavez, South Mission, Nopa
One way to look at the market is to assess available housing stock within a hot price point, e.g. $800K – $1.2M. Given those parameters, Ryan highlighted:
SF: Glen Park, Sunnyside, Western Addition
East Bay: Temescal, Crocker, Jack London & Elmwood
Marin: Larkspur and Corte Madera becoming more attractive due to direct bus lines into SF
Buying a house is a huge financial decision, please take the time to consider your options before falling in love with your dream house!