According to the government's most recent immigration plan, Canada hopes to welcome 465,000 new permanent residents in 2023 alone.
The plan will "help businesses find the workers they need, set Canada on a path that will contribute to our long-term success, and allow us to make good on key commitments to vulnerable people fleeing violence, war and persecution," Sean Fraser, Minister of Immigration, Refugees and Citizenship, said in a November 2022 press release.
For many of these newcomers, the Canadian banking system will be quite different from that of their home country.
Understanding how to open a bank account is paramount if you're planning to immigrate, and there are steps that can be taken even before setting foot on Canadian soil.
Why bank accounts are important for newcomers 
Store money safely: Cash is easily lost or stolen. Storing money into a bank account reduces the chance of both. Additionally, most accounts at Canadian banks and credit unions are covered by deposit insurance. This means funds are guaranteed (up to a maximum amount per account) even if the bank fails. 
Get paid quickly: Many employers prefer to deposit your pay directly into your bank account (known as direct deposit). Even if your employer issues a paper cheque, it can be difficult to turn a cheque into cash without your own account.
Use cheques and debit cards: A cheque is a piece of paper with your bank account information written on it, often used to pay bills like rent or utilities. You may also need to present a "void cheque" to your employer in order to set up direct deposits.
A debit card is a way to spend the funds in your chequing account without writing a cheque. You can also use your debit card at an automated teller machine, or ATM, to withdraw cash on demand.
Build credit: Your credit scores and credit history won't follow you to Canada. A secured credit card or student credit card is an easy way to start rebuilding credit once you're here, but some banks may require that you have an existing deposit account in order to be approved.
Comparing Canadian bank accounts as a newcomer
Not all bank accounts or financial institutions are the same, so it's important to choose an account that suits your needs. Here are some things to consider.
Basic Canadian account types
The two main types of bank accounts in Canada are chequing accounts and savings accounts.
Chequing accounts are for everyday banking; receiving deposits and paying for expenses. Chequing accounts typically don't pay interest, so they're not meant for investing or holding large amounts of money; they often charge monthly fees. 
Savings accounts pay interest on your balance. You can easily transfer money in and out of your savings accounts, but they typically aren't designed for daily transactions.
Fees
An unwelcome surprise to many Canadian immigrants are the substantial banking fees. Fee structures for Canadian bank accounts vary widely; some are free, others charge up to $35 per month. There may also be fees for exceeding a certain number of transactions in a given period or failing to keep a minimum balance in your account.
In-person banking options
While online-only banks often offer lower fees and higher interest on savings accounts, they might not provide the level of service you need while getting settled and may not offer banking products. In contrast, Canada's Big 6 Banks have many physical branch locations where you can get one-on-on assistance, and offer banking products designed specifically for newcomers.
Multi-lingual customer service
Some banks have a robust call center open 24 hours a day to assist clients who speak hundreds of languages languages. Other banks also offer multi-lingual support in the branch (TD Bank, for example, claims it can service its clients in more than 50 languages). If you would prefer to speak with a bank representative in a language other than English, look for a bank that can accommodate your needs.
International money transfers
Do you plan to send money back home from Canada? Choosing a bank that facilitates these transfers at the frequency you need without high fees will be important. Research wire fees, Interac e-transfer fees and other money transfer costs at any bank you're considering, and be sure the cost aligns with your budget.
How to open a bank account as a newcomer
Anyone hoping to open a bank account in Canada must provide two documents with proof of identity and address; one needs to show your name and date of birth, and the other needs to include your name and Canadian address. The easiest way to apply is to bring original documents into a bank branch.
You may also need to show documents proving your legal status in Canada. These can include a Permanent Resident Card, Immigration Refugees and Citizenship Canada forms, student visa (with proof of enrollment in a school), or valid work visa.

Opening a bank account before coming to Canada
Larger banks will often allow you to set up a Canadian account and transfer money to it before arriving in the country. The process usually involves an online application and transfer.
Once you arrive, you'll need to complete the account opening by visiting a bank branch to show your identification documents. The advantage of opening a Canadian account before moving is that you will already have money waiting for you to start paying for expenses. 
Either way, it's important to have a plan for how you'll pay for your new life, as soon as you arrive, in case your bank card from your home country doesn't work. One way to ensure you aren't stranded initially on arrival is to bring some cash with you (ideally Canadian currency, or another major currency that is easily converted like US Dollars or Euros).
DIVE EVEN DEEPER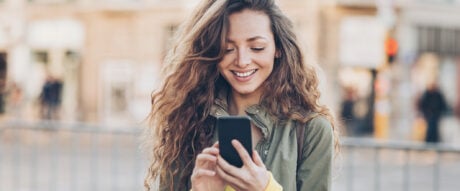 Over the past decade, Canada has seen a growing number of online banks — also known as digital banks or virtual banks — make a mark on the country's financial landscape. What is an online-only bank? While most traditional banks offer some online banking services, online-only banks, also referred to as digital banks, are different […]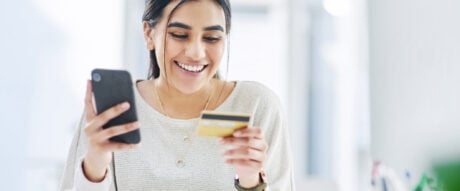 Canada's best no-fee bank accounts are free bank accounts that can help you save money, earn rewards and manage your day-to-day expenses.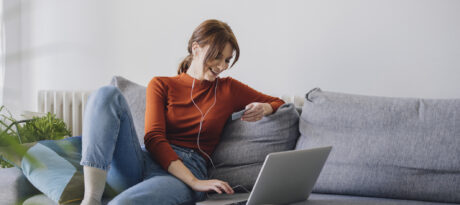 Whether you're looking to send money to a friend in Canada, a family member on the other side of the world, or your bank account at another institution, you have many options. 8 money transfer services and methods There are a variety of ways to transfer money between accounts in Canada. 1. Interac e-transfers Interac […]