Aeroplan is Air Canada's loyalty program. While the rewards chart may appear intimidating at first glance, the program allows you to fly just about anywhere in the world. Understanding how Aeroplan works is essential if you want to maximize the value of your points.
What is Aeroplan?
Aeroplan was created in 1984 as a loyalty program for Air Canada customers. The ownership of the loyalty program changed hands a few times over the decades, but it was sold back to Air Canada in 2018.
The new Aeroplan launched in 2020 with a focus on rewards that any traveller can use. Although some frequent flyers were disappointed that many award flights now required more points, there were many positive changes, such as the elimination of fuel surcharges.
In addition, Aeroplan has continued to add airline and retailer partners to the program, and there are many Aeroplan credit cards to help members quickly earn points. Plus, they've run unique promotions that would allow members to earn status without even flying.
How does the Aeroplan rewards program work?
At its core, Aeroplan is an airline loyalty program. Every available seat on Air Canada flights is available for redemption with your Aeroplan points with no restrictions or blackout dates. In addition, you can also redeem your points for available seats on 50+ partner airlines.
The number of points required to redeem a free flight depends on the following:
Your departure city.
Your destination.
Seat class.
Miles flown.
Airline.
Demand.
Aeroplan rewards chart
Essentially, Aeroplan operates under a zone-based chart with dynamic pricing. The farther you fly, the more points it'll likely cost you. Plus, if the flight is in demand, the number of points required will fall closer to the upper end of the scale.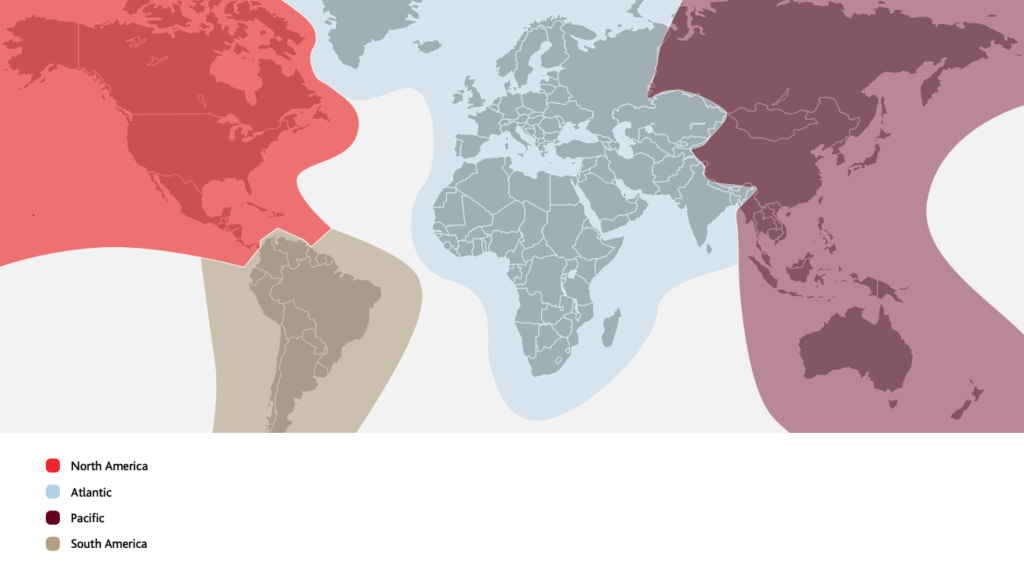 As you can see, the Aeroplan flight reward chart is broken into four travel zones: North America, Atlantic, Pacific and South America.
In addition, each zone is broken down into two to five distance bands. The farther you fly, the more points it'll take for redemption.
Best Aeroplan Credit Cards
Compare all areoplan cards side-by-side and find out the best aeroplan card that will reward your loyalty with special perks and benefits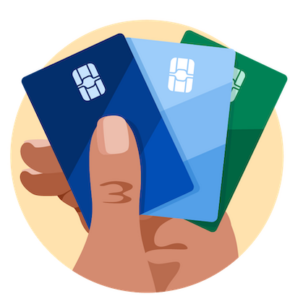 Aeroplan rewards highlights
Sweet spots
If you study the chart, you'll quickly find that there are a few sweet spots where flying will cost you a reasonable number of points.
For example, at 4936 miles, an economy ticket with a partner airline from Calgary to Tokyo costs 35,000 points. If that route was just 65 miles longer, the flight would move into the 5,001 – 7,500 mile distance zone and cost 50,000 points.
In addition, if you're flexible with your travels, you can take advantage of any flights that require fewer points for redemption.
Many ways to use points
Aeroplan allows you to use your points to improve your travel experience. You can use your points to bid on seat upgrades or even use them to purchase in-flight Wi-Fi. Beyond flights, your points can be redeemed for a variety of rewards, including hotels, car rentals, vacation packages, merchandise, gift cards and more.
Unlike some other airline loyalty programs, there are no cash surcharges when booking a flight with your points. That said, you would still have to pay any taxes and third-party fees. If you prefer, you can even pay those fees with your points.
Family sharing
Another new feature from Aeroplan that has quickly become popular with members is Family Sharing. With this plan, up to eight family members or friends can join together to share points. Each member would still keep their individual Aeroplan accounts, but all points earned individually are added to the shared points. This includes any existing points that are brought in when joining.
The major advantage of Family Sharing is that it's easier for families to make a redemption since all the points are pooled. Plus, if one member has Aeroplan Elite Status or an Aeroplan credit card, all members benefit from the preferred Aeroplan redemption pricing benefit that's included.
Aeroplan points value
Since Aeroplan uses dynamic pricing, the value of every redemption will differ. NerdWallet searched more than 75 flights in 2021 and 2022 to determine the average value for Air Canada flights.
More specifically, you can expect to get around
1.69 cents in value per Aeroplan point for economy class awards on Air Canada, and
2.81 cents in value per Aeroplan point for business class awards on Air Canada flights.
To calculate the value of a redemption, you would use the following formula:
(Ticket price – taxes) x 100 / points required for a redemption = Cost per point.
How many Aeroplan points per dollar?
How many Aeroplan points you'll earn per dollar spent will vary depending on a few different factors, such as:
If you have an Aeroplan credit card
If you're shopping at a merchant partner
If you're shopping through the Aeroplan eStore
Note that unless you have an Aeroplan credit card, or a travel credit card that earns Aeroplan points, you don't earn Aeroplan points based on the amount you spend on Air Canada.
Instead, the points awarded are based on miles flown and the fare option. Standard and basic fare flights also take into account where you're flying to, with standard flights between the U.S. and Canada earning more points than standard flights within Canada, for example. You can also earn Aeroplan points when you make duty-free purchases and in-flight food and beverage purchases.
It's worth mentioning that Aeroplan has announced that points earned will eventually be based on dollars spent instead of miles flown, but that date is still to be determined.
How Aeroplan points are calculated
The number of points it takes for a flight reward depends on where you're departing from, where you're flying to, the miles flown between the two destinations and the seat type.
You'll notice that the Aeroplan rewards charts show a range of points for Air Canada flights. That's because flight rewards on Air Canada are priced dynamically. More popular flights will typically cost more.
Partner airlines require a fixed number of points. While appealing, there are a limited number of award seats made available by partner airlines and there's a $39 booking fee.
Aeroplan does have a points predictor tool that will give you the range of points required for a redemption. However, since it just provides a range, you'd have to search your exact flight manually for a more accurate price.
For example, let's see what a one-way flight from Calgary (YYC) to London (LHR) might cost.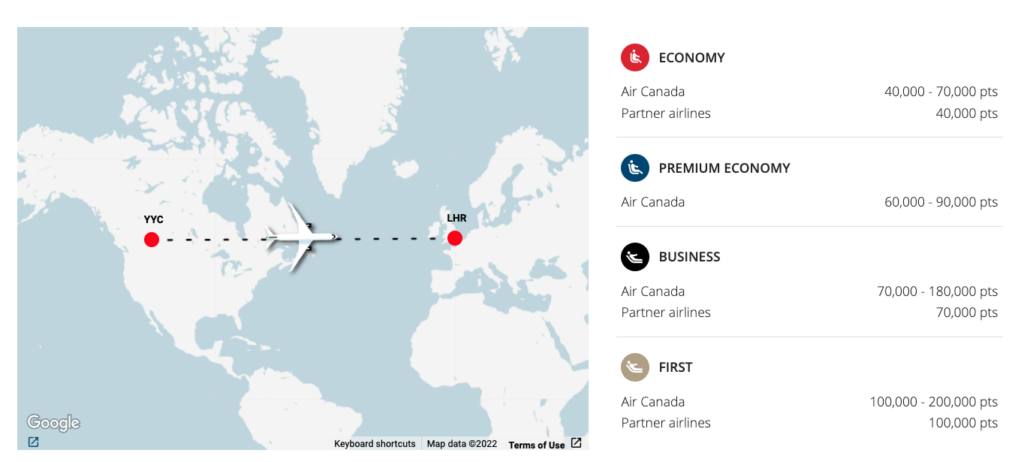 Using the points predictor tool, that one-way flight is estimated to cost 40,000 to 70,000 Aeroplan points in economy on Air Canada, or 40,000 points on partner airlines.
To narrow down that range, we used Air Canada's website to check for a more specific cost.
If we booked that one-way flight 60-days out:
A one-stop flight in economy on Air Canada cost 37,800 Aeroplan points (at the time of writing).
A two-stop flight in economy on United Airlines, a partner airline, cost 39,300 Aeroplan points (at the time of writing).


If we booked the cheapest one-way flight 30 days out:
A one-stop flight in economy on Air Canada cost 37,800 Aeroplan points (at the time of writing).
A two-stop flight in economy on United Airlines, a partner airline, cost 38,800 Aeroplan points (at the time of writing).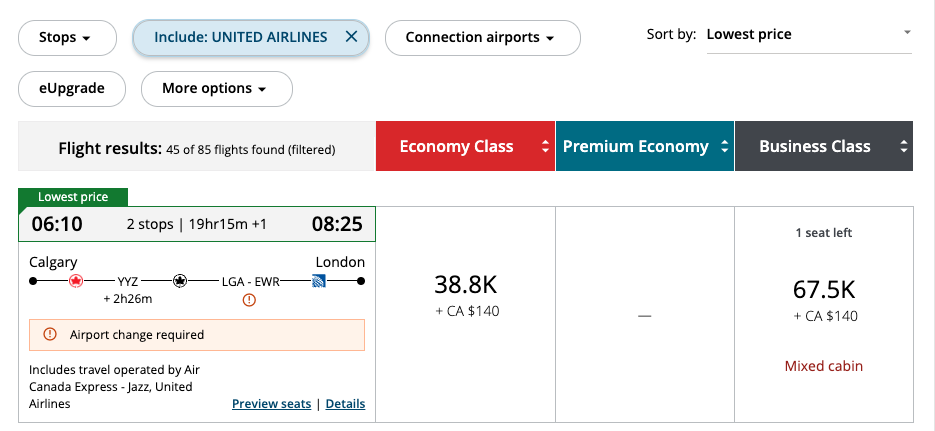 As you can see, the type of flights available and the number of points required varies by airline and date.
» MORE: The best ways to use your credit card overseas
How to earn Aeroplan points
There are multiple ways to earn Aeroplan rewards points. Focusing on the methods that earn the most Aeroplan points as quickly as possible is always a good start, but there are other tricks you should know to maximize your earning potential.
Flying Air Canada
When flying a cash fare on Air Canada, you'll earn Aeroplan points. How many points you get will depend on your fare class, type of seat, destination and miles flown.
Aeroplan credit cards
Co-branded Aeroplan credit cards will always be the quickest way to earn points since you'll earn Aeroplan points on every purchase you make. In addition, these rewards cards often come with a welcome bonus and an increased earn rate when spending on specific categories.
Transfer points
There are a few loyalty programs that allow you to transfer your points to Aeroplan. American Express Membership Rewards can be converted to Aeroplan at a 1:1 ratio. There's also Marriott Bonvoy that has a 3:1 transfer ratio, but you get a bonus of 5,000 Aeroplan points when transferring 60,000 Marriott points over.
Other programs include:
ALL – Accor Live Limitless points, 2:1 ratio.
Best Western Rewards points, 5:1 ratio.
Choice Privileges points, 5:1 ratio.
Coast Rewards points, 1:1 ratio.
Hilton Honors points, 10:1 ratio.
IHG Rewards Club points, 5:1 ratio.
Radisson Rewards points, 10:1 ratio.
Shangri-La Golden Circle Award Points, 1:1 ratio.
Wyndham Rewards points, 5:1 ratio.
Aeroplan partners
Aeroplan has a variety of retail partners that allow Aeroplan members to earn points even if they don't have an Aeroplan credit card. You just need to show them your Aeroplan number or card.
Some of the most popular partners include:
Apple
LCBO
Etsy
Starbucks
The UPS Store
Uber
Aeroplan eStore
Aeroplan has an eStore where you can earn points with 250+ online retailers. To get your points, log into your Aeroplan account and navigate to the partner merchant via the Aeroplan eStore. All eligible purchases you make would then earn you Aeroplan points.
Promotions and special offers
Occasionally, Aeroplan runs promotions and special offers, such as an increased earn rate when you meet certain spending criteria, enter a contest or fill out a survey.
Convert the Air Canada Buddy Pass
Previously, members that held an Air Canada Buddy Pass could convert it into 30,000 Aeroplan points. While that's no longer an option, Air Canada has suggested that this offer may return one day.
Hotels and car rentals
When you book your hotels and car rentals through the Aeroplan travel portal, you'll earn points per dollar spent.
Purchasing points
Buying Aeroplan points is always an option, but the cost is usually more than the established base value and those purchased points won't count towards Aeroplan status or the Air Canada Altitude program.
That said, there are occasional sales, so it could be worth buying points if you just need a few more for a specific redemption. You can purchase up to 1,000,000 Aeroplan points per calendar year.
Ask a friend
Aeroplan allows members to gift points to other members at a rate of 2 cents per point. So, if you're a few points shy of the reward you're eyeing, you could ask a friend to transfer anywhere between 1,000 to 250,000 points.
How to redeem Aeroplan points
Generally speaking, your Aeroplan points will usually be redeemed on aircanada.com or via the Air Canada app. When you log in, you'll see your profile and points balance. Once you start searching for travel, you'll see an option to use your points.
It's worth mentioning that if you have Aeroplan Elite Status or a core or premium Aeroplan credit card, you may get preferred pricing on flight redemptions. Depending on what you want to do with your points, how you redeem your points will differ slightly.
Aeroplan flights
While inputting the search criteria for your flights, you'll see an option to pay in cash or points. Once you select points, the search results will show you the number of Aeroplan points it takes, plus any taxes or third-party fees for the flight. Aeroplan does allow you to pay your fees with points, so it's possible to get a flight without paying anything out of pocket.
Aeroplan hotels
Aeroplan has a dedicated travel portal for anyone who wants to book hotels or flights. Once there, you would just input your destination, dates and the number of guests in the room. A list of hotels with the cost in points will then be displayed. Note that you can also do a mixture of points and cash.
Aeroplan car rental
Booking car rentals with points is done the same way as hotels. You would just click the "cars" tab. Besides your destination and dates, it'll ask you for your age and if you want to return the vehicle to a different location.
Aeroplan gift cards
When logged into Aeroplan, you can go to the eStore to redeem your points for gift cards. They have dozens of partners, including:
Amazon
Apple
LCBO
Mastermind Toys
Rocky Mountaineer
Sephora
Uber
The number of points required per redemption will differ depending on the merchant, but the most common rates are as follows:
7,000 points = $50
14,000 points = $100
35,000 points = $250
Aeroplan merchandise
The Aeroplan eStore also has a variety of products you can choose from, including electronics, toys, small appliances, beauty products, travel accessories and more. Click on the "Products" tab for the full list.
Extras and upgrades
When purchasing an economy or premium economy class ticket on eligible Air Canada flights, you can bid with points to be upgraded to a higher cabin class. In addition, you can use your points in-flight for Wi-Fi.
Charitable donations
The Aeroplan Member Donation Program allows members to donate their points to more than 300 organizations, charities and causes. Since its founding in 2006, the program has raised more than 1.5 billion points for 1,435 causes — equal to about $2.5 billion, based on our valuation of Aeroplan points. Visit donatepoints.aircanada.com for a full list of organizations.
What to know about Aeroplan Elite Status
Aeroplan Elite Status is a program within Aeroplan designed to reward its most frequent flyers. Simply put, the more you fly and spend with Air Canada, the more benefits you'll get. What's interesting about Elite Status is that each tier comes with core benefits that will enhance your travel experience. In addition, you get select benefits that allow you to choose specific perks that matter the most to you.
Status levels and benefits
Aeroplan Elite Status has the following tiers:
25K
35K
50K
75K
Super Elite (100K)
Once you reach a certain status tier, you'll get benefits, such as:
Priority reservation waitlist
Priority seat selection
Complimentary preferred seats
Priority check-in
Free checked bags
Free sports equipment handling
Priority baggage handling
Priority security clearance
Priority boarding
Guest lounge passes
eUpgrades
Priority rewards
Elite status partner offers
Additional points earned on hotel stays, car rental bookings and the Aeroplan eStore
While it's obvious how some of these perks benefit you, some of them require you to study the Aeroplan Elite Status benefits chart.
For example, the number of eUpgrades required to get a higher cabin class depends on your fare type and if eUpgrades are available on a specific flight.
How to earn Aeroplan Elite Status
There are three different types of criteria that are used to earn Aeroplan Elite Status.
Status Qualifying Miles (SQM). Earned as a percentage of the distance you fly.
Status Qualifying Segments (SQS). Earned for each flight segment.
Status Qualifying Dollars (SQD). Earned on eligible dollars spent.
To reach each status tier, you would need the following:
25K – 25,000 SQM or 25 SQS and $3,000 SQD
35K – 35,000 SQM or 35 SQS and $4,000 SQD
50K – 50,000 SQM or 50 SQS and $6,000 SQD
75K – 75,000 SQM or 75 SQS and $9,000 SQD
Super Elite (100K) – 100,000 SQM or 100 SQS and $20,000 SQD
Note that SQM, SQS and SQD are separate from the Aeroplan points you've earned.
How to get the best value for Aeroplan redemptions
Earning Aeroplan points is just one part of the equation. Knowing how to redeem your Aeroplan points for the best value is equally important. Although every redemption value will be different, there are a few things you can do to maximize your points.
Know your base value. Whether it be for airfare or hotel stays, whenever you redeem your points, you should aim for a value of at least 1.69 cents per point. Anything less is not a good value.
Look for partner airlines. Partner airlines require a fixed number of points for a redemption, so you should check with them first as they tend to offer the best value for your points.
Study the Aeroplan chart. Since the Aeroplan program uses a zone and distance rewards chart, there are a few sweet spots — specific routes and seats that offer the best value.
Go for business. When booking Aeroplan rewards in business class, the base value is 2.81 cents per point. That's significantly higher than economy seats.
Earn points as quickly as possible. Maximizing the value of Aeroplan becomes easier when you have a lot of points to use. Get a co-branded credit card so you can stack rewards and be sure to earn Aeroplan anywhere you can.