Many or all of the products featured here are from our partners who compensate us. This may influence which products we write about and where and how the product appears on a page. However, this does not influence our evaluations. Our opinions are our own.
Canadians took to the roads, seas and skies to embark on over 27 million trips in the first quarter of 2021 alone, according to a National Travel Survey conducted by Statistics Canada. And that figure is likely to increase in 2022 as more Canadians gear up for their next adventure.
Our picks for the best travel credit cards in Canada include top cards across numerous categories to help you earn discounts, perks and rewards before your next trip.
Summary of the best travel credit cards
Best Credit Cards in Canada
Compare all different credit cards side-by-side and find out the best card that will meet your need with special perks and benefits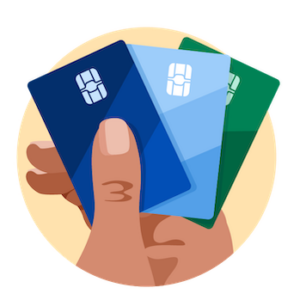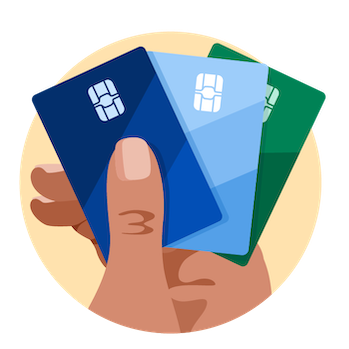 Methodology
NerdWallet Canada selects the best travel rewards credit cards based on overall consumer value as well as their suitability for specific kinds of travellers. Factors in our evaluation include each card's annual fee, foreign transaction fees, rewards earning rates, ease of use, redemption options, domestic and international acceptance, promotional APR period, bonus offers, insurance offers, and cardholder perks such as automatic statement credits and airport lounge access. Cards eligible for this list must offer travel insurance, travel perks, bonus rates on travel spending (if bonus rates are offered), and the ability to redeem rewards for travel. Hotel and airline rewards cards are not included in this list.
How travel credit cards work in Canada
Travel rewards credit cards earn points or miles as a reward for making eligible purchases. The type and rate of rewards you earn depends on the travel credit card you have. Additionally, how you can use those rewards may depend on the loyalty program associated with your card.
Why get a travel credit card?
Travel rewards credit cards account for 22% of credit cards in Canada, according to a 2021 report by Payments Canada. Outside reduced travel costs, travel cards can offer travel insurance, lounge access, baggage fee discounts, no foreign transaction fees and more. The right travel credit card can help you plan trips and access upgraded services that may have once been out of reach.
Types of travel credit cards in Canada
Generally speaking, there are three different categories of travel rewards credit cards. Knowing how they differ will help you determine what card is best for you.
General travel rewards credit cards
If you're not loyal to one specific airline or hotel chain, then a general travel rewards program is something that will interest you. The points you earn can typically be used for any type of travel redemption, such as airfare, hotels, car rentals, cruises, and even vacation packages. Since your points don't belong to one specific program, you have more options.
Some general travel rewards credit cards only allow you to use your points when booking travel through their online portal, while others let you use your points for any travel purchases you charge to your card.
Airline rewards credit cards
Airline credit cards allow you to earn points or miles for a specific airline. What's interesting about airline credit cards is that the points you earn can usually be used on any airline that's part of their network.
For example, Aeroplan is the loyalty program for Air Canada. Even if you don't have one of the best Aeroplan credit cards, you can use your points for a flight on any carrier that's part of the Star Alliance network. There are also some general travel rewards programs, such as Air Miles, that also earn miles and can offer some additional value.
Depending on the tier of your airline rewards credit card, you may get additional perks such as free checked bags, priority boarding and increased status. Having an airline credit card is highly lucrative if you frequently fly with one airline or network.
Hotel rewards credit cards
While some people love the idea of free flights, getting a luxury stay at a nice hotel appeals to other people. Some would argue that hotel rewards are better than airline rewards since some hotel chains have a greater reach. For example, Marriott has over 7,000 properties in 130+ countries, so no matter where you're travelling, it won't be hard to find a room where you can use your points.
Hotel rewards credit cards will also typically include benefits that will make your stay more comfortable. For instance, you could get early check-in and late check-out. You could also get free high speed WiFi or enhanced status.
Additional rewards to look for in a travel card
Besides the main rewards categories that come with travel credit cards, consider the additional perks that are included. These extra perks can often be the thing that helps you choose one card over another.
Consider the following benefits that often come with travel rewards credit cards:
Free checked bags. Airlines charge anywhere from $30-$60 per checked bag, each way, so getting free checked bags can save you a fair amount of money.
Airport lounge access. Some credit cards include airport lounge access, plus free annual lounge passes. These benefits could easily have a value of over $300, so it can offset any annual fee you might pay.
Travel insurance. Depending on the credit card, an extensive travel insurance package could be included. This could cover things such as medical expenses, trip cancellation, lost luggage, and more.
No foreign transaction fees. Many credit cards charge a 2.5% fee when you make a purchase in any currency that's not Canadian dollars. If your card has no foreign transaction fees, then you're just paying the straight exchange rate.
Extended warranty. Many credit cards will lengthen your warranty up to one additional year as long as you charge the full cost of the purchase to your card.
Price protection. If you find a lower price after making a purchase, some credit cards will give you back the difference as long as it falls within a specific time period.
Concierge service. A credit card concierge can help you with basic tasks such as booking travel, ordering fits and securing event tickets.
As you can see, the list of additional benefits you can get with your travel rewards credit cards can be pretty extensive. Some of the best travel credit cards in Canada will have many of the above benefits, but not all of them. Always prioritize the perks that are important to you when applying for a credit card.
Travel credit card pros and cons
Pros
Earn points or miles to reduce travel costs, like discounted flights and hotel stays.
Get additional perks, like travel insurance, discounted baggage fees, airport lounge access and more.
Earn introductory bonus points when you sign up for certain travel credit cards.
Some cards let you transfer points to airline and hotel loyalty programs.
Cons
Many travel credit cards carry annual fees.
Blackout periods may restrict when you can redeem your points.
Introductory bonus offers may require you to spend a large sum of money in a short period of time.
Some travel rewards points expire if you don't use them quickly enough.
Using travel rewards
Understanding travel credit card earn rates
The earn rate on a travel credit card is the number of rewards points or miles you earn on each dollar spent.
Some cards offer a flat rate, which means you earn the same amount of rewards on every purchase. For example, you may earn 2 points for every $1 you spend with your card.
Most rewards credit cards have a tiered rewards structure when making purchases. The type of structure can vary quite a bit between cards. For example, you may have an accelerated earn rate on purchases made in certain categories, such as travel, groceries, gas and drugstores. All other purchases will use the lower base earn rate.
Ideally, you want to choose a credit card with an accelerated earn rate that is aligned with your spending habits.
Additionally, travel credit cards may deliver additional points or miles when you make purchases with their main partner, if they have one. For example, an Aeroplan credit card gives you an accelerated earn rate on Air Canada purchases, and Amazon Rewards gives you a bonus when making purchases on Amazon. Some loyalty programs even have a network of partners where you can earn additional points or miles.
How to calculate the value of travel credit card points
Knowing how to calculate the value of your points or miles is essential since not every redemption value is the same. By establishing a baseline value for your points, you can decide if specific redemptions are worth it — even if you're not getting the maximum value.
The formula used to determine the value of one point is as follows:
Cash value of the redemption x 100 / number of points required = Cost per point
Let's say you want to fly from Vancouver to Toronto, and it's going to cost $585 in cash, or 25,000 Aeroplan points, plus $75 in taxes. You would use the following formula. Note that since you have to pay $75 in taxes, you'd have to subtract that amount from the cash value for an accurate assessment.
$510 x 100 / 25,000 = 2.04 cents per point
This formula can be applied to any redemption regardless of the loyalty program. For example, let's say you want to redeem 13,400 points for a $100 gift card. Your formula would be the following:
$100 x 100 / 13,400 = .75 cents per point
Assuming these redemption options are available with the same program, the flight is a better bang for your points.
Do travel rewards points ever expire?
It doesn't matter how long you've been a member of a loyalty program or how many points you've accumulated; you can lose everything if you're not paying attention.
Generally speaking, most loyalty programs that belong to an airline or hotel have a defined expiry date of 12 – 18 months. However, that only applies if there's been no account activity in your account during that time. If you earn or redeem just one point during that time, your clock would reset. Even if you're not travelling anytime soon, you could make a small redemption or donate some points to ensure you don't lose the rest of your points.
When it comes to bank credit card rewards programs, it's unlikely your points will expire as long as your credit card account is in good standing. Your account would only fall out of good standing if it becomes delinquent or your credit card is used for fraudulent activity.
How to redeem travel credit card rewards
Some credit card rewards programs only let you redeem points or miles through their rewards portals. Others allow point redemption for any eligible purchase you make with your credit card.
Rewards programs offered through banks typically have their own website where you can make redemptions. They often have separate tabs where you can choose from travel, gift cards, merchandise, and financial rewards. While this can be handy, you're typically limited to their offerings — what you see is what you get.
Airline and hotel loyalty programs will almost always allow you to redeem your points or miles directly on their website or mobile app. When searching for flights or hotels, you'll likely see a box that says "use points." The prices displayed will be in points, so you'll know exactly how much you'll need to make a redemption.
Knowing where to go to redeem your points is important, but you may also want to familiarize yourself with the different point redemption systems.
Travel reward point redemption options
Not all rewards programs are created equal, and this is especially true when it comes time to cash in your travel points. These three redemption models tend to be the most popular among travel credit cards:
Consistent points
Consistent points hold a constant value, regardless of season or travel destination. This point redemption model is the most transparent and user-friendly of the three.
Fluctuating points
The value of fluctuating points can be impacted by several factors, including travel destination and time of year. A point may carry less value when used to travel during peak season instead of travelling in the off-season. This model can make it challenging to determine the value of your points when trip planning. Look for any provider-issued charts or tables that outline what factors impact the value of your points.
Point transfers
Point transfers let you transfer points to affiliated rewards programs. This model may be useful for those trying to take advantage of multiple rewards programs. The catch? The value of your points may be different once they've been transferred, which means you'll need to figure out the transfer ratio before you make a decision.
What to know about credit card travel insurance
For many, travel insurance is essential — especially when venturing outside Canada. While it's likely the last thing you want to worry about when on vacation, medical emergencies happen. And your federal, provincial and territorial health plans may not cover the medical expenses you incur while travelling. That's where travel insurance comes in.
Not only does travel insurance help cover medical expenses, it can also offer trip cancellation coverage, vehicle damage insurance, flight delay insurance and more.
You can get travel insurance from a third party, like a travel agent or insurance provider, but many travel credit cards offer it, too — and at no added cost to the cardholder.
Out-of-province travel emergency medical insurance
Travel medical insurance isn't only for those travelling outside Canada; it can also provide coverage for those exploring another province or territory. Your provincial plan may not extend to emergency medical expenses incurred out of province. Out-of-province medical insurance can provide coverage for a range of medical needs and services, from prescription medication to emergency evacuations and hospital stays.
If your travel card offers out-of-province medical insurance, ask your provider about coverage limitations. Your medical expenses may not be covered if they're the result of a pre-existing medical condition or high-risk activity, like bungee jumping or motorized racing.
Travel accident insurance
This type of insurance can be useful in the event of accidental injury or death while travelling on public or ticketed transportation, sometimes referred to as a common carrier. Some policies only cover accidents that happen on airplanes, while others encompass a wider range of common transports, like trains, ships and buses.
Travel interruption/cancellation insurance
Trip cancellation coverage reimburses non-refundable travel expenses if your trip gets cancelled. Eligible cancellation circumstances may include dangerous weather conditions, pregnancy complications or the death of an immediate family member.
Trip interruption coverage activates once you've departed and reimburses non-refundable travel expenses if your trip is cut short. Again, not every circumstance will qualify for trip interruption coverage. Covered reasons for heading home ahead of schedule are often similar to those that qualify for cancellation coverage.
Flight delay insurance
Flight delays are frustrating, but they happen. If your flight is postponed and you need to book a place to stay or grab a bite to eat while you wait, flight delay insurance may reimburse those costs.
Lost/delayed baggage insurance
If your bags are delayed, this type of insurance will cover the cost of essential items you may need to purchase — like clothes or toiletries — while you wait for your bags to arrive. And if your bags are lost outright, you may be covered up to a predetermined amount for your lost property.
Rental car collision/loss damage insurance
If you plan to rent a car on your next trip, collision and damage insurance may come in handy. This insurance covers costs associated with theft or damage to your rental car. But it doesn't replace liability insurance — the insurance that provides coverage if you injure someone or damage another vehicle on the road.
Your personal auto insurance policy may come with liability insurance that extends to rental vehicles, but contact your insurance provider to confirm you're covered before you hit the road.
To take advantage of your credit card's collision and damage insurance, you'll need to decline coverage offered by your car rental company.
Hotel/motel burglary insurance
If your hotel or motel room is broken into while on the road, this coverage will reimburse you for the loss of stolen goods up to a set amount. Not all stolen items may be eligible for reimbursement.
How to choose the right travel credit card
Every credit card is good for at least one thing, so deciding on which card is best for you can be difficult. Here are some important criteria you can use to compare different travel credit card options.
Welcome bonus
If you're trying to decide between several travel cards with similar rewards, the tiebreaker can often be the sign up bonus. Some credit cards offer a generous welcome offer that covers the annual fee or jumpstarts your rewards collection with thousands of free points or miles.
Here's a look at the welcome bonuses offered by our picks for best travel credit cards:
| Category | Travel Credit Card | Bonus Offer |
| --- | --- | --- |
| Best travel card with bonus rewards on travel | HSBC World Elite® Mastercard® | 80,000 points/$400 travel value (terms and conditions apply) |
| Best travel card with bonus rewards on daily spending | American Express Cobalt® Card | 50,000 points (terms and conditions apply) |
| Best travel card with 0% intro rate | Scotiabank Gold American Express® Card | 40,000 points (terms and conditions apply) |
| Best travel card with bonus rewards on travel, dining and entertainment | BMO World Elite® Mastercard® | 60,000 points (terms and conditions apply) |
| Best travel card with a digital-first experience | Brim World Elite Mastercard | Up to $500 (terms and conditions apply) |
| Best travel card with bonus rewards on grocery, dining and daily transit | Scotiabank Passport™ Visa Infinite Card | 35,000 points (terms and conditions apply) |
| Best low-interest travel card | Desjardins Odyssey® Visa Infinite Privilege | N/A |
| Best travel card for trips booked through Expedia | TD First Class Travel® Visa Infinite Card | 100,000 points (terms and conditions apply) |
Earn rate
Every credit card has a base earn rate, but many of the best travel credit cards in Canada have an increased earn rate for specific bonus categories — like the TD First Class Travel Visa Infinite Card, which offers up to 9x the points per dollar spent on travel through its online Expedia portal.
If you have a general travel credit card, you could earn extra points on categories such as groceries, gas, pharmacies and more, like the American Express Cobalt Card, which offers 5x the points on food, drink and groceries. The earn rate is essential since choosing a card that lines up with your spending habits can quickly increase the number of points or miles you earn.
Annual fee
If you're firmly against paying an annual fee for your credit card, you'll instantly narrow down your choices. That said, there are some instances where an annual fee is worth the cost. Travel credit cards that have a yearly fee typically come with more benefits than their fee-free counterparts.
None of the cards on our list are fee-free, but a few cards have $0 introductory offers, like the TD First Class Travel Visa Infinite Card and Scotiabank Passport Visa Infinite Card. These $0 introductory offers mean you won't pay an annual fee for the first 12 months you have the card.
Reward flexibility
Having a lot of points is meaningless if it's hard to redeem them. Look for a loyalty or rewards program where you know you'll be able to use your points without much trouble. What you're looking for are programs where there are no blackout dates and multiple redemptions options, like the HSBC World Elite Mastercard. This card lets you redeem points across various spending categories, including airline tickets, hotel stays and electronic gift cards. You can even convert rewards points to savings account funds if you hold an HSBC personal savings account.
You'll also want to consider whether the program has any transfer partners, as that's another way to use your points. Additionally, knowing if and when your points expire is key to ensuring you don't lose your hard-earned rewards.
Perks and benefits
Besides the type of rewards, welcome bonus and earn rate, additional perks may sweeten the deal and sway your decision. Take the Brim World Elite Mastercard, for instance: no foreign transaction fees, free global WiFi and VIP airport lounge access in over 120 countries.
Here are a few travel card perks to scout for:
Seat upgrades.
Room upgrades.
Premium lounge passes.
Entertainment ticket presale access.
Car rental discounts.
Priority check-in and boarding.
Various types of credit card insurance.
How to apply for a travel rewards credit card in Canada
Different travel credit cards have different eligibility criteria, so check whether you meet a card's requirements before you begin the sign-up process. Here are some general eligibility criteria you may encounter when applying for a travel credit card:
Canadian resident with a Canadian credit file.
Age of majority in the province or territory where you live.
Minimum annual income thresholds.
Many cards offer an online application process that can be completed from the card issuer's website. Here's a general rundown of the application process:
Review the card's details, terms and conditions.
Enter your personal information, including your full name, date of birth, residential address and mobile phone number.
Enter your Social Insurance Number.
Enter your financial information, including your annual income and monthly expenses.
Verify your identity by submitting photos of your original government-issued ID, like your passport or Driver's Licence.
Review the information you've supplied and submit your application.
Keep in mind that applying for a credit card may impact your credit score.
Tips to maximize your travel credit card rewards
If you've decided that a travel credit card is for you, there are a few tips you can follow to ensure you get the most out of your credit card rewards.
Pay your bills in full and on time, so you don't pay any interest.
Make sure you meet the minimum spend requirement to get your welcome bonus.
Pay attention to your earn rate and use your rewards card on purchases that earn extra points.
Research your rewards program so you know what you can do with your points or miles.
Calculate the value of your points before making a redemption.
See if your loyalty program has a partner network where you can earn additional points.
Although choosing a travel credit card may require you to do some research, the value you get is often worth it. Getting free stuff on points feels great, especially if it's something you've been saving a long time for.
Back to Top
FAQs for Canada's Travel Reward Credit Cards

Do travel credit card rewards expire?

Yes, travel credit card rewards can expire. Most loyalty programs that belong to an airline or hotel have a defined expiry date of 12 – 18 months. However, that only applies if there's been no account activity in your account during that time. If you earn or redeem just one point during that time, your clock would reset.

When it comes to bank rewards programs, your points may never expire as long as your credit card account is in good standing. Of course, your account would only fall out of good standing if it becomes delinquent or you use your credit card for fraudulent activity.

What credit score do I need to get a travel credit card?

In most cases, a good credit score — generally 660 to 724 — is required to get the best travel credit cards. However, some secured credit cards and prepaid options offer rewards, and are more suitable for people with lower credit scores.