Every holiday season, millions of people flock to Canada's airports. They've taken time off from work and school and are hoping to visit loved ones across the country or even the world. Unfortunately, airlines tend to capitalize on this annual pattern. Plane tickets go up in price, and there are often more restrictions in place when it comes to sales and discounts.
But a little seasonal supply and demand doesn't mean you're doomed to pay an outrageous price for airfare. There are some trusted techniques that can be used to help keep holiday travel costs down.
1. Book ASAP
Some people believe that waiting until the last minute to book travel is the way to score a great deal. This strategy may work at other times of year, but during the holiday season, it's one of the worst things you can do. That's because prices tend to spike during the holidays.
If you can help it, try not to book too close to your departure date. The general consensus among travel experts is to book three to five months ahead of time. So if you haven't purchased a flight for the 2023 holiday season, now is the time.
2. Use all the tools available to you
Instead of using an airline's website to hunt for tickets, try looking at sites like Skyscanner or Kayak first. These aggregators compare hundreds of flights across airlines to help you save on your vacation. They also have handy tools that allow you to find the best price for a potential trip using just your departure and arrival city and month of travel.
3. Choose your travel dates carefully
Your travel dates play a big role in how much you'll pay for a flight. Knowing that airlines tend to raise prices on busier days, it is best to choose departure and arrival dates when there isn't as much demand.
To help, NerdWallet Canada analyzed CATSA passenger screening data[1] from the country's eight largest airports from 2019 to 2022. We looked at the five highest traffic days in November and December, respectively, year over year. Below are the days that airports saw the most travellers for multiple years.
Busiest travel days in November:
Nov. 3.
Nov. 5.
Nov. 9.
Nov. 12.
Busiest travel days in December:
Dec. 15.
Dec. 16.
Dec. 17.
Dec. 21.
Nerdy tip: Keep in mind if you are planning to travel to the States, American Thanksgiving will make mid- to late-November busy in U.S. airports. Similar analysis of TSA checkpoint data[2] found that the busiest days in November in the U.S. have historically been the 18th, 23rd, 26th, 27th and 28th.
4. Consider travelling the day of
When it comes to big holidays like Christmas or New Year's, most people want to be in their destination of choice for the entire day. But if you take a look at flight calendars and prices, you'll notice that travel is often cheaper on holidays themselves when compared to the couple of days preceding them. So if you don't mind travelling on a holiday, you can save yourself quite a bit of money.
One note about this strategy: Inclement weather could easily ruin your plans. Case in point, the massive snowstorm that grounded dozens of flights at Vancouver International Airport last year. Many travellers were stranded for days and unable to make it home for the holidays. So while catching an early morning flight on, say, Christmas Day, may save you money, it's also a gamble. There's no guarantee you'll make it to your destination in time for dinner.
5. Use your credit card's perks and benefits
This holiday season, 27% of Canadians plan to spend money on flights and/or hotels, according to a recent NerdWallet survey. If you're among them, you may want to consider putting your purchase on a travel rewards credit card. That way, you'll earn rewards, such as points or miles, that can be used for future purchases. You can also take advantage of any benefits the credit card offers.
Many travel cards, especially top-tier cards, come loaded with benefits that can save you time and money. These perks include things like lounge access before a flight (which often means complimentary food and drink), or travel insurance in case of delays or cancellations. Free checked bags, companion passes and priority boarding are also available on some cards.
Of course, if you do use a credit card to book, you'll want to try your best to pay off the balance by the end of the billing period so you don't owe interest. The same NerdWallet survey found that of those Canadians who charged 2022 holiday travel expenses to a credit card, nearly a quarter (23%) still hadn't paid it off by October 2023.
American Express Cobalt® Card
Combined with the intro offer of up to 15,000 points, earn up to 165,000 points (up to $3,300) in your first year! Earned points are easily transferable to popular airline and hotel loyalty programs such as Aeroplan and Marriott Bonvoy. Conditions Apply.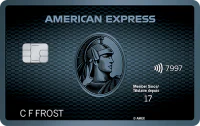 6. Cash in credit card points and other rewards
If you've already accrued some credit card rewards that can be used on travel purchases, now could be a good time to redeem. You just have to navigate any rewards program blackout dates, which tend to be around holidays.
Also, keep in mind that the value of your points may be lower than usual during the holiday season. To know if you're getting a fair deal or not, you'll need to know the base value of your reward program's points. For example, NerdWallet estimates the value of one Aeroplan point as 1.69 cents for an Air Canada economy-class flight. So, if you are able to get this value or better, then it's a good deal.
DIVE EVEN DEEPER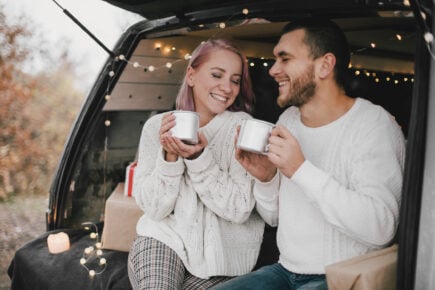 Budgeting boundaries, maximizing your savings, exploring risk-free investments and taking steps to pay down debt are top ways to prioritize your financial health during the season of spending.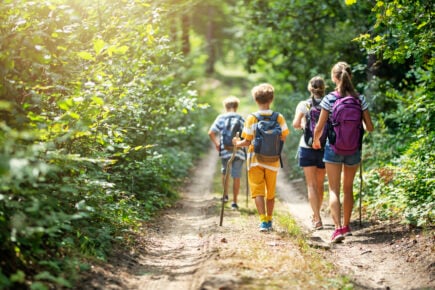 Travelling as a family doesn't have to break the bank. Have fun for less by seeking out free food and events, and opting for vacation rentals over hotels.