If you have built up a big bank of points or travel miles with your rewards credit card, you might be wondering if those valuable earnings have an expiration date. Your travel rewards points or miles do expire in many cases — typically after 18 to 24 months of account inactivity. However, there are easy ways to prevent your well-earned rewards from expiring so they will be on-hand when you are ready for your next adventure.
» MORE: Canada's best travel credit cards
Common travel reward expiration dates
Knowing the expiration dates of your travel rewards points or miles is vital since you don't ever want to lose what you've earned. Although every credit card issuer is different, here are the expiry dates for some of the most popular travel rewards programs:
Aeroplan: 18 months of no account activity.
AIR MILES: 24 months of no account activity.
WestJet Rewards: No expiry date.
VIPorter: 24 months of no account activity.
Marriott Bonvoy: 24 months of no account activity.
Hilton Honors: 12 months of no account activity.
IHG Rewards Club: 12 months of no account activity.
Best Western Rewards: No expiry date.
Bank rewards programs: No expiry date.
If you sign up for electronic communications with your credit card issuer, you'll usually receive email warnings about any upcoming expiration dates. That would give you enough time to decide what you want to do with your points — even if it is just signalling account activity to reset your clock.
Note: During COVID-19, many travel rewards loyalty programs have temporarily suspended points expiration dates. That said, the standard expiration policy will eventually come back into play, so keep an eye on your accounts.
» MORE: Rewards cards vs. cash-back cards
Best Travel Credit Cards in Canada
Compare all different travel credit cards side-by-side and find out the best card that will meet your need with special perks and benefits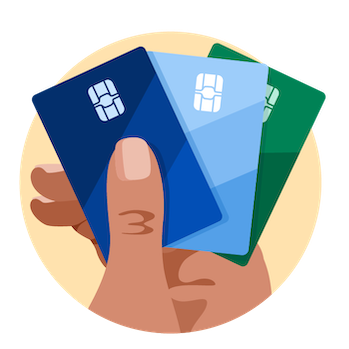 Tips to keep your travel rewards from expiring
If your points' expiry date is approaching and you don't have immediate travel plans, you may start to feel anxious. But there's no reason to worry because there are several other ways to keep your account active and prevent any point losses.
Shop at a partner retailer
Using your card to make a purchase from a partner retailer is an easy way to keep your account active. For instance, if you're worried about your Aeroplan credit card points expiring, all you have to do is make a purchase at an Aeroplan partner merchant, such as Uber or Starbucks. Earn at least one point on said purchase, and your account will stay active. The same rule applies to any other loyalty program that has partner retailers.
Use the online shop
A few loyalty programs have an online portal or e-store where you can earn points or miles on purchases. This is different from shopping with physical partner retailers, as the online portal will usually have more partners, which makes it easier for you to earn points. Keep in mind that it may take weeks for your points to post, so don't wait until the last second before your account is scheduled to go inactive to try this option.
Redeem points for non-travel rewards
Even if travel is not possible for you right now, you could look for a simple redemption such as donating some points to charity. Alternatively, see if there's anything else you can claim that won't cost you much. For example, you could redeem some points for a gift card to a retailer you shop at regularly.
Transfer your points
Some travel rewards programs allow you to transfer your points to other loyalty programs, where they might have a higher value per point. Transferring your points is an easy way to empty your account. Alternatively, you could just convert the minimum number of points necessary to keep your account active.
» MORE: How to maximize your use of credit card points
Other ways to lose travel rewards points
Besides allowing your credit card points to hit their expiration date, it's possible to lose your rewards in other ways. Some of these are obvious, but others may catch you off guard.
Refunds or exchanges: Generally speaking, you get your points as soon as a transaction or your monthly statement posts to your account. If you return or exchange the items you purchased, the points you earned will be reduced accordingly.
Delinquent account: Missing several payments in a row usually means your credit card account would fall into delinquency. In most cases, you would immediately lose all your points. In general, if your account falls out of good standing, it's unlikely you will be able to keep any rewards you earned.
Account abuse: Just about every credit card loyalty program states that you will forfeit your points if you abuse your account. Account abuse could include things such as fraud and illegal activity.
Transferring points: If you're allowed to transfer your points to another loyalty program, you usually won't be able to move those points back later.
Even though you'll be given multiple alerts before your points expire, the expiration date is not always obvious. Emails can end up in your spam or promotions folder, so you can miss them altogether.
If you're ever worried about your points expiring, use one of the tricks above to keep your account active. The critical thing is to never let your points expire, since getting them back can be expensive or nearly impossible.