Using your credit card overseas is one of the best ways to manage your money. Although you'll still need to get some of the local currency, charging most of your purchases will help ensure you're not carrying too much cash.
You would think that using your credit cards abroad would be no different from using them at home, but there are a few tips and tricks you need to consider before you depart and while you're away.
What to do before your trip
Although most credit cards have security features in place to spot and prevent potential fraud, you may want to call your card provider in advance to let them know about your travel plans. Charging something to your card halfway around the world from where you live may look suspicious, which may trigger an automatic block that prevents you from using your card. Putting a note on your account will ensure that doesn't happen.
You'll also want to ensure your PIN is only 4 digits, as many terminals outside of Canada don't accept longer PINs. Don't worry if a merchant doesn't have a tap or an insert option available. You can still swipe your card to make purchases.
For some added security, you may want to bring more than one credit card whenever you travel. This means you'll have a backup payment option in case your primary card doesn't work or gets lost.
» MORE: Should I get a travel card?
Consider a credit card with no foreign transaction fees
Most credit cards in Canada charge a foreign transaction fee of 2.5% on any purchase that's not in Canadian dollars. While the fee may seem low, it adds up over time — especially on a vacation where you might make several transactions each day.
Fortunately, there are a few credit cards without foreign transaction fees. Research and apply for one of these cards well in advance of your trip, and you'll be able to use your credit card normally and pay only the exchange rate on your purchases, no extra fees.
Best Credit Cards in Canada
Compare all different credit cards side-by-side and find out the best card that will meet your need with special perks and benefits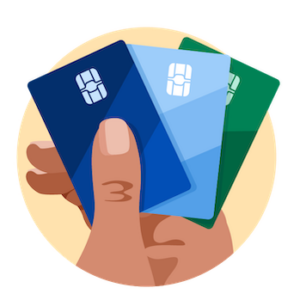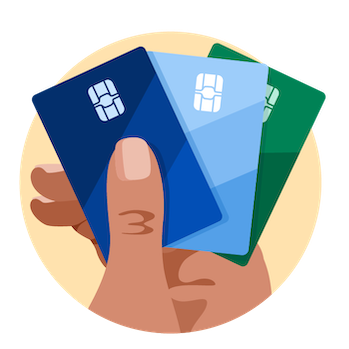 Watch out for dynamic currency conversion
Admittedly, converting between currencies in your head can be a bit complicated. Some merchants will allow you to choose whether to pay in the local currency or your home currency to make things easier for you, which is known as dynamic currency conversion. It can be handy since you'll see exactly how much you'll be charged in Canadian dollars.
While it may be tempting to select CAD when paying with your credit card, the exchange rate is unlikely to work in your favour. That's because it will likely include additional fees for the convenience of seeing your total in CAD. However, if you choose to pay in the local currency, you're paying the rate set by Visa, Mastercard, or American Express. This is likely much closer to the regular exchange rate. Either way, you'll still pay a foreign transaction fee unless you have a credit card that doesn't charge one.
Check your statements when you return home
You should always review your monthly credit card statements, but doing so after you travel is vital. Cross-reference the charges with what you purchased and double-check to ensure that the amounts shown are correct. If there's a transaction you don't recognize, you may need to open a fraud investigation.
Using your credit card overseas doesn't need to be complicated. You just want to set yourself up to minimize your fees and security risks. Don't forget that some credit cards also come with perks such as travel insurance and lounge access that come in handy when travelling.