What is Full Coverage Car Insurance?
We explain when it's worth buying, what it covers and how you can save on full coverage insurance rates.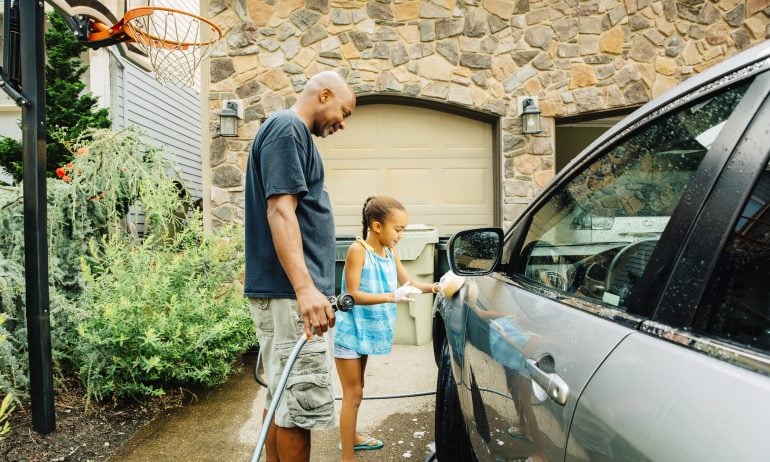 Many or all of the products featured here are from our partners who compensate us. This may influence which products we write about and where and how the product appears on a page. However, this does not influence our evaluations. Our opinions are our own. Here is a list of our partners and here's how we make money.
Full coverage car insurance is a term that refers to a combination of coverage types that can protect your car in most situations. Even though you've probably heard of full coverage insurance, there's no such thing as a "full coverage policy."
But this extra protection comes at a cost. Since it covers more situations, full coverage insurance is pricier than liability coverage alone, which only pays for injuries and damage you cause to others. To find , it's important to shop around for the best rates.
Full coverage insurance provides coverage for most scenarios, including damage to your car from the weather, an at-fault accident, hitting an animal or vandalism. It will even pay out the current value of your car if your vehicle is stolen.
Full coverage auto insurance may include:
But full coverage auto insurance doesn't cover everything. If you want extras like , emergency roadside assistance or custom parts and equipment coverage, you may need to add them separately.
The national average cost of full coverage auto insurance in 2021 is $1,592 per year or about $133 a month for a 40-year-old good driver with good credit, according to .
Although it's one of the largest insurers in the country, Liberty Mutual is not included in our analysis because it does not provide rate data.
NerdWallet compared 2021 rates for minimum and full coverage auto policies across the country. Among the largest companies, we found that full coverage insurance costs more than twice as much as minimum coverage, on average.
Full coverage car insurance isn't required by law. Many states mandate only a small amount of auto liability insurance. But that won't cover your injuries or car repairs — only damage or injuries you cause others.
Buying full coverage auto insurance may be a sound investment if:
For an older vehicle, however, full coverage may not be worth the cost. Comprehensive and collision insurance reimburse you only up to the cash value of your car at the time it's damaged or stolen. And they usually have an , an amount you're expected to pay out of pocket toward repair or replacement.
Imagine it costs you $600 per year for comprehensive and collision, and you have a $1,000 deductible. If your car is worth $1,500, a claim check would be $1,000 at most. This leaves you with $500, which is $100 less than what you paid for the coverage. can help you decide whether full coverage makes sense.
Even with full coverage, there are other policy options you might need. For example, uninsured motorist coverage, gap insurance and medical payments insurance all pay for expenses full coverage car insurance won't. If you're on the fence, play with the coverage options you see online when shopping for car insurance quotes.
Prices vary even more by state. Compare annual average rates below for minimum and full coverage car insurance in each state.
These benchmark rates can help you know what to expect, but to get the best rates possible, you'll want to compare car insurance quotes.
Shop around. To find , it's important to shop around. Compare rates with at least three companies to find the cheapest rate for you.
Look for discounts. There are for everything from getting good grades to owning a new car. Call your agent to confirm what's offered to maximize your savings.
Consider increasing your deductible. One way to lower your car insurance bill is by raising the , or what you pay before insurance kicks in. Doing this will lower the overall cost of your policy, although savings vary by company.
Avoid traffic infractions. Speeding tickets, accidents and DUIs can increase your car insurance rates drastically, even after one incident. These infractions can stay on your record for three to five years, so make sure to drive cautiously if you want the cheapest rates.
Work on your credit. Your credit history can have a big impact on your auto insurance bill. In fact, our found having poor credit can increase your rates as much as a DUI for some drivers.
NerdWallet averaged rates based on public filings obtained by pricing analytics company Quadrant Information Services. We examined rates for 40-year-old men and women for all ZIP codes in any of the 50 states and Washington, D.C. Although it's one of the largest insurers in the country, Liberty Mutual is not included in our rates analysis due to a lack of publicly available information.
In our analysis, "good drivers" had no moving violations on record; a "good driving" discount was included for this profile. Our "good" and "poor" credit rates are based on credit score approximations and do not account for proprietary scoring criteria used by insurance providers. These are average rates, and your rate will vary based on your personal details, state and insurance provider.
Sample drivers had the following coverage limits:
In states where required, minimum additional coverages were added. We used the same assumptions for all other driver profiles, with the following exceptions:
We used a 2018 Toyota Camry LE in all cases and assumed 12,000 annual miles driven.