Roadside Assistance: Where to Get It, What to Ask
Roadside assistance can help if you run out of gas or have a flat tire. Here's what to consider before buying.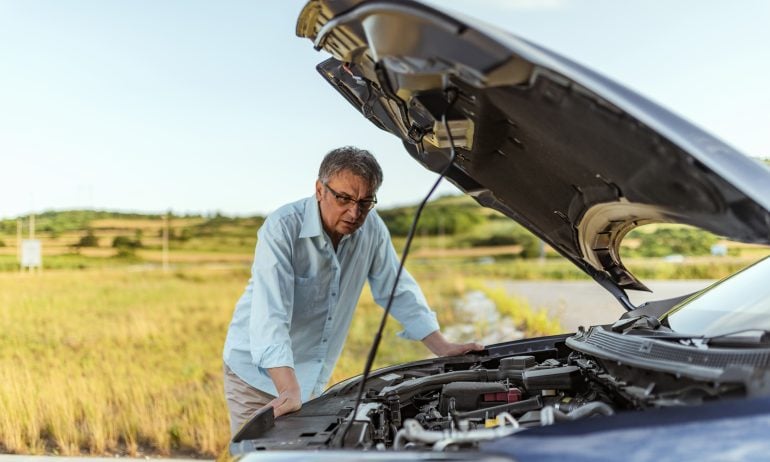 Many or all of the products featured here are from our partners who compensate us. This influences which products we write about and where and how the product appears on a page. However, this does not influence our evaluations. Our opinions are our own. Here is a list of our partners and here's how we make money.
It never fails — you're almost to your next appointment when you run out of gas or get a flat tire. Roadside assistance can help you out in both situations. You might even have the service already, free of charge.
Roadside assistance coverage helps drivers when they can't get their car back on the road. Whether you lost the car key, ran out of gas or need your car towed, having a roadside assistance plan can get you out of more than one emergency situation.
What does roadside assistance cover?
Roadside services vary depending on the company, but often include:
Winching, which is pulling a car with a chain or rope if it's stuck in snow, ice or mud.
With a roadside assistance plan, you typically pay a monthly or annual fee for coverage. Then, when you need help, you can get services at no extra charge or at a discount.
Another option is to pay per incident for roadside coverage. Instead of paying every month whether you use the service or not, you can pay when (and if) you need help.
Choosing a roadside assistance plan
Roadside assistance might be available through your:
Membership in AAA or other organization.
Some options are pricier than others, but don't base your decision solely on cost. All roadside assistance plans are not the same, so be sure to ask these questions:
How much does this plan cost, and what does it include? Are there any additional fees?
Roadside assistance can cost anywhere from $5 to more than $100 a year — or it might be a free perk from your credit card company or new car manufacturer.
You may have additional expenses beyond this base price for certain services. For example, your plan might cover fuel delivery but require you to pay for the gas. Some policies also limit the number of manual labor hours or how many miles a car can be towed before you're charged an extra fee.
How many service claims can you have each year?
A few policies allow unlimited service calls, but many will cover only four claims per year. After that, you can usually still get help by paying an additional fee. But if you have too many claims, some companies might not offer you roadside assistance coverage in the future.
Are you covered if you're not in your own car?
While insurance companies and car manufacturers generally provide service based on the car, membership organizations such as AAA cover the individual. This means you can call for help if your friend's car breaks down while you're along for the ride.
Does the policy extend to others?
Membership organizations usually allow you to add household members for an additional fee. Some plans through cell phone companies provide coverage based on whoever has the enrolled device. For example, if your friend borrows your enrolled cell phone and needs roadside assistance, the incident would be covered even if you're not there.
Will service claims affect your car insurance rates?
If you buy roadside assistance coverage through your auto insurance company, excessive claims could affect your rates. As long as you use the plan only for occasional emergencies, you likely won't see your rates rise. But spokespeople from State Farm and Farmers note that a large number of emergency road claims could be flagged as a risk and cause a rate increase.
Your car insurance rates won't be affected if you use roadside assistance from a different source, such as AAA or a credit card company.
Where to get roadside assistance
If you want to buy a roadside assistance plan, think carefully about where you want to purchase it. We've detailed several options below to help you determine what method is best for you.
Auto insurers generally offer roadside assistance as an optional coverage, but it may be available only if you buy comprehensive and collision insurance. Some plans, like State Farm roadside assistance, have unlimited service coverage, while others may pay for only four incidents a year.
While not all insurers offer roadside assistance, many do, including:
Allstate: You can add roadside assistance to your insurance policy starting at $25 a year per car. If you don't have an Allstate policy or prefer a membership that includes additional services, there are two to choose from, ranging from $79 to $139 a year. Depending on membership level, the policy includes three to five service calls a year. If you don't want to commit to a plan, Allstate has a pay-per-use option starting at $119 a tow.
Erie: Coverage costs about $5 a year per car and is available only if you have comprehensive or collision insurance. Benefits include towing to the nearest service garage, plus 20 miles.
Farmers: Coverage costs vary by state and policy, with no set limit on the number of service calls. Perks include towing up to $150.
Geico: Roadside assistance starts at $14 a year per car, including lockout services up to $100.

Progressive: Coverage includes benefits such as towing services anywhere within 15 miles or to the nearest repair facility.

State Farm: Roadside assistance costs about $8 a year per car, with no limit to emergency service calls. State Farm also offers pay-per-incident coverage.
AAA and other member organizations
Membership organizations can be pricier than other roadside assistance options, but they come with benefits you typically won't find in other types of plans. With an organization like AAA or Better World Club, you can get emergency road benefits plus perks like assistance in booking travel and discounts on hotels, car rentals and movie tickets.
Both AAA and Better World Club offer different membership tiers. Better World Club, which focuses on environment-friendly values, costs $58.95 a year for a basic plan and $97.95 for a premium plan. AAA membership costs differ depending on tier and location, but pricing can range from around $50 to more than $165 a year.
These plans often include four service calls per year but may vary by company and membership tier. Both companies let you add people who live in your household for an additional fee.
AAA and Better World Club are not the only membership organizations that include roadside assistance. For instance, if you own a recreational vehicle and care more about camping discounts than travel, Good Sam Club, which caters to RV owners, might be a better fit for you. Good Sam offers auto-only coverage at $49.95 a year, and packages for auto and RV ranging from $64.95 to $119.95.
You may already have free roadside assistance coverage if you've recently purchased a new vehicle. Some car manufacturers automatically include it when you buy a new car. Coverage is usually limited to a certain number of years or miles. Here are a few examples.
| | |
| --- | --- |
| | Free, up to 60,000 miles or five years |
| | Most vehicles can receive three months of free OnStar coverage, which includes roadside assistance |
| | Free roadside assistance for the first five years |
| | Free coverage for the first two years, with unlimited mileage |
| | Free for the first three years or 36,000 miles. Certified pre-owned vehicles receive two years of free coverage when the original coverage expires or when the certified pre-owned vehicle is sold |
Some cell phone companies, including Verizon and AT&T, also provide emergency road service coverage.
A Verizon plan costs $3 a month per phone line for four claims a year. The maximum benefit per incident varies depending on the service provided. For example, winching is provided up to a $100 service limit. If you're a Verizon customer but don't have an emergency roadside plan, you'll pay $89.95 per incident.
AT&T charges $2.99 a month for coverage, and the first month is free. You are limited to four service events a year, up to a $75 maximum benefit per incident.
Both companies provide roadside assistance through Signature Motor Club, a subsidiary of Allstate, and allow anyone to use this service if they have the enrolled device with them at the time of need.
If you have a Mastercard or Visa credit card, you may already have access to roadside assistance. Some of these cards provide pay-per-incident coverage, which means you'll pay each time you use the service but won't be charged anything if you never use this benefit. There's no monthly or annual fee for this type of roadside assistance, although there may be an annual fee for the credit card itself.
Visa and Mastercard offer roadside dispatch at varying rates based on the specific card you have. For example, Visa Signature credit cards generally charge $69.95 per incident, with no limit to how many times you use it.
Do you need roadside assistance coverage?
Whether you want to buy a roadside assistance plan is a personal choice. If you only drive short distances or have coverage automatically through your car manufacturer or credit card company, you might not want to spring for the extra protection. And if you barely use roadside assistance, then you might be comfortable paying out of pocket on those rare occasions.
Still, depending on your situation, an emergency road service plan can help ease anxiety and save you money in the long run. It might be worth it if you:
Have an upcoming road trip.

Want the additional benefits a membership organization offers.

Prefer the convenience of having coverage.

Aren't familiar with service garages or car mechanics.
Get more smart money moves – straight to your inbox
Sign up and we'll send you Nerdy articles about the money topics that matter most to you along with other ways to help you get more from your money.