Car Leasing With Insurance: What You Need to Know
If you lease a car, you'll need to buy enough insurance coverage to legally drive in your state, along with any insurance your lessor requires.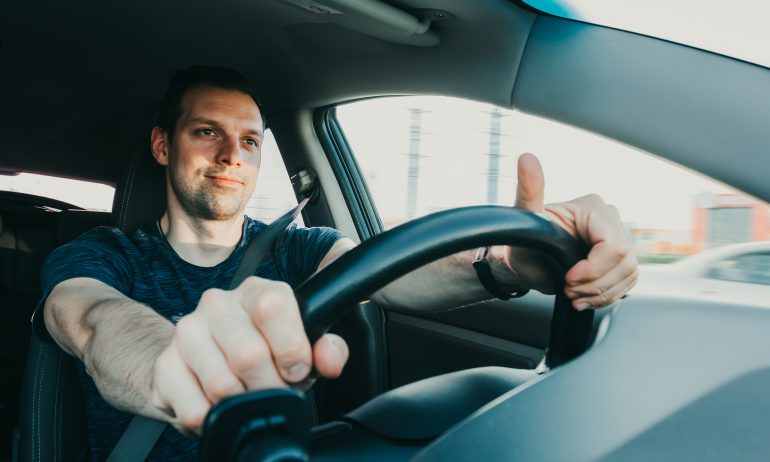 Many or all of the products featured here are from our partners who compensate us. This influences which products we write about and where and how the product appears on a page. However, this does not influence our evaluations. Our opinions are our own. Here is a list of our partners and here's how we make money.
Leasing a car often means you'll have lower upfront costs compared to buying a vehicle. And although you'll need to pay for car insurance whether you lease or buy your next set of wheels, you might pay more for insuring a leased car.
Car leasing insurance requirements
When you lease a car, you'll need to satisfy both your:
In some cases, this may mean you need to get more insurance if you lease a car instead of buying it outright.
State car insurance requirements
Whether you finance or lease your vehicle, you'll have to meet your state's minimum car insurance requirements. Both the amount of coverage and the kind of insurance you'll need to buy differ by state.
Depending on where you live, required coverage may include:
Bodily injury liability coverage, which pays out if you injure someone else in an at-fault car accident. It also covers lost wages if the injured person can't work due to the crash.

Property injury liability insurance, which covers damage to another person's vehicle or property in a crash you caused.

Uninsured and underinsured motorist coverage, which pays out if you get into an accident that you didn't cause and the other driver doesn't have enough (or any) coverage to pay for your medical expenses or car repairs.

Personal injury protection, or PIP, which pays for you and your passengers' medical expenses resulting from an accident regardless of fault. It can also pay for lost wages, funeral costs, child care and other services you can't perform due to injuries from the crash.

Medical payments coverage, or MedPay, which covers medical expenses for you and anyone in your car at the time of the crash, whether you caused the accident or not. It can also cover funeral costs after a fatal crash.
Leasing company requirements
Leasing companies often require higher liability limits than state minimums, which will cost more. Beyond the coverage your state requires, you'll likely need to buy:
Comprehensive coverage, which covers damage to your car from most events besides a traffic collision. This includes damage from hail, flooding and even riots.
Adding these to liability insurance would create a full coverage insurance policy. Although this is more expensive than opting for your state's minimum required insurance, NerdWallet recommends building up your coverage beyond those minimums, which are often not enough to protect your financial standing if you cause a bad accident, even if your car leasing company doesn't require it.
Here is the average cost of full coverage auto insurance in every state, for 35 year-old male and female drivers with no recent accidents and good credit.
Average annual car insurance costs for full coverage by state
| | Full Coverage Average Annual Premium |
| --- | --- |
| | |
| | |
| | |
| | |
| | |
| | |
| | |
| | |
| | |
| | |
| | |
| | |
| | |
| | |
| | |
| | |
| | |
| | |
| | |
| | |
| | |
| | |
| | |
| | |
| | |
| | |
| | |
| | |
| | |
| | |
| | |
| | |
| | |
| | |
| | |
| | |
| | |
| | |
| | |
| | |
| | |
| | |
| | |
| | |
| | |
| | |
| | |
| | |
| | |
| | |
| | |
Gap insurance for a leased car
Depending on your lessor, you may also need gap insurance, which pays out if you total your vehicle. This coverage pays the difference between the value of your vehicle at the time of the crash and how much you owe on your car loan or lease.
For example, let's say you lease a car for $35,000, and a week later you total the vehicle. The car is worth $33,000 at the time of the crash. Gap insurance will cover the $2,000 difference between your car's value and the amount you still owe on your lease, which is covered by collision insurance.
A dealership might automatically include gap insurance when you lease your car, so always check your lease agreement. To avoid paying interest on gap coverage, NerdWallet recommends you purchase gap insurance through an insurer if possible, not your dealership.
Insurance for leased cars at a glance
| | |
| --- | --- |
| | Medical costs due to injuries or deaths from an accident you caused, and repair costs for property you damaged. |
| Uninsured motorist coverage | Medical and repair costs after an accident with an uninsured driver. |
| Underinsured motorist coverage | Expenses from an accident with a minimally insured driver. This coverage pays once the underinsured driver's coverage limits have been met. |
| | Repair expenses from traffic-related accidents, regardless of who is at fault. |
| | Repair costs from events outside your control — including weather events, hitting an animal while driving, theft and vandalism. |
| Medical payments coverage | Medical expenses for you and your passengers after an accident regardless of fault. |
| | The difference between what you owe on your car and your car's true market value. |
| Personal injury protection insurance | Medical expenses, as well as lost wages, child care, funeral costs and other losses due to an accident regardless of fault. |
NerdWallet averaged rates based on public filings obtained by pricing analytics company Quadrant Information Services. We examined rates for men and women for all ZIP codes in all of the 50 states and Washington, D.C. Although it's one of the largest insurers in the country, Liberty Mutual is not included in our rates analysis due to a lack of publicly available information.
In our analysis, "good drivers" had no moving violations on record; a "good driving" discount was included for this profile. Our "good" and "poor" credit rates are based on credit score approximations and do not account for proprietary scoring criteria used by insurance providers.
These are average rates, and your rate will vary based on your personal details, state and insurance provider.
Sample drivers had the following coverage limits:
$100,000 bodily injury liability coverage per person.

$300,000 bodily injury liability coverage per crash.

$50,000 property damage liability coverage per crash.

$100,000 uninsured motorist bodily injury coverage per person.

$300,000 uninsured motorist bodily injury coverage per crash.

Collision coverage with $1,000 deductible.

Comprehensive coverage with $1,000 deductible.
In states where required, minimum additional coverages were added. We used the same assumptions for all other driver profiles, with the following exceptions:
For drivers with minimum coverage, we adjusted the numbers above to reflect only the minimum coverage required by law in the state.

We changed the credit tier from "good" to "poor" as reported to the insurer to see rates for drivers with poor credit. In states where credit isn't taken into account, we only used rates for "good credit."

For drivers with one at-fault crash, we added a single at-fault crash costing $10,000 in property damage.

For drivers with a DUI, we added a single drunken-driving violation.

For drivers with a ticket, we added a single speeding violation for driving 16 mph over the speed limit.
We used a 2020 Toyota Camry L in all cases and assumed 12,000 annual miles driven. We analyzed rates for drivers of the following ages: 20, 30, 35, 40, 50, 60 and 70.
These are rates generated through Quadrant Information Services. Your own rates will be different.
Get more smart money moves – straight to your inbox
Sign up and we'll send you Nerdy articles about the money topics that matter most to you along with other ways to help you get more from your money.