Buying a house is taking the biggest bite out of our budgets in nearly 10 years — and once again, the Standard & Poors/Case-Shiller national home price index reveals home values are steadily trending higher. The index recorded a year-over-year gain of 4.7% in August.
Meanwhile, a measure of affordability ticked down, indicating homebuyers are still facing a difficult housing market in many areas of the country.
The NerdWallet Home Affordability Index
Comparing real income growth to seasonally adjusted home prices, as measured by the S&P/Case-Shiller index, yields a measure of home affordability. The baseline of the NerdWallet Home Affordability Index is 100 points, calibrated to home affordability in the year 2000. A higher number indicates greater affordability, while a lower number indicates less affordability. In August, the index stood at 54.30, down from 56.48 for the same month in 2014.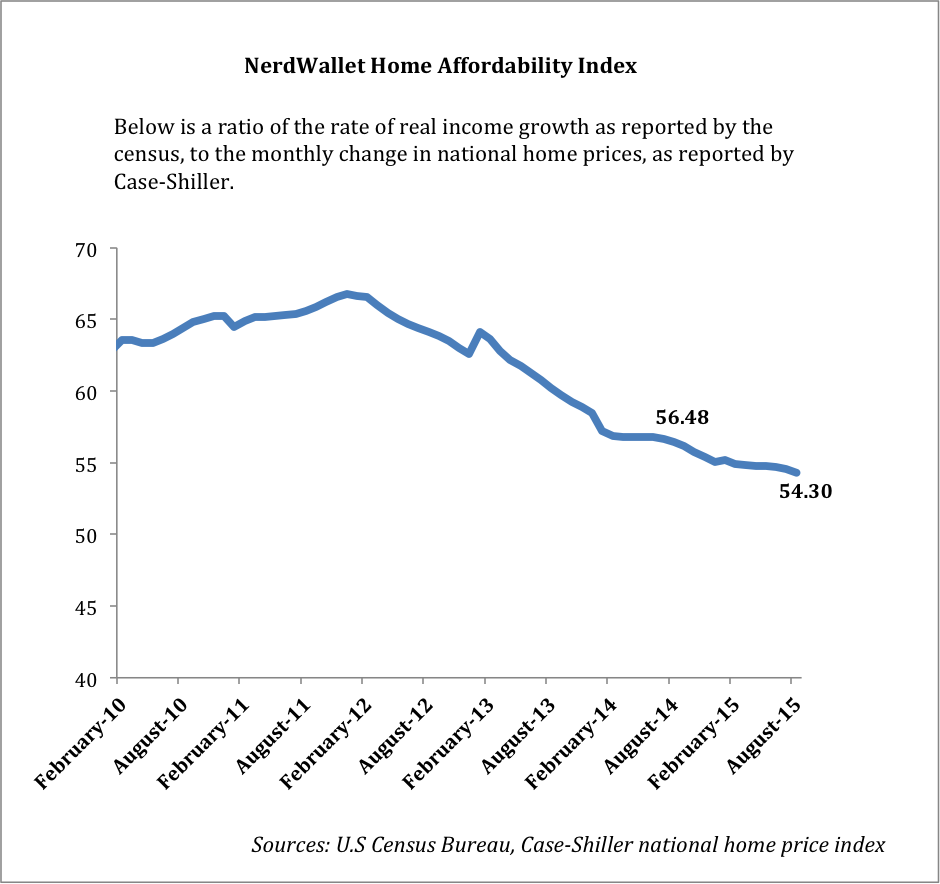 Ranking cities by home affordability
By using home price data from the 20 metropolitan areas analyzed by the Case-Shiller index for August 2015, we've ranked cities according to our affordability index. Comparing that with monthly and annual growth rates in home prices allows us to see which cities are currently more affordable, and which are seeing the most increases in home prices.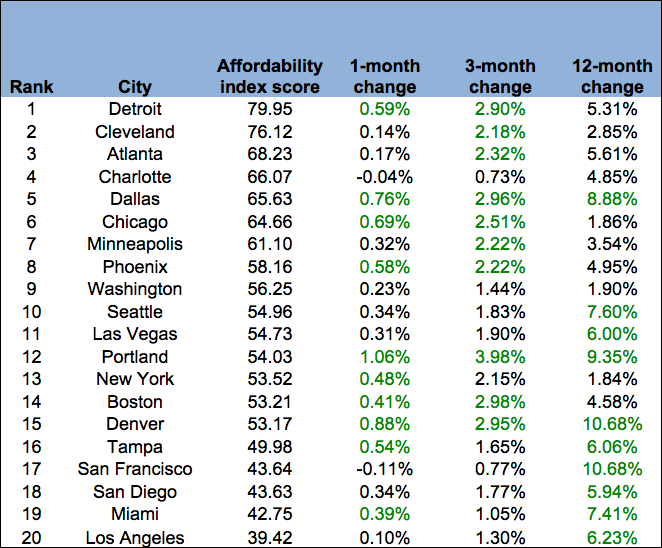 Cities with the highest NerdWallet Affordability Index score are the most affordable — remember, the higher the rating, the greater the affordability. However, many of these cities are starting to see greater price appreciation. The top 10 highest growth values for each category are highlighted in green, and the rank is sorted according to the cities with the most affordable income-to-housing-price ratio.
Hot markets such as Los Angeles, Miami, San Diego and San Francisco are still the least affordable cities to buy a home, but price appreciation in those cities is finally beginning to slow just a bit. For example, prices appreciated almost 10.7% in San Francisco over the past year, but the growth rate over the past month was negative and over the past three months was under 1%. Meanwhile, in some long-affordable cities such as Detroit and Dallas, housing prices are starting to increase meaningfully.
Housing is taking a bigger bite of homeowner budgets
"A notable part of today's economy is the continuing low inflation rate; in the year to September, consumer prices were unchanged," said David M. Blitzer, managing director and chairman of the index committee for S&P Dow Jones Indices, in a statement. "Even excluding food and energy, the core inflation was 1.9%."
Low inflation is a good thing, but with home prices heading higher, housing budgets are taking a hit.
"One result is that a 5% price increase in the value of a house means more today than it did in 2005-2006, the peak of the housing boom, when the inflation rate was higher," Blitzer said. "The rebound from the recent lows was faster than the 1997-2005 housing boom, and also much less driven by inflation."
How much house can you afford?
"Low inventory and high demand have kept home prices growing at a steady pace through the summer months and into the fall," Nela Richardson, chief economist for Redfin, tells NerdWallet. "One reason prices have continued to strengthen in August is due to lack of inventory. Even though new listings have increased year over year, inventory continues to shrink as homeowners are snapping up homes as soon as they hit the market."
In fact, new home sales dropped more than 11% in September, according to the U.S. Census Bureau. Richardson says Redfin's own research is showing that fewer people are touring houses. "Those who are have less to choose from, but they're still making offers," she adds.
Buyers may pore over home loan calculators and home affordability tools, but the challenge is to stay on budget when the serious home buying negotiations begin.
"Buyers are becoming more cautious about overpaying, especially as incomes have failed to keep up with home prices," Redfin's Richardson says. "The percentage of homes that sold above list price in October is on track to hit a seven-month low at 24.7%. The sale-to-list price percentage also is trending downward."
Does that signal a slight adjustment in the long-rising price trend?
"We think that price growth will slow slightly in coming months to something approaching normalcy of about 3% to 4% per year," Richardson says.
More from NerdWallet:
Hal Bundrick is a staff writer at NerdWallet, a personal finance website. Email: [email protected]. Twitter: @halmbundrick.
NerdWallet senior analyst Kamran Rosen contributed to this article.
---
Image via iStock.