Many or all of the products featured here are from our partners who compensate us. This may influence which products we write about and where and how the product appears on a page. However, this does not influence our evaluations. Our opinions are our own.
CIBC at a glance
The Canadian Imperial Bank of Commerce, or CIBC, was founded in 1867 and is one of Canada's Big Six banks.
CIBC account options

Savings
Chequing
Visa and Mastercard credit cards
Investing

Other CIBC services

Mortgages
Loans and lines of credit
Wealth management
Business accounts and financing
Insurance
Canadian Imperial Bank of Commerce overview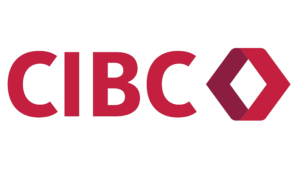 Canadian Imperial Bank of Commerce, or CIBC, is a full-service financial institution founded in 1867. It is considered to be one of Canada's Big Six banks. Over 1,000 banking locations and nearly 3,00 ATMs serve millions of CIBC clients every day. Clients can access most everyday banking, saving, borrowing, wealth management and other financial services via the CIBC online banking portal, mobile app and telephone.
As part of its corporate social responsibility efforts, CIBC's climate action initiative provides resources to help clients transition to low-carbon living, responsible investment options, and a CIBC Green Vehicle Loan.
Online banking capabilities at CIBC
CIBC clients have had access to online banking since 1995. These years of experience in digital banking have informed the CIBC bank's effort in making it robust, secure and easy to use. Clients can use the award-winning website (cibc.com/en/personal-banking.html) and mobile app for everyday banking, free credit score monitoring, personal financial insights, opening new accounts, and more.
The CIBC's mobile banking app receives 3.4 and 4.3 out of 5 stars on Google Play and Apple App Store, respectively, at the time of this writing. While the app advertises the ability to apply for and manage CIBC banking and credit card accounts, the ability to apply for a mortgage is not mentioned.
Is my money safe at CIBC?
Canadian Imperial Bank of Commerce is a member of the Canada Deposit Insurance Corporation (CDIC). In the unlikely event of bank failure, your CIBC savings, chequing, combined savings-chequing accounts, Guaranteed Investment Certificates (GICs), and registered savings accounts are eligible for CDIC's deposit insurance.
CIBC bank uses multiple layers of security, verification for any account changes, fraud alerts, and other enhanced security measures to protect your money. ​​Additionally, you're covered by the ​​CIBC Digital Banking Guarantee, which promises to refund any money lost to fraud, provided you follow digital banking security guidelines.
CIBC account types
CIBC savings accounts
CIBC eAdvantage Savings Account: Earn regular interest on all balances and a higher interest rate when your savings exceed $200 in a month.
CIBC US$ Personal Account: Manage U.S. dollar deposits and withdrawals while earning modest interest on your savings.
CIBC US$ Personal Account for Seniors: Get modest interest and two free monthly transactions with this no-fee bank account.
CIBC RRSP Daily Interest Savings Account: Build retirement savings with guaranteed principal and interest rates.
CIBC TFSA Tax Advantage Savings Account: Grow savings tax-free in this registered savings account.
CIBC chequing accounts
CIBC Everyday Chequing Account: 12 transactions per month for a $4 monthly fee.
CIBC Smart Account: Choose the number of transactions you want per month for up to a $16.95 monthly fee. Pay no monthly fee if you maintain a $4,000 minimum daily balance.
CIBC Smart Plus: Unlimited transactions with no monthly fee, if you maintain a daily balance of $6,000 or have $100,000 in combined eligible savings and investments.
CIBC also offers special chequing accounts to serve youth, students, seniors, foreign workers and newcomers to Canada.
» MORE: Read our CIBC Smart Start youth account review
CIBC credit cards
CIBC offers Visa and Mastercard options for personal, business, student and U.S. dollar spending. Clients receive travel points, privileges, cash-back or no annual fee benefits on CIBC reward cards from partners — Aventura, Aeroplan and Costco. A few of the featured cards include:
CIBC investing accounts
Non-registered investment accounts.
Margin accounts.
» MORE: Compare CIBC GIC rates for different types of GICs.
Other CIBC bank services
Insurance.
Wealth management.
Business and commercial banking solutions, including financing.
CIBC Bank fees
Banking fees can vary based on the accounts you have and how you use them. Here are some of the common fees you may encounter using CIBC bank's financial products and services:
Non-sufficient funds: $45.
Overdraft protection: $5 monthly or pay-per-use options for select accounts.
ATM: $2 to $5.
Dormant account fees: $20 for 2-4 years; $30 for 5-8 years; $40 for 9 years.
Account transfer to another financial institution: $100 for a registered account and $19.50 for a regular account.
Who CIBC is best for
Canadians who want to keep all their finances in one place, value online banking, and like the option of in-person banking.
CIBC has product offerings that are similar to the other big banks, offering account bonuses, rewards and discounted fees. Aside from the variety of banking options, personal and business clients can consider the overall client satisfaction that CIBC is propelling through technological innovation and climate action initiatives to match their unique needs.
Pros and Cons of CIBC bank
There's plenty to like about CIBC bank, but no bank or credit union is without its drawbacks. Here's what to consider before you open an account.
Pros of CIBC
Variety of personal accounts and credit cards.
Wealth management and financial planning services.
Financial solutions for seniors, youth, foreign workers and newcomers.
Award-winning online banking and mobile app.
Cons of CIBC
Lower interest rates on savings products compared to online-only banks.
Account and transaction fees are charged on most accounts.
Must maintain a high minimum balance to avoid monthly chequing account fees.
How CIBC compares to other big banks
| | CIBC | BMO | Scotiabank |
| --- | --- | --- | --- |
| Number of countries served | Global | More than 10 | More than 30 |
| Number of branches in Canada | Over 1,000 | More than 800 | 900 |
| Mobile app? | Yes | Yes | Yes |
| Are deposits insured? | Yes, by the Canada Deposit Insurance Corporation. | Yes, by the Canada Deposit Insurance Corporation. | Yes, by the Canada Deposit Insurance Corporation. |
CIBC frequently asked questions
What is the CIBC customer service number and hours of operation?
The CIBC telephone banking number is 1-800-465-2422 with service available 24 hours a day, 7 days a week.
How do I get to the CIBC Aventura rewards login page?
You do not need separate login credentials to access your CIBC rewards account. After you've registered your eligible credit card via online or mobile app banking, you'll be able to manage your rewards from your banking portal.